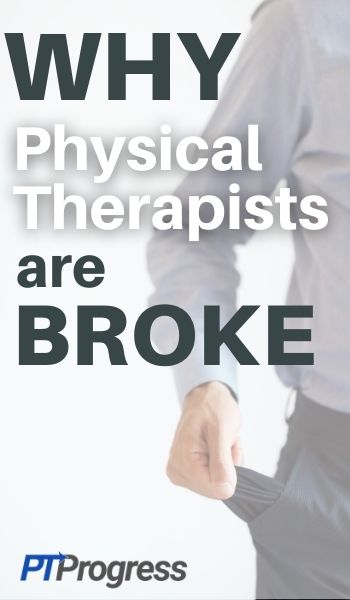 If you're thinking about becoming a physical therapist, be forewarned: many physical therapists are financially broke.  Actually, 78%% of Americans are broke, living paycheck to paycheck according to Forbes.com.
It comes down to three reasons why physical therapists are broke:
High Student Loans
Low Starting Salaries 
Lifestyle Creep
Please hear me out – I'm a physical therapist and I'm not trying to scare you from entering the field of PT or medicine in general.
The reality is this: the field of medicine has tons of broke people, making good money but unable to build savings or investments. 
Being broke doesn't have to do with how much money you make. My definition of broke is this: living paycheck to paycheck, unable to get ahead financially.
Read on for the three biggest reasons why PTs are broke – and how you can avoid becoming another broke medical professional.
#1) PT School Loans
Let's address the elephant in the room: student loans.
You probably know that medical school is expensive. Physicians commonly graduate with $200k–$300k of debt.
Unfortunately more and more physical therapists are finishing PT school with upwards of $100k–$200k in student loans.  This is absolutely one of the worst things you can do financially.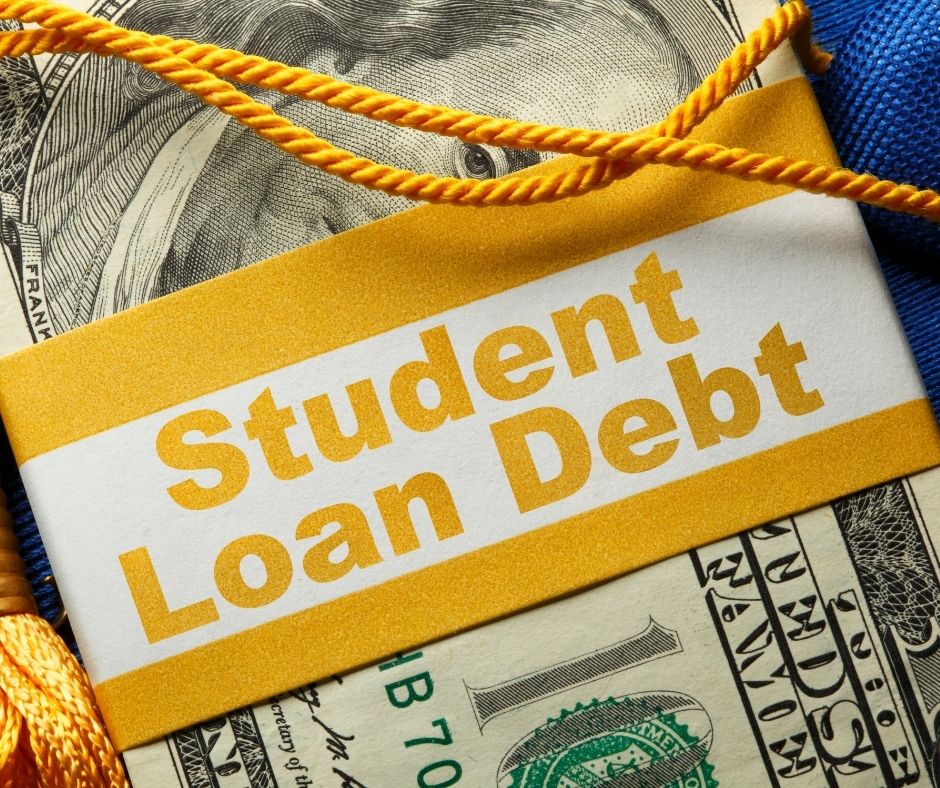 Why PT School Debt Keeps You Broke
The biggest difference financially between going to medical school to become a physician and going to PT school to become a physical therapist is the huge gap in pay between the two professions.
Starting salaries for a physical therapist range from $70–$100k, depending on whether they choose to work in an outpatient clinic or as a higher-paid travel PT. By contrast, a family physician can expect to earn a salary well over $160k after their 3-year residency.  
This pay gap wouldn't be such a problem if a physical therapy salary actually offset the high cost of PT school. But it doesn't balance out. A PT graduate with nearly $200k in student loans will experience great difficulty paying off these loans on a $70k income without outside help from a partner or other source.
Think about it: even if you decided to live on $40,000 a year and contributed $20,000 of your after-tax income towards that debt, you'd still need 10 years to pay off your student loans. 
PT students need to hear this. Schools certainly aren't talking about it, even as they raise tuition by 5–10% year after year. But as much as we whine and complain that it's their fault, we're foolish enough to sign a promissory note for $200,000 of student loans for a career that pays $70,000 a year.
The Solution? Minimize Your PT School Debt
The simplest way to reduce student debt is to go to a cheaper PT school, such as a public university or one of the schools on this list. Other strategies include living with a roommate or paying part of your tuition through a job you maintain through school. 
But ultimately, if you can't keep all your physical therapy student loans under $70-100k, PT school is not a wise financial decision for you. It just doesn't make sense compared to the amount of money you'll make each year. 
It's a shame PT student loan debt is such an issue because physical therapy is a great career. It feels good to make such a huge impact on the lives of our patients every day. 
But unfortunately, good feelings can't pay federal loans. Imagine that. 
#2) A Low PT Salary Keeps You Broke
Fuzzy feelings won't pay your student loans, and neither will a meager starting salary. I've been alluding to it from the top, but the second reason PT grads are broke is because they start off on a salary too small for their gigantic student loan debt. 
"But, won't the income eventually increase?" you ask.
Sure, you'll receive raises over time, possibly $1,000–$2,000 each year if you're lucky. But after 10 years, that $70k starting salary will only grow to $85k, likely capping out pretty close to that figure for the next 10 years.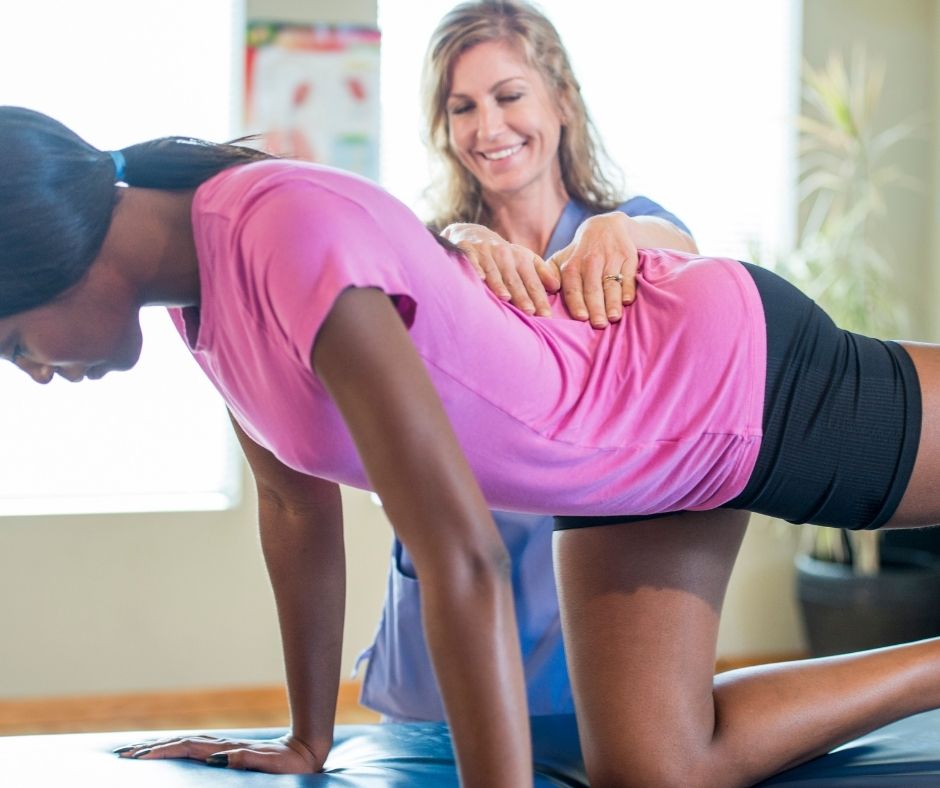 PT Jobs Are Not Get-Rich-Quick
Other than betting on raises to pay your debts, you could take on some financial risk and open your own clinic. Maybe a job as a clinic manager would come along. Although these can be great ways to increase your salary, they aren't reliable options for 80% of therapists in the workforce. Most likely, you'll remain a staff therapist for your first 5–10 years.
There's nothing wrong with sticking to your job at the clinic. Except, if you have a lot of student loans and want to pay them off in 5 years instead of 10, you might need to eventually accept a new job in home health or work weekends to somehow earn that additional $20,000 a year.
Look, I'm not telling you to NOT become a PT. In fact, it's totally possible to enter the field with a manageable amount of debt in proportion to your earning potential; many PTs figure out how to do it the right way. I'm just warning you of the danger in combining high student loans with a low average PT salary, a combination that will make you feel broke for the next 10 years.
#3) Lifestyle Creep Makes You Broke
There's a third factor keeping physical therapists broke, and it's much sneakier than the previous two. The #3 reason why Physical Therapists are broke is a little thing called "Lifestyle Creep."
If you're not familiar with the term, it basically means that as you earn more, you spend more. Unless you've made a conscious decision to save your increasing money, you could end up living paycheck-to-paycheck despite earning well above the average salary.
Compared to many other professions in the US, the average salary of a physical therapist hovers around a livable $85k a year, with new graduates earning just under $70k. Once you're finally debt-free, you'll enjoy this healthy income as a PT.
But if you're not careful to plan ahead and automate your savings and investments, you'll quickly find ways to spend money on things because – by golly! – you've earned it, and you're tired of living like a student on minimum wage.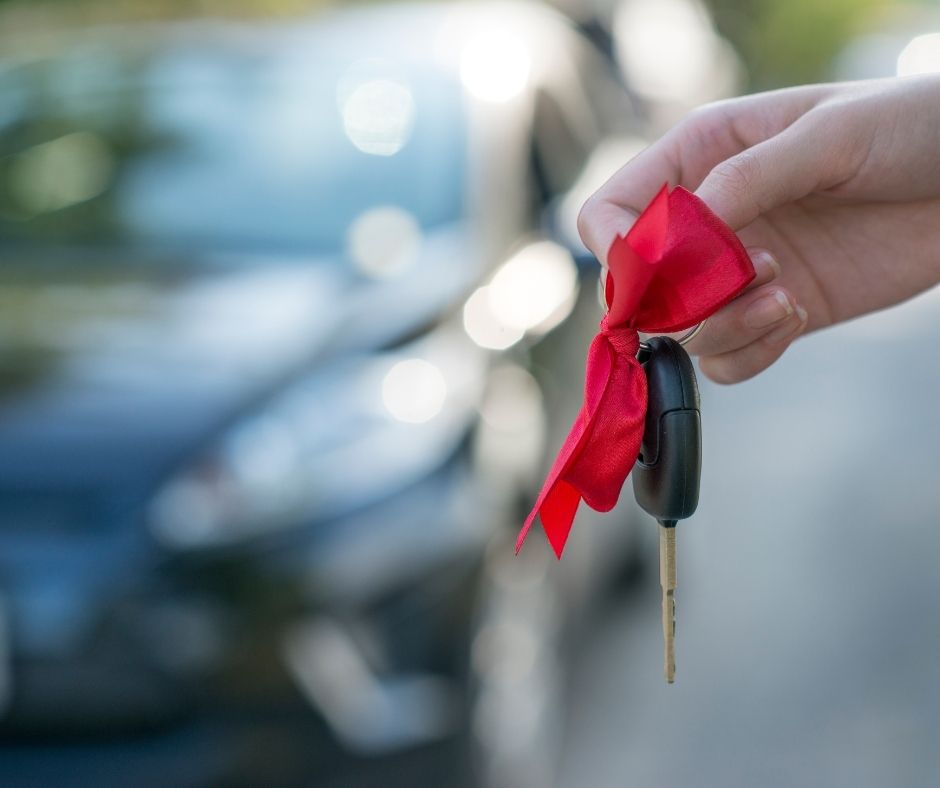 So you find a house to buy that's a little bit on the higher end of your budget…you add a $400 car payment to the mix…you finally purchase some new furniture and other things you've been putting off because of all those years making student loan payments…and so on.
And somehow, despite your healthy wage, you still end up living paycheck-to-paycheck, feeling like you're broke and unable to get ahead financially.
How To Not Become A Broke PT
Look, I'm not trying to paint a "gloom-and-doom" situation and scare you out of becoming a PT. (Though I do hope to scare you out of spending $200k on PT school!)
Instead, I want to give you some resources that will put you back on track financially and help you set yourself up for future financial success.
Whether you are considering physical therapy school or you've just graduated with a DPT, you should take the time to read these two books:
I know the title sounds like it's a Ponzi scheme, but don't judge the book by its cover. It's the real deal; the title comes from the name of Sethi's financial blog which he started back in 2004. Whether you're looking to automate your finances or become a personal finance ninja despite being "not good with money" – this book is absolutely a must-read. 
You've probably heard of the author, but if you haven't actually read this game-changing book, put it on your short list and read it this year. Ramsey keeps a no-frills approach to managing money and finding financial freedom, and it's absolutely worth a read. While I don't agree with everything he says about investments or credit cards, I know you'll be inspired to pay off your debt and build wealth so you can ditch your PT-broke, paycheck-to-paycheck lifestyle.
For more financial tips, check out the YouTube channel and be sure to grab the free Financial Therapy Worksheets from PTProgress.