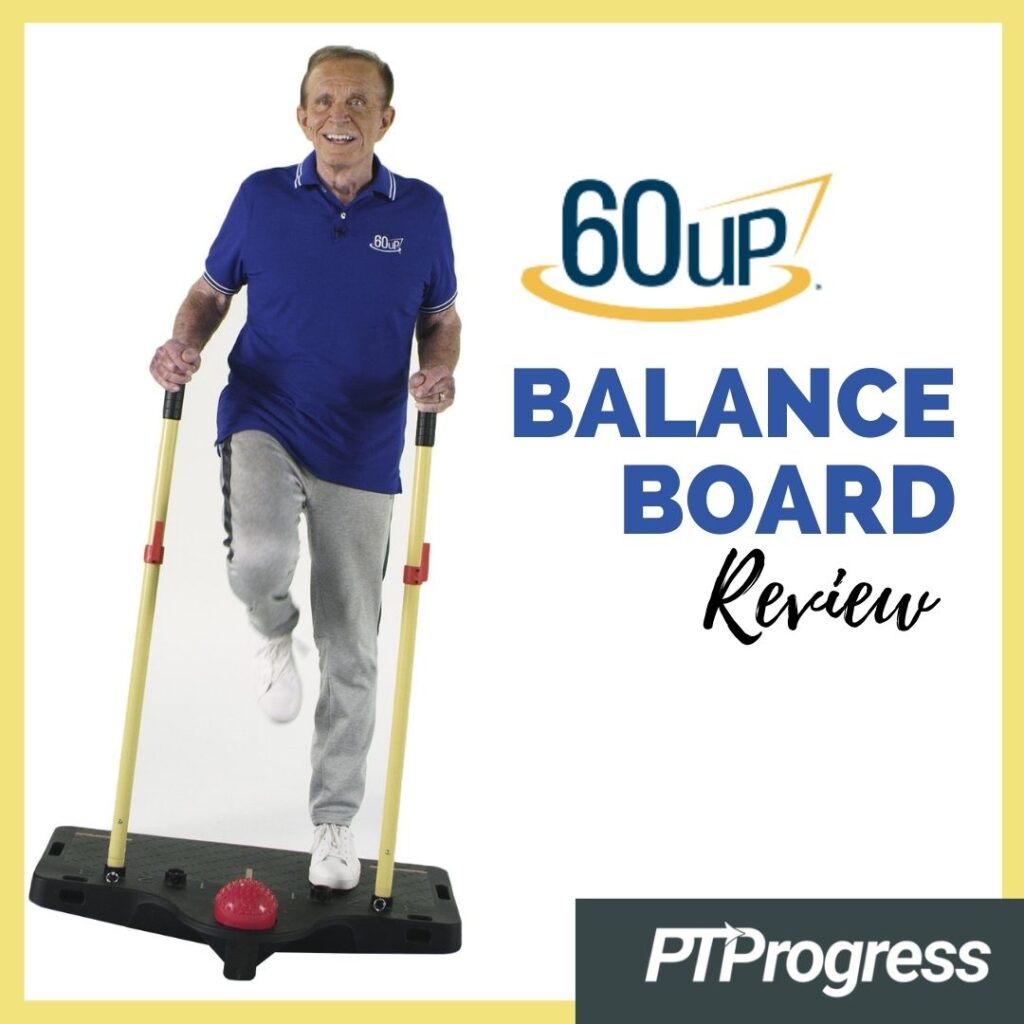 This spring I received something interesting in the mail (something a PT would be interested in, at least): the 60uP Balance Board. More importantly, this device could positively impact 25% of Americans over age 65 this year.
Maybe you've seen this balance board on TV and wondered whether it could improve your balance and help prevent household falls. As a PT, I had wondered this for my patients and had to try it out. So here is my full review of the 60uP Balance Board!
Preventing Falls with Better Balance
Let's face the facts: 25% of Americans over age 65 will fall this year. Most of my patients fit this demographic, so fall prevention is a key component of many treatment plans that I lead, both in the clinic and in home health therapy.
To promote safety and prevent falls in my patients over 65, I focus on a constant progression of balance ability. Even after my patient has made good progress in the clinic, the hope is that they'll continue to progress at home.
However, many of my patients want something to help them continue balance training at home – something that is safe to use alone and without PT supervision.
So when I heard about the 60up balance board, my interest was piqued. I was curious whether this balance board would help my patients continue their balance exercises at home in between visits and after being discharged from therapy treatment.
Sale
Exercise Equipment Should Be Safe
An at-home balance board should be effective, able to replicate the exercise treatments we do in PT. But it also needs to be safe; patients should feel as safe in their own home as they feel in the clinic.
And look, there are a lot of balance products that miss both these marks, or at best, are too gimmicky to be useful. Before recommending exercise equipment to my patients, I always test it for usability, efficacy, and safety. Which brings me to the 60uP Balance Board.
In case you haven't seen this on TV, the 60uP Balance Board is a fitness program designed to improve strength and balance through dynamic stability training.
The main apparatus is a wide foot board, flat on top and bowed on the bottom, with a detachable support pole on either end. This balance board includes a mini, inset stability ball for target practice, two sets of resistance bands – short and long – and an instructional workout DVD.
Sturdy Material
My first impression of the board was the sturdiness of the material. The 60uP board is made of composite carbon and can withstand 1000 pounds. Unlike many as-seen-on-tv gadgets, this solid device exceeded my expectations for quality and durability.
It's not flimsy plastic or weak particleboard; in fact, stepping on this composite material reminded me of stepping on the running board of a vehicle. Yes, it's plastic – but it's practically unbreakable.
The detachable balance poles are a little less rigid, but they're designed to have a little "give." These attach at the bottom of the balance board and provide flexible support as you learn to stabilize yourself. If you prefer a heavier-duty source of support, you can swap out these poles for a metal set, sold separately.
Easy Assembly
My next impression was the user-friendly design of the Balance Board and its assembly instructions.
There isn't a long list of parts to this device, but even so, the instructions for assembly are clear, in large print and with color illustrations. The set includes two hooks which you can mount onto the poles; these keep the resistance bands from obstructing your feet – a considerate safety feature.
I was struck by some of the more thoughtful elements, such as the large pin, designed with arthritics in mind, that can help depress the pole's tight push-buttons. Considerate details like these show that 60uP knows their consumer audience and is committed to making their products user-friendly.
Finally, the resistance bands loop around cut-outs along the base of the board; long bands on the side, or short bands on the front. It's convenient to have these bands fixed on the board, so that you can jump right into the balance workouts and have everything you need at your fingertips.
I found the assembly really simple, but if you'd like to see me put mine together, check out this video.
Using a 60uP Balance Board
Ok, your 60uP Balance Board is ready to go! So how do you use it?
First, don't stand on it right away. This is key. In the clinic we focus on progression, which means starting slowly and increasing difficulty gradually.
So first, stand with the balance board directly in front of you. Practice rocking it back and forth from the poles, with your hands, just to get a feel for it. Then, while holding on to the poles, try some toe-taps. You can simply tap the board with one foot at a time (this in itself is a good stability exercise).
When that gets too easy, venture onto the board. I found this board to be remarkably safe to use, but if you're particularly rickety, it's a good idea to go slowly and take your time.
If you stand in the center of the balance board, you won't be able to rock it as easily and might find it's easier to keep your balance. To challenge yourself, move your feet apart – like a seesaw, the board will respond to any imbalance much more this way.
As a helpful feature, the 60uP balance board indicates where to place each foot so that you can achieve an incremental challenge.
Three Things I Like about the 60uP Balance Board
There are three main reasons why I recommend the 60uP Balance Board and think it's a great product.
1. It's perfect for dynamic stability exercises
Although you don't need a balance board to do dynamic stability exercises, this kind of device will challenge your balance more and help your body strengthen important muscles responsible for stability.
And the term "dynamic" simply refers to the idea that good balance isn't just being able to stand on one leg; you should be able to retain your balance while walking, climbing steps, turning a corner, or multi-tasking.
It's in these dynamic scenarios when falls most often happen. In the clinic, we challenge dynamic balance by replicating these scenarios with functional movements.
The 60uP Balance Board is wider than other boards and better accommodates a full workout. Its width also makes it easier to control; by scooting your feet in or out, you can make it more or less stable.
2. It's challenging but safe
Safety is a huge priority for me as a physical therapist. I would never recommend something that I think will easily break or cause injury. The 60uP Balance Board ticks all my boxes for quality and safety. Plus, it's designed to be used at home without supervision, regardless of your balance level.
If you need more stability, you can easily upgrade the standard set of poles to 60uP's metal ones. As you become more stable, you can switch back to the pliable poles, and maybe eventually remove them completely.
Either way, the 60uP program allows for a range of exercise progression and stability safeguards, both which make working out at home safe.
3. It has unlimited potential for use in the clinic and at home.
Many exercise gadgets on the market today have limited useability. Designed for one specific movement or set of movements, these devices end up in the basement or in the trash, untouched from lack of interest or applicability.
But the 60uP Balance Board is wonderfully versatile. I'm in my mid-thirties – not the target audience for a balance board – and I found plenty of ways to use the board to challenge and diversify my regular workouts.
Besides its use as a home exercise tool, this balance board has good potential in the clinic. I could easily use this device to help rehab a patient after total knee replacement, or to supplement a simple balance program to restore stability.
Whether you're recovering from surgery, unsteady on your feet, or strong as an ox – the 60uP Balance Board program can meet your level of fitness and challenge your workouts.
What I didn't like about the 60uP Balance Board
There isn't much I disliked about this balance board, but to be nit-picky, I'll share two main criticisms.
Footprint:
If you're limited on space, you might dislike how large the 60uP Balance Board is. At 3 feet long and 20 inches wide, it occupies a sizable chunk of space in my home gym. Its width adds to its versatility but takes away from its portability.
However, I don't think this will be a huge problem for most people, because without the poles it can easily stow away in a closet or under a bed.
Noise:
The handles rattle and squeak slightly when the board is in use. It's understandable why – their flexible design attributes to the board's dynamic features. But this design does make the poles rattle, which you might find annoying.
To fix this, simply add a bit of foam at the handle. For me, this drawback is not a deal breaker, just something I'd change.
Overall Review of 60uP Balance Board
After using the 60uP balance board for a couple weeks, I was impressed by the range of balance exercises and training drills I was able to do on the board. With this device, the exercise options are virtually endless, from simple warm-ups to advanced movements.
What's more, this board can easily mimic dynamic activities that are most likely to cause imbalance, providing a safe and effective way to prevent falls in those problematic scenarios.
As someone who enjoys coming up with balance exercises and routines for my patients in the clinic, I can easily think up 10 to 20 new exercises to try on the board.
But you don't need to be a PT to enjoy the board's potential; the board comes with an entire library of videos and workouts! These exercises are led by Bob Eubanks, the inventor of the board himself, so you know they're legitimate and safe.
Is the 60uP Balance Board Worth It?
That all depends on you.
Buying this board won't improve your balance – using it will.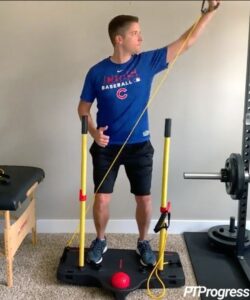 If you're frustrated with your balance and want to challenge yourself at home, this is a great tool that can absolutely make a difference. Maybe you've found physical therapy to be helpful (of course it is, but I'm biased) and need something to keep you going at home because you've lost steam with the PT exercises or have been discharged.
Either way, this is a tool I'd feel comfortable recommending to my patients, especially if they want to continue challenging their dynamic balance at home.
The bottom line is that it will work if you use it. And it won't work if you don't use it. I could give you 5 balance exercises to do every day to improve balance, but if you aren't motivated to do them, your balance won't improve. It's as simple as that.
Some people are more motivated to work out when they have equipment and tools to use or instructions and tutorials to follow. If that fits with your personality type, I think you'll enjoy using the 60uP board.
If instead you'd like to try balance exercises at home without equipment, check out my 21 Days to Better Balance PDF. This program has helped hundreds of people get better balance through a simple exercise and balance routine.
Click here to buy the 60uP Board on Amazon. 
Sale