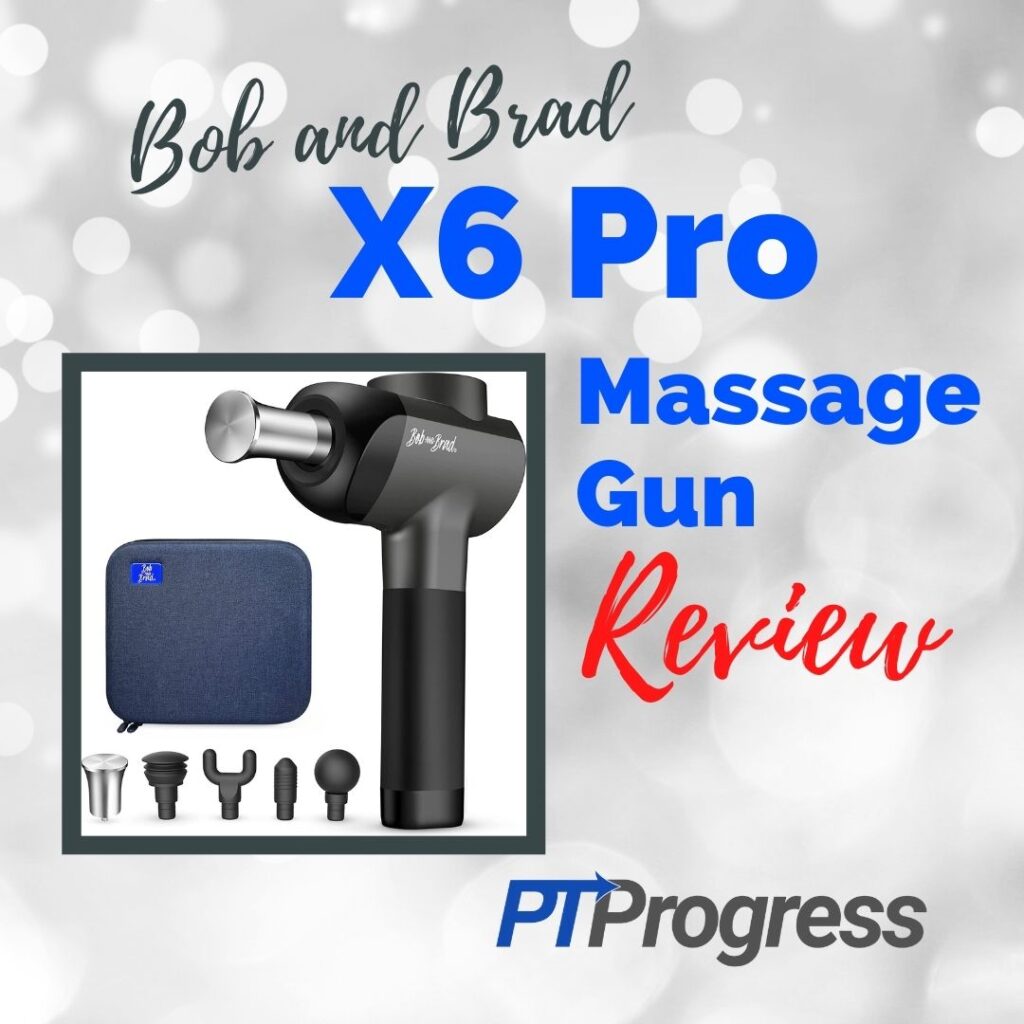 The newest massage gun from Bob and Brad is out – and I jumped at the chance to try one. In this post I'll share my review of the Bob and Brad X6 Pro and contrast it with their other two massage guns.
My History with Bob and Brad Massage Guns
If you've explored this blog before, you'll know this isn't my first "B&B gun" – I've long used Bob and Brad's massage guns both at home and in the clinic. My top pick among all massage guns has been their C2 model, which I reviewed in this post and have even purchased as a gift for a family member.
But then the Bob and Brad Mini came out and quickly stole the hearts of countless body-achers. I loved the Mini for its small size and minimal noise and promptly made it my go-to gun.
The title of Best Massage Gun is in even more contention now that Bob and Brad released their X6 Pro. The result of customer feedback, the Pro model is a new-and-improved massage gun machine, delivering the same high-quality results I've come to expect from Bob and Brad while offering a few new features.
Introducing: The Bob and Brad X6 Pro Massage Gun
In a sentence, my overall impression is that this thing is awesome. But if you need more convincing than a gushing endorsement, read on.
Below are some of the reasons why I love this gun, and why I think you'll enjoy it too.
Design Features
First, the Pro model is two inches longer than the C2 massage gun. That may not seem like a big difference, but even one inch really counts when you've got a knot in your mid-back.
I have a particular appreciation for this timely design improvement. Generally, I use a massage gun to ease muscle pain and stiffness, but recently I had been dealing with a sore spot in my mid-back that was tricky to access. With the C2 massage gun, I had to hold onto the very edge of the handle to reach the spot, and still barely hit it. I concluded that I needed a longer gun, and bam – out came the X6 Pro!
But I know I'm not the only one who will appreciate this longer handle. One of the biggest complaints I've heard from people about using massage guns is that they're difficult to use for mid-back pain. Not everyone's a contortionist – particularly those of us with bad backs – so a massage gun that makes reaching easy makes relief come easy too.
Now with a longer reach, I feel like I can massage any part of my back without straining my shoulder. If you have trouble accessing a nagging pain between your shoulder blades, the game-changer X6 Pro will take care of that soreness within a few minutes.
In addition to the larger size, there are some other design features I liked, such as the ergonomic handle that's easy to grip and carry. Weighing in at 1.9 lbs, the X6 Pro is the heaviest of Bob and Brad's guns. But it's lightweight compared to other massage guns, most of which are way more than 2 pounds.
Performance Features of X6 Pro
Design aside, this gun's performance has plenty to write home about. If you've tried the Bob and Brad C2, you'll be glad to hear that the X6 Pro performs just as well, with only a couple adaptations that you may prefer over the original massage gun.
Power and Amplitude
Over 5 incremental settings, the X6 Pro offers the same range of PPM (pulses per minute) as the C2 model: 2000-3200 PPM. But the main difference between the two guns' performance is in amplitude. The X6 has an amplitude of 10mm while the C2 model has an amplitude of 8mm.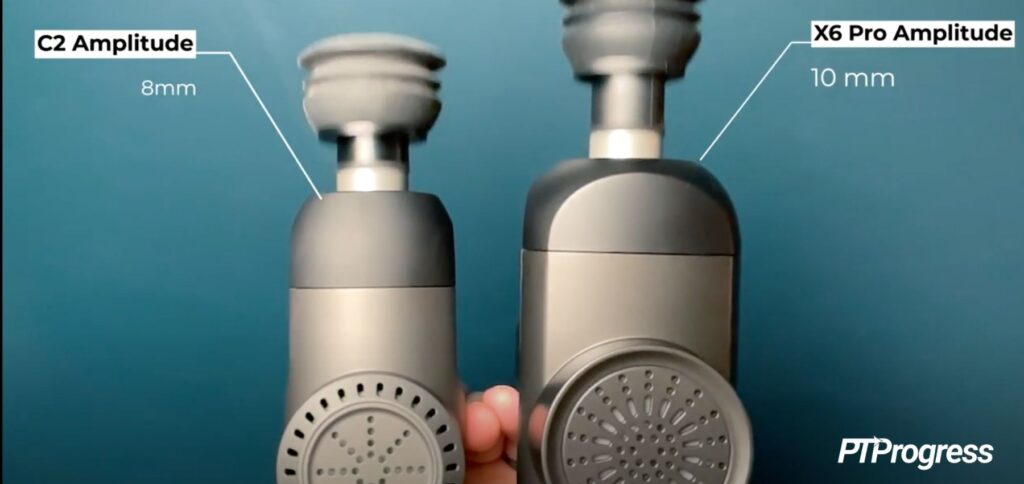 Technically, amplitude refers to the distance the head travels with each pulse. The X6 pulses 2 mm further than the C2, packing a larger punch at every level than what you'd get from the other Bob and Brad guns. You may or may not notice this 2mm difference, and personally it's not the deciding factor for me when I assess a massage gun. Other remarkable aspects of the gun's performance are more perceptible, and perhaps more important to you too.
Noise Level
When I shop for a massage gun, I follow my ears. The sound (and volume) of a pulsating massage gun can make or break a sale for me. The Bob and Brad guns all have relatively quiet motors, soft enough to not disrupt a conversation.
Although the X6 Pro is louder than the Mini, it's not much louder than the C2. But that's no surprise; the X6 has similar materials and mechanics as the C2, with the main differences being amplitude and size.
When operated on the highest level, the sound of the X6 registers at 55 db – comparable to a normal conversation. That kind of noise isn't so loud that it would drive you crazy if you're trying to watch TV or bother others if you use it in the gym.
Battery Life
The X6 battery is larger than those of the other Bob and Brad guns. Furthermore, you'll notice that the X6 Pro comes with its own AC adapter, unlike the C2 and Mini which use a USB C port.
In order to charge one of the older guns, you had to plug the USB cord into a wall adapter or computer. But now that the X6 has its own cable and adapter, you can plug it directly into the wall without having to hunt for a USB port.
Why this change? The Pro model has its own AC adapter because it uses a bigger battery; a USB C port won't cut it. But the good news is that this battery can last up to 240 minutes, just like the other guns, and reach a full charge in 3.5 hours. Some say that, with this long a battery life, you could use the gun every day and only need to charge it once a month.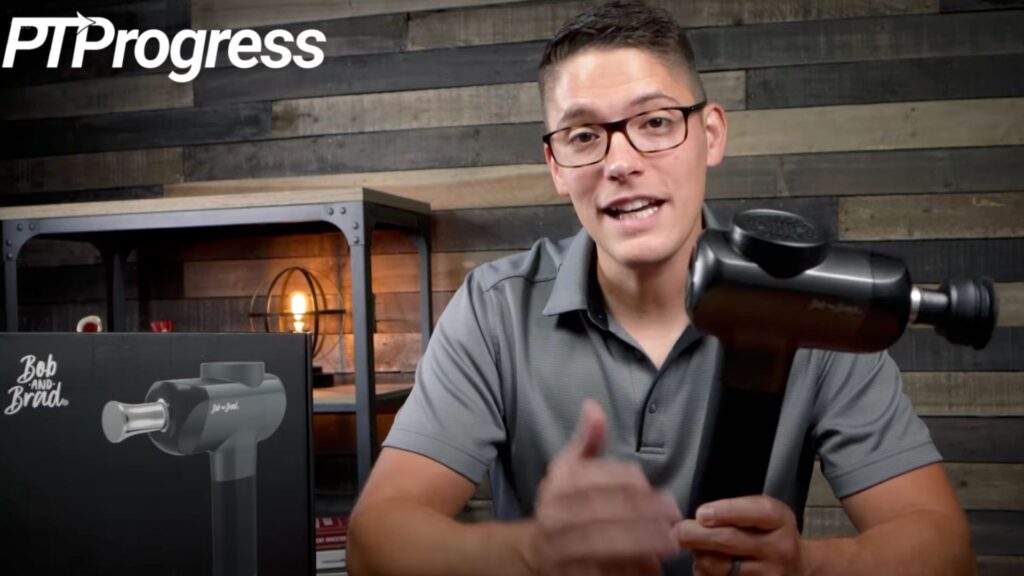 Accessories
One of the most noticeable upgrades for the X6 Pro is the addition of a metal massage gun head – yes, metal. I've never before seen one like it. This metal head screws into the massage gun, whereas the other plastic heads are pressure-fitted (or, "pop" on).
I actually really like the metal attachment. Unlike a rubber head, it glides nicely along clothing and skin without catching. Because it's made of metal you can pop the attachment in the freezer and use it cold. Or for a warming effect, try heating it up in a pot of hot water.
Besides this new-fangled metal head, the Pro model also comes with the other standard heads, including my favorite, the padded attachment. The padded head doesn't smart as much as the other, blunt heads, so it's perfect for massaging bony areas like your shoulder or knee.
To complete the outfit, every massage gun from Bob and Brad comes in a nice case, and the X6 Pro is no different. The case is lightweight, compact, and useful for storing the charger and all attachments in one place.
Price
In general, the Bob and Brad massage guns are a steal, fetching thousands of 5-star reviews on Amazon. Most users agree that, for their price points, these guns offer high-quality performance at an unbeatable value. You can find plenty of other massage guns for sale online, but when you look at the reviews, there's no comparison.
The X6 Pro, the costliest of the Bob and Brads, retails at $170 – although right now you can get it for as low as $123. The C2 model runs cheaper at $110, but I think the X6 is worth the extra cash. Not only will you get stellar power and performance, you'll also score a longer gun, a cool metal attachment, and deeper percussion from the X6 massage gun.
I've tried a lot of different massage guns on this channel, from really cheap guns to one that costs $500. Hands down, those other guns can't compare to the Bob and Brad massage guns, including the X6 Pro.
Comparing the 3 Massage Guns from Bob and Brad
Which Bob and Brad massage gun should you choose? That all depends on your preferences – you can't go wrong with any of the three. For a technical comparison, the table below lays out all the specs:
| | | | |
| --- | --- | --- | --- |
| | Mini | C2 | X6 Pro |
| Settings | 5 | 5 | 5 |
| Power | 1800-3000 | 2000-3200 RPM | 2000-3200 RPM |
| Stall force | 32 pounds | 35 pounds | 44 pounds |
| Amplitude | 7mm | 8mm | 10mm |
| Dimensions | 5.7 x 3.3 x 1.8 in. | 6.8x 5.1 x 2.4 in. | 7.8 x 9.6 x 2.9 in. |
| Weight | .9 lb | 1.5 lbs | 1.9 lbs |
| Attachments | 5 plastic | 5 plastic | 4 plastic and 1 metal |
| Charger | USB C cable included | USB C cable included | Adapter cable and plug included |
| Retail cost | $90 | $110 | $170 |
In my experience, the C2 massage gun is a great choice for any standard, at-home massage needs. The compact size of the mini is perfect for stashing in a desk drawer at work, for instance, for when you need to work out a kink in your neck.
But if you're an athlete, a larger person, or someone with consistent mid-back pain, then the X6 Pro will be right up your alley. In fact, as a Physical Therapist, I wouldn't hesitate to recommend the X6 Pro to any of my patients, friends or family. It may very well be the best Bob and Brad massage gun – in my opinion, of course.
The Best Bob and Brad Massage Gun
So there you have it: my review of Bob and Brad's newest massage gun, the X6 Pro. If you timed it right, you can catch an Amazon promotion and apply a $50 coupon to the new gun. In any case, you can also use the promo code Progress10 to save 10% on your purchase at checkout.