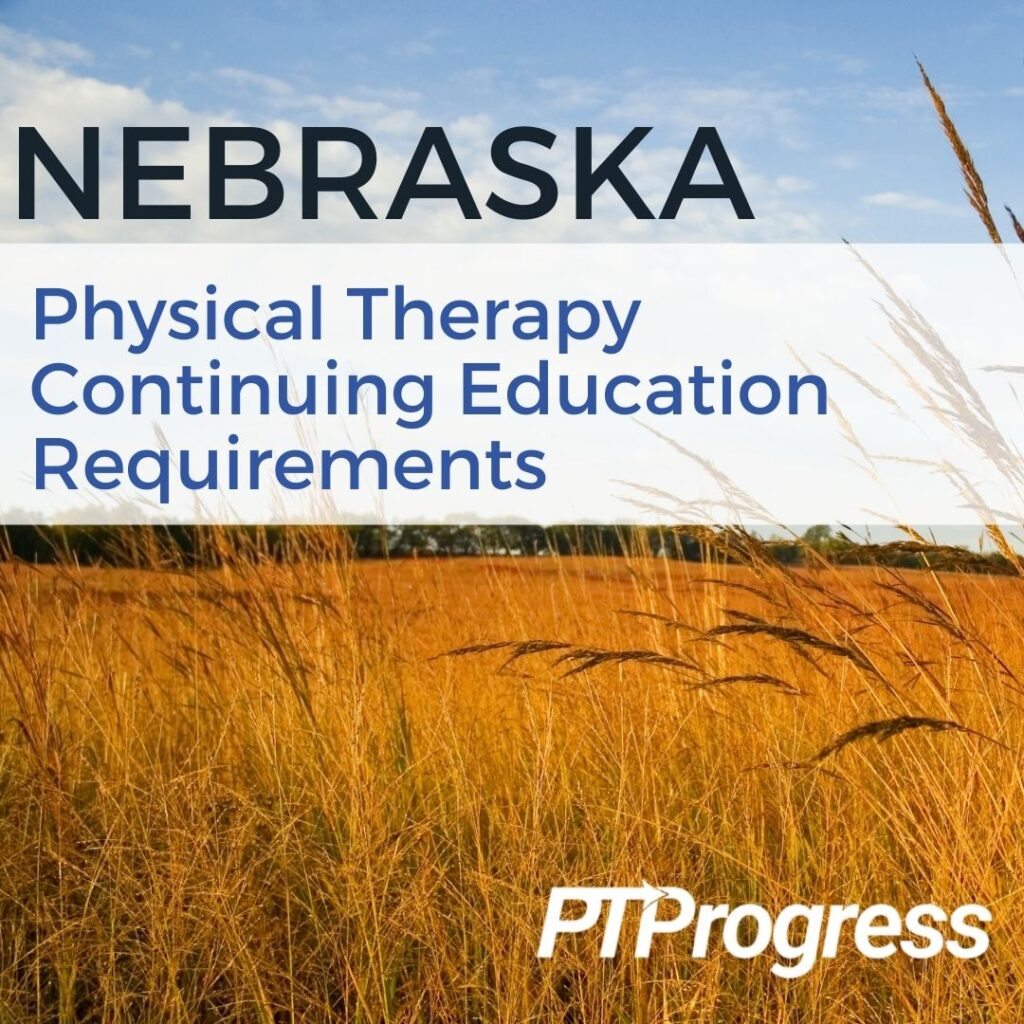 When it comes to physical therapy license renewal, every state has its own set of requirements, from deadlines and fees to the number of hours required. In this article, I'll cover all the details for Nebraska physical therapy continuing education and license renewal.
In Nebraska, a Physical Therapist must complete 20 continuing education hours by November 1st of odd-numbered years. Physical Therapy Assistants have to complete 10 hours.
At a glance:
Nebraska – 20 PT CEU hours every 2 years by November 1st of odd years.
Nebraska Physical Therapy CEU Requirements
From the Nebraska Physical Therapy Practice Act Website:
"On or before November 1st of each odd-numbered year, individuals… must complete at least 20 hours of acceptable continuing education for a physical therapist and 10 hours of acceptable continuing education for a physical therapist assistant during the preceding 24-month period.
"The Board does not approve continuing education programs or activities. In order for a continuing education activity or program to be accepted for renewal…[it] must relate to physical therapy and may focus on research, treatment, documentation, management, or education.
"A licensee or certificate holder may complete a maximum of 10 hours of continuing education utilizing webinars each 24-month renewal period."
What CEU Courses are Allowed in Nebraska?
The Nebraska Board of Physical Therapy does not pre-approve continuing education courses or providers. Rather, it is your responsibility as the licensee to ensure each activity relates to physical therapy.
When picking your Nebraska CEU courses, look for topics that center on physical therapy, whether through research, treatment, documentation, management, or education.
There's a catch though. Only 10 of your hours, at most, can be earned through live webinars. Likewise, home study, such as an online CEU course, may count for up to 10 hours of the total 20.
However, there are many other ways to earn your continuing education credit, as this chart demonstrates. If you're unsure whether a particular course or activity qualifies towards your total CEUs, contact the Board.
Can I Use MedBridge in Nebraska?
Yes, you can use an online CEU company like MedBridge Education to complete required CEUs for your Nebraska Physical Therapy license renewal. A quick check on the MedBridge website shows hundreds of Nebraska-approved courses.
In addition to their vast library of courses, MedBridge hosts webinars every month for CEU credit. All you have to do is sign up; webinars come with the price of a MedBridge subscription.
Despite Nebraska's limits on format, you could still complete all your CEU study online through MedBridge. For example, you could take 10 home-study CEUs on MedBridge and watch 10 CEUs of MedBridge webinars. You'd then fulfill your entire continuing education requirement without having to leave your home!
Use the MedBridge promo code PTProgress to save 40% on a year's access to live webinars and unlimited CEUs.
Do I need to submit proof of my completed CEUs?
Every valid CEU provider, including MedBridge, will give you a certificate of completion when you finish a CEU course or activity. You'll need to include this document with your license renewal application.
Additionally, you'll need to retain your CEU records for a few years after your license renewal period ends. Be sure to store these documents safely in case you are selected by the board for a continuing competency audit.
How much is the renewal fee?
It costs $133 to renew a PT license or $90 to renew a PTA license.
When does my Nebraska Physical Therapy license expire?
All Physical Therapy licenses expire biennially on November 1st of odd-numbered years.
How long does it take to renew a Nebraska Physical Therapy license?
For many states, it can take 4-6 weeks to process your request, so start the process early!
Compare Physical Therapy CEUs by State
How does your state compare? Take a look at all of the state-by-state CEU requirements in this comprehensive article.