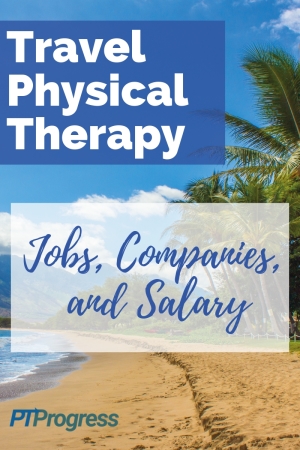 If you are considering a travel Physical Therapy job, it's an exciting time to enter the job market. The same is true for travel occupational therapists and travel nursing job seekers.
The demand for travel therapy has never been higher. This ultimate guide to travel therapy will point you in the direction you need to maximize your opportunities in travel therapy.
How Does Traveling Physical Therapy Work?
As a travel Physical Therapist, you contract with agencies to fill in at various therapy settings for a short period of time (usually 13 weeks).
These contracts can sometimes run longer and may even be shorter under certain circumstances.
As a travel Physical Therapist, you work on a contracted basis with a travel therapy company to fill opportunities across the country.
The great part about being a travel physical therapist is that you can decide which area of the country you would like to work in.
If the travel company has assignments in that area, you have the opportunity to accept positions all over the country.
You also have the flexibility to take time off between assignments so if you want to plan for a vacation or a friend's wedding in the summer, you can arrange your schedule so you're off during that period.
Travel Physical Therapy Jobs
Physical therapist travel jobs can present in a variety of Clinic settings.
You might find positions available in an outpatient clinic, hospital setting, Home Health setting, Skilled Nursing Facility, School setting, or at a neuro-rehabilitation facility.
Connecting with an organization that offers a variety of opportunities might be beneficial if you are looking for a variety in the clinic setting.
As the demand for physical therapists continues to rise, organizations will continue to need travel Physical Therapy services to meet the needs within their clinics.
This means an increase in travel physical therapy jobs! Which makes it one of the most exciting times for a therapist who is interested in becoming a travel physical therapist.
Travel PT Salary
Travel physical therapists are typically paid on a weekly basis at a negotiated rate before a contract is accepted.
The amount can really depend on the area you choose for your travel assignment. But typically the weekly pay will be anywhere from $1,500 to $1,800 or more.
Part of the paycheck will include a stipend for food, housing, and incidentals.
It's not uncommon to see an hourly rate of $25 to $30 because the stipends can be upwards of $150 a day or more.
A full 40 hours a week at $30/hour plus $100 a day for stipend will result in an $1800 paycheck. This figure will vary based on your location.
Something to consider when you're looking at the pay rates. Your tax rate on the stipend may be little to nothing whereas the tax rate on your hourly pay will be based on your state and federal tax bracket.
So it makes sense to maximize your stipend and to take a lower 'hourly' rate. The weekly amounts may be close to the same but the tax burden will be significantly less on the stipend.
Travel PT Jobs in Hawaii
How do I be a travel physical therapist in Hawaii? Someone, please tell me!
Actually, finding travel physical therapy jobs in Hawaii is possible.
The problem is that you may end up taking a lower rate of pay (everyone wants to go to Hawaii!).
You will also have higher expenses for housing and food and transportation as you'll probably need to rent a vehicle for the 13 weeks you're there.
It's not to say that a travel assignment in Hawaii is impossible. There are plenty of therapists who do this and it might work out really well for you!
Best Travel Physical Therapy Companies to Work For
Working with a Physical Therapy travel company is going to provide you with the most opportunities to find locations that work best for you.
The question is: what is the best travel physical therapy company to work for?
Finding the Best Travel Therapy Companies: What to Look For
Will they pay your license fees and travel expenses?
Some groups will make your life so much easier by helping you with the process of obtaining a PT license in another state. Many groups will even pick up the cost of the filing fees, which is a great benefit.
Best Travel Physical Therapy Companies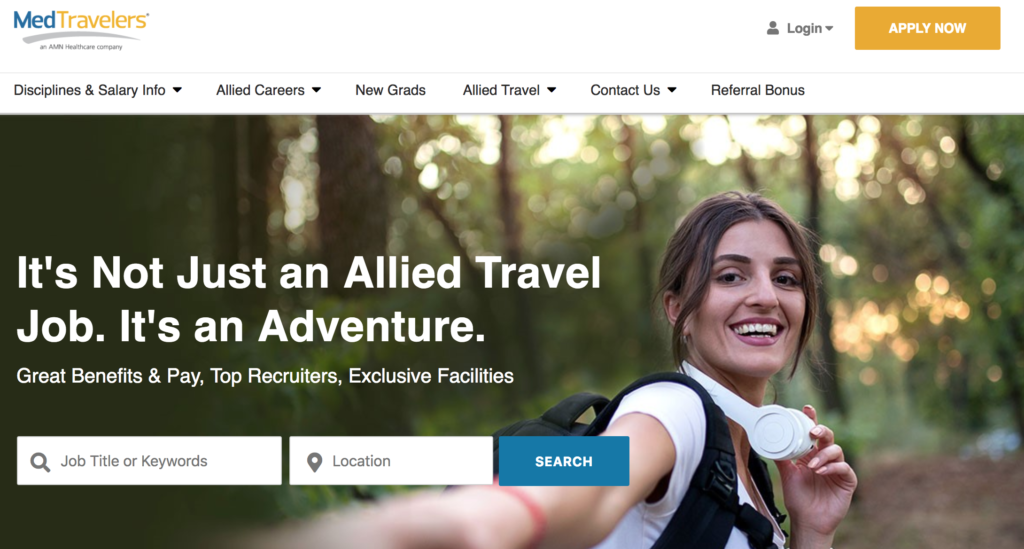 Med Travelers offers a lot of job opportunities in a wide range of areas throughout the country.
They have a very strong support staff that is well known for helping therapists find the best contracts in the areas they want to explore.
Here are some of the benefits of working with Med Travelers for a travel physical therapy assignment:
DAY ONE medical, dental, life and prof. liability insurance
Family and pets are welcome to join you
Prearranged housing; move in ready with furniture
Housing stipend if you prefer your own accommodations
401k/retirement savings plan; contribute up to $17,500/yr.
Travel reimbursement to your assignment
Housing, payroll and career specialists ready to help
As I get to know some of the contacts at these travel companies, I will list them on this page.
My goal is to provide you with the best physical therapy travel companies out there, not just any group.
So stay tuned for an update on this list for the best Physical Therapy travel companies to work for in 2020.