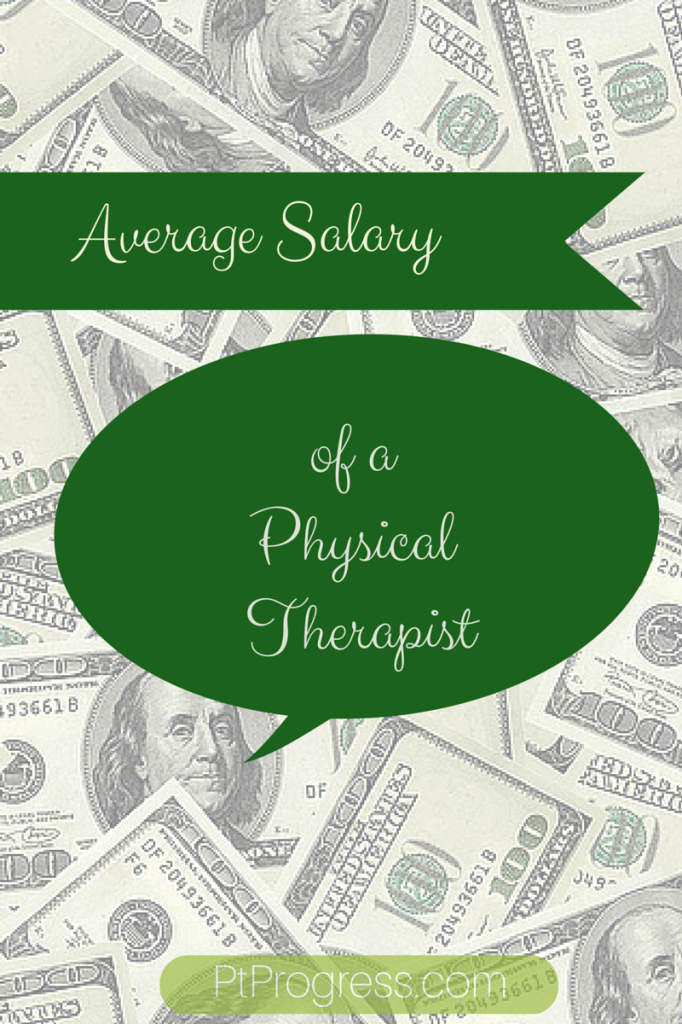 The average physical therapist salary is $82,180, which depends on years of experience, location, and specialty.  This estimate is from 2013 data from the BLS and is an average of all physical therapy salary figures in the US.
Starting Physical Therapy Salary
Most new physical therapy graduates have a starting salary around $64,000 based on 2013 APTA estimates. Recent PT graduates with less than 9 years of experience average about $78,000 per year.  Physical therapist salaries for those with more than 10 years of experience average $90,000+ annually according to the APTA.
Breaking Down The Figures

Based on a starting physical therapists salary of $64,000 annually, you can expect your gross monthly income to be $5,333 and your net 'take home' around $3,800 (based on a single tax filing status). 
On a personal note, I recently spoke with a new graduate from a physical therapy school in Arizona who was told by the program advisors not to accept a salary below $62,000, which is about $29.81 an hour. (To find hourly, divide the annual salary by 2080 – the number of hours in a working year based on a 40-hour work week.)
Mean versus Median Physical Therapist Salary
Some reports will provide a median physical therapy salary, which simply means that half of PTs make above this figure and half of PTs make below this amount.
Physical Therapy Salary Based on Specialty
Not all PT incomes are created the same.  You can expect to make more in certain setting, especially if you're willing to travel.  A traveling physical therapist salary can be 1.5 to 2 times greater than the average therapist.
How much does a physical therapist make a year?
Here are some average PT salaries by specialty*:
Acute Care Hospital: $92,000
Academic Institution: $90,000
Skilled Nursing Facility: $91,000
Home Health: $87,000
Hospital Based Outpatient: $83,000
Private Outpatient Clinic: $80,000
School System: $71,500
Inpatient Rehab: $70,000
*based on 2013 APTA data
If you're willing to relocate, you might be able to command an even larger salary.  Here are the top five states with the highest physical therapy salary.
Top 5 States with Highest Average PT Salary
Nevada: $115,220
Alaska: $96,800
California: $91,330
Texas: $90,890
New Jersey $90,750
The outlook for physical therapy income is on the rise according to the Bureau of Labor and Statistics and the American Physical Therapy Association.  Between 2004 and 2013, the median income for physical therapists increased by 25%.  The BLS reports that the employment (not salary) for physical therapists is projected to rise 36% between 2012 and 2022, which may actually lower the average income for physical therapists due to the higher influx of new graduates.
If you're willing to share your information in the comments below, it may be very helpful for new graduates or existing PTs who are interested in comparing salaries.
You can comment anonymously and include the following:
State
Years of Experience
PT Specialty
Annual or Hourly Income