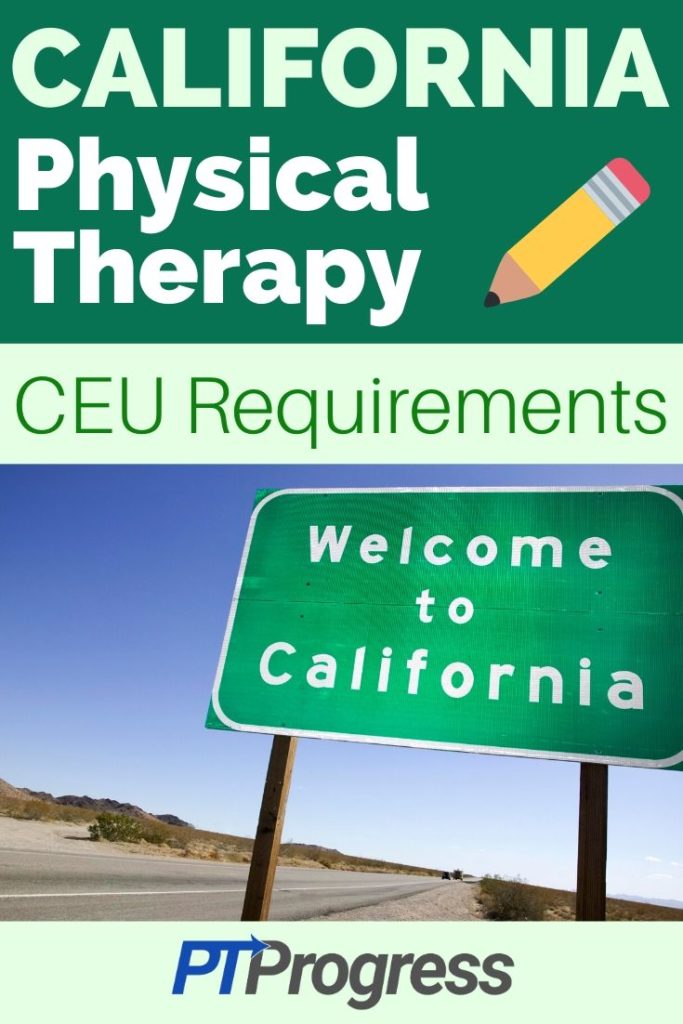 As a Physical Therapist in California, you must complete 30 continuing education hours every two years by last day of license holder's birth month. Physical Therapist Assistants in California are to take 30 continuing education hours every two years as well. The California Physical Therapy continuing education requirements are listed in detail below.
Therapists must also complete 2 hours of a course on ethics, law, and regulation as well as 4 hours of basic life support in order to renew a PT license.
Continuing education providers such as MedBridge offer multiple California ethics, laws, regulations for physical therapists courses. Here are a couple of the example courses MedBridge offers that satisfies the California ethics CEU requirement:
Ethics for Physical Therapist by Sheila Nicholson
Ethics for Rehabilitation Professionals (PT2017) by Ron Scott
You have unlimited access to these courses and 1500 courses for just $200 when you use the promo code "PTProgress" at MedBridge.
What CEU Courses are Allowed in California?
The PTBC must approve providers of continuing education courses in order for them to be eligible courses. This includes both online CEUs as well as in person courses or home study programs.
California recognizes two "pathways" for satisfying continuing education: traditional and alternate pathways.
Traditional Pathway: This includes courses such as in person or online continuing education seminars, home study courses, college coursework.
Alternative Pathways: Limitations on hours permitted are recorded next to the activity in a ( ).
Publishing a peer-reviewed journal, article, case study or book chapter: (16 hours)
Developing or presenting an approved college or CE course for the first time (16 hours)
Participating as a subject matter expert in the examination process for the Board, FSBPT, or ABPTS (16 hours)
Serve on Board appointed task force (16 hours)
Performing in a role as a Clinical Instructor (12 hours)
Attend a conference related to physical therapy (8 hours)
Attending a Board meeting (8 hours)
Completing a FSBPT practice review tool (6 hours)
Successfully passing one of the ABPTS certified specialist exam / recertification exam. (6 hours)
Completing training as an expert consultant for the Board (6 hours)
Successfully passing the Boards's California Law Examination (2 hours)
Can I Use MedBridge in California?
Yes, you can use an online CEU company like MedBridge to complete required CEUs for your California Physical Therapy license renewal. A quick check on the MedBridge website shows hundreds of approved courses for California PT license holders looking to renew their license.
Use the MedBridge promo code PTProgress to save 40% on unlimited CEUs
How much is a Physical Therapy License in California?
It costs $300 to renew your PT or PTA license. A late fee of $150 will be assessed in addition to the California physical therapy license renewal fee of $300 if you renew 30 days after your license expires.
When does my California Physical Therapy license expire?
In California you must renew your physical therapy license every two years. Your California physical therapy license will expire on the last day of your birth month.  You should receive a notice within 90 days of expiration, but stay ahead of the process and complete the proper paperwork ahead of time to avoid delay in How long does it take to renew a California Physical Therapy license?
It can take 6 weeks to process your request, so be sure to start the process early! If you are processing a name change request, the PTBC recommends sending in your renewal request at least 8 weeks before your license expires.
Do I need malpractice insurance as a Physical Therapist in California?
While the PTBC does not publish recommendations on malpractice insurance, it's still a good idea to have coverage. Some states require policies that provide coverage of "$100,000 per claim" with a recommended minimum annual aggregate or total coverage of no less than $300,000 for all claims made during the policy period.
Take a look at our recommended Physical Therapy malpractice insurance article to learn more about coverage.
Compare CEUs by State
Take a look at all of the requirements for CEUs based on your state in this comprehensive article.