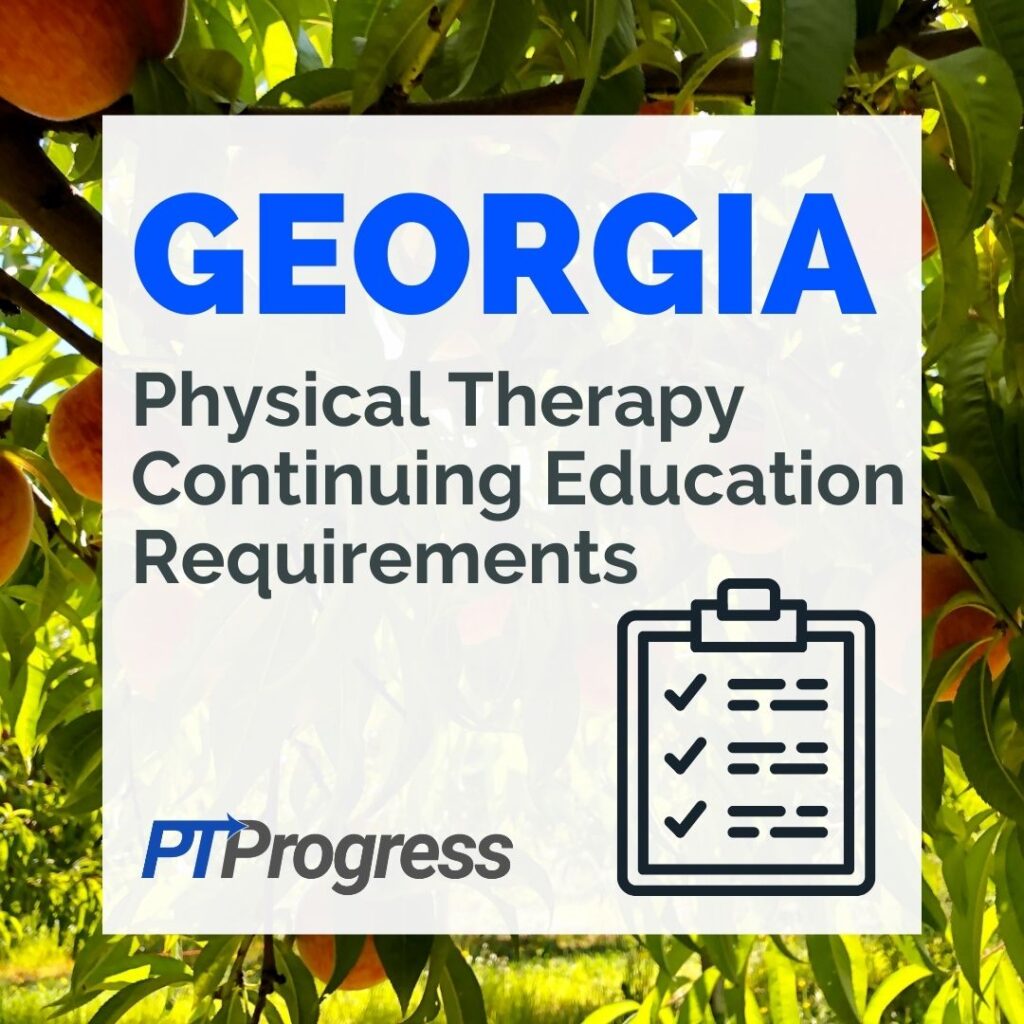 As a PT in Georgia, you have to renew your license periodically. In this article, I'll cover the whole process, from renewal deadlines to Georgia physical therapy continuing education. So let's jump in.
As a Physical Therapist or Physical Therapist Assistant in Georgia, you must complete 30 continuing education hours every two years by December 31st of odd-numbered years.
Of those 30, at least 4 hours must in Ethics or Jurisprudence. You can fulfill this requirement two ways: either by taking courses in Jurisprudence and Ethics or by passing the Georgia Jurisprudence exam.
At a glance:
Georgia – 30 PT CEU hours every 2 years by December 31st in odd years.
Georgia Physical Therapy CEU Requirements
From the Georgia Physical Therapy Practice Act Website:
"The Georgia State Board of Physical Therapy requires each licensed physical therapist and physical therapist assistant to participate in a minimum number of thirty (30) clock hours of experience per licensure period to promote continuing competence… Content of the experience must relate to patient care in physical therapy whether the subject is research, treatment, documentation, education, management, or some other content area.
"The…continuing competence requirements per biennium shall include a minimum of four (4) contact hours specifically in ethics and jurisprudence… or by passage of the Georgia Jurisprudence Examination, equivalent to the four (4) hour requirement."
What CEU Courses are Allowed in Georgia?
The Georgia State Board of Physical Therapy does not pre-approve CEU courses or providers. Therefore, it's your responsibility as the licensee to ensure your CEU courses meet their requirements.
To qualify for the 4-hour Georgia Ethics requirement, for instance, your ethics course must have a Physical Therapy Association of Georgia (PTAG) approval certificate. But you can also find eligible ethics courses at a Georgia-based university with an accredited physical therapy program.
In general, look for CEUs that are provided or approved by the following entities:
APTA and its affiliates
PTAG or AAPT
FSBPT or another state's board
AOTA, NATA, ADA, AAN, AAVSB, FCLB or AAOS
JCAHO-accredited healthcare organizations
Finally, if you're unsure whether a course or activity qualifies for continuing education, just contact the Board.
Can I Use MedBridge in Georgia?
Yes, you can use an online CEU company like MedBridge Education to complete your Georgia Physical Therapy continuing education. A quick check on the MedBridge website shows hundreds of approved courses for Georgia PTs looking to renew their license.
In fact, you can even use MedBridge to fulfill the Ethics requirements specific to Georgia PTs. One example is the 4-hour course Georgia Ethics and Jurisprudence by Ellen Strunk. This one class will knock out your entire ethics requirement.
Whether you're a PT or a PTA, you can find plenty of eligible courses on MedBridge. Use the MedBridge promo code PTProgress to save 40% on unlimited CEUs.
Do I need to submit proof of my completed CEUs?
Every legitimate CEU provider, including MedBridge, will give you a certificate of completion when you finish a CEU course or activity. The Georgia State Board of Physical Therapy requires that you submit this document when reporting your CEUs.
Refer to this table to determine what kind of documentation your CEU activity will require.
It's good practice to retain all your CEU documentation for at least five years after your renewal period, in case you are selected for a formal audit.
May I carry over any completed CEUs?
No. The Georgia State Board of Physical Therapy will not let you carry over any CEUs to a future renewal period.
How much is the renewal fee?
It costs $65 to renew a PT license and $45 to renew a PTA license.
When does my Georgia Physical Therapy license expire?
All Physical Therapy licenses expire biennially on December 31st of odd-numbered years.
How long does it take to renew a Georgia Physical Therapy license?
For many states, it can take 4-8 weeks to process your request, so start the process early!
Compare Physical Therapy CEUs by State
How does your state compare? Take a look at all of the state-by-state CEU requirements in this comprehensive article.