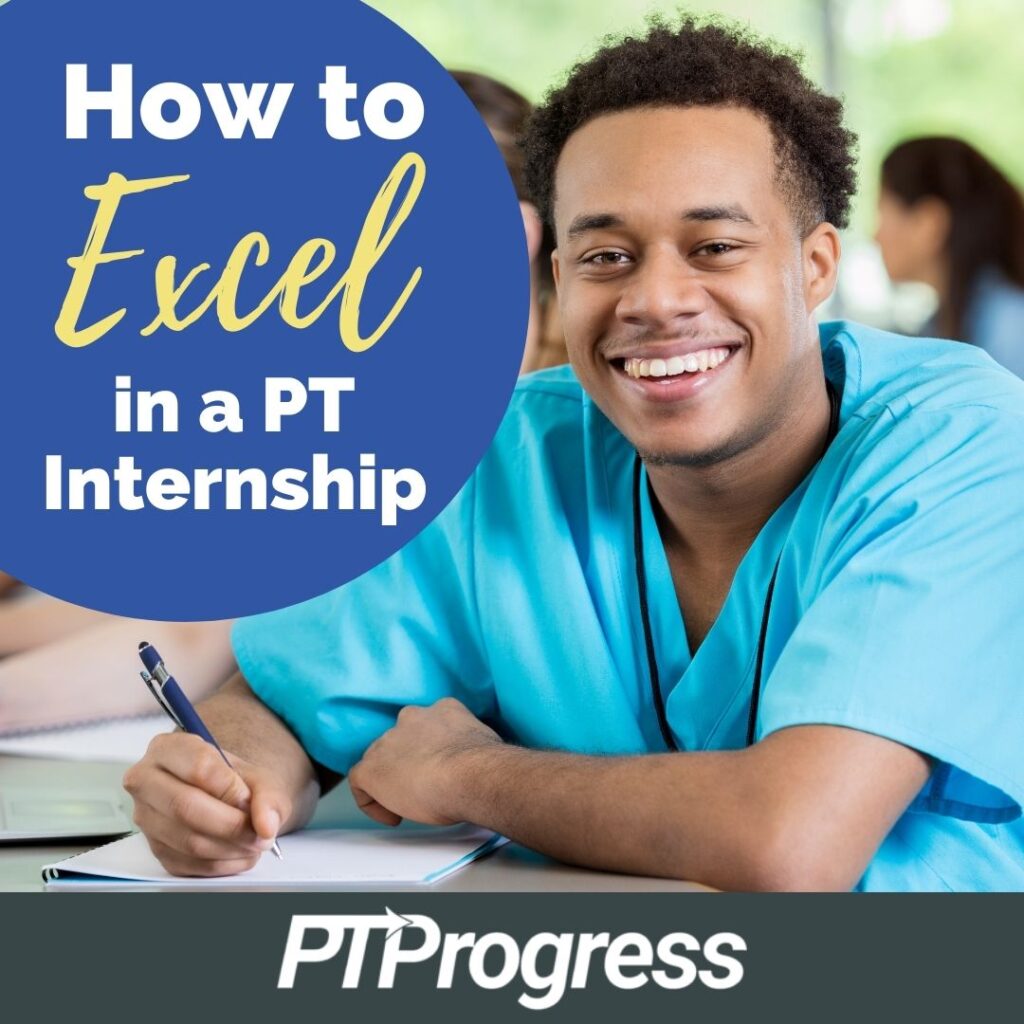 A Physical Therapy internship provides valuable opportunities for hands-on clinical experience before earning your DPT. If you're headed to a clinical internship this year, there are a key few ways you can make the most of it so that your career reaps the benefits for years to come.
Physical Therapy Clinical Internship: A Unique Experience
Clinical internships in Physical Therapy involve more than mere shadowing. Student Physical Therapists get to interact with patients directly, actively assisting them in their exercises and modalities. Designed for students enrolled in a PT program, clinical internships sometimes also require the completion of a project or other classwork.
PT internships will vary by duration (weeks or months), time commitment (100–350 hours), schedule (full-time or part-time), and time of year (during your school semesters or through summer break).
As a PT intern, you may work in a number of different settings, such as an outpatient clinic, hospital, or nursing home. Your internship may focus on a particular specialty, such as cardiac care or neurology, or a special population group, such as pediatrics, geriatrics, or sports teams. There are even opportunities to intern abroad (a good taste of what it's like to be a travel PT!).
No matter the particulars of your internship, it's up to you to make the most of it. Remember, a clinical internship isn't just another box to tick or school assignment to get through. It plays an important role in shaping your PT path.
How a Physical Therapy Internship Can Affect Your Career
Besides adorning your resume, a PT internship helps prepare you for the job market by providing professional and clinical experience, in a few different ways.
First: the patients. In your internship you'll be able to work with real-life patients and witness how they progress over the course of time. Through observation and active learning, you'll glean from the experience of seasoned therapists and learn some skills and tricks of the trade to use in your own practice.
Internships also provide valuable networking opportunities and may give you an edge when applying for a job. Plus, what you experience in your internship may help you answer interview questions with confidence and conviction.
Finally, completing your internship might at the very least qualify you for a job; some employers make internship completion a requirement for new hires. All in all, your internship is more than just icing on a cake, and with the right mindset you can excel in it!
How to Excel in Your Physical Therapy Internship
How you perform in your internship can have a profound impact on your PT career, in professionalism, practice, and interpersonal communication. If you excel in your internship, there's a good chance you'll make a great PT.
Here are a few ways you can make the most of your PT internship:
Come Prepared
Over the years, I've worked with many interns and students in clinical rotations. But no matter the stage of their career, it's the level of their preparation that makes the biggest difference in their experience.
How can you come prepared for your internship? By preparing to learn. You're not expected to know everything from the start, but you are expected to learn from what you experience in the clinic. I recommend keeping a small notebook with you so you can record personal notes each day. (Using a small notebook like this one looks more professional than typing on a smartphone!)
In your notebook, keep track of questions you might want to ask the PT and write down information to review when you go home. After each session, sit down and study the conditions, treatments, and modalities that you covered in the clinic. You can come prepared for the next day by retaining not only what you learned from the clinic but also the information you gleaned from your post-clinic studies.
Improve Your Note-writing
Ask any PT; we do a lot of writing. Evaluations, progress notes, daily notes, discharges—most everything we do must be documented. If you're not an avid writer, the daily task of documentation can quickly grow burdensome, so it's important to become more proficient with note-writing even before you start your career.
PT school didn't teach me how to write therapy documentation—experience did. After seeing how much of my free time was spent on note-writing, I knew there had to be a better way. For a little while I focused primarily on writing really great notes: well-written documentation examples with clear and specific wording. Once I was satisfied with each note, I saved it in a separate document so that I could copy and paste the wording for the next time I used the same treatment. These phrases became building blocks in my documentation, ones I could quickly tweak but not have to recompose every time.
For your internship, I recommend studying not just how your PT leads their treatments but also how they document them. Ask if you can study the examples they use, and try writing some of your own. Establish smart, time-saving habits from the start, and you'll spare yourself the headache of learning the hard way later on.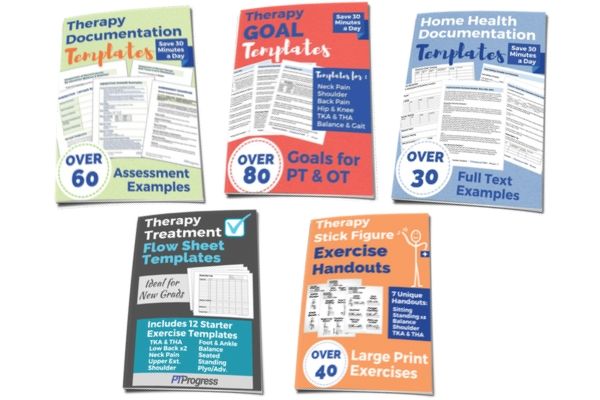 Observe Other Therapists' Unique Styles
The way you engage your patients will reflect your own personality, training, and priorities.
Take note of how the therapist you're assisting conducts their evaluations:
How do they introduce themselves?
How do they pose assessment questions so that the patient elaborates without getting too chatty?
Those subjective interviews are critical for establishing good rapport with your patient as well as providing the information you need for proper treatment.
Also consider how each therapist addresses the problems they encounter in the clinic.
What kind of modifications do they offer to make something less difficult or painful for the patient?
How do they educate the patient on their condition and care?
How do they engage and involve their patient's caregiver, if present?
Modeling your style on another therapist's is a good way to start. But over time you'll develop your own style based on your personal strengths and skills.
It's not about originality so much as authenticity. Learn from the unique styles of other therapists under whom you intern, and adapt what you like for your own practice.
Put the Patient's Needs First
Remember the reason you're there. Yes, you're just learning, but this is real life, and the patient has real needs. The patient deserves the lion's share of your PT's attention.
Asking questions is a great way to demonstrate active learning throughout your internship. But if you're not careful, your questions can quickly derail or distract from the patient's time with the therapist. Be tactful when asking questions, or write them down in your notebook to ask at a more opportune time.
Finally, don't forget that physical therapy is more than a job; it's someone else's life transformation. Even though you're just an intern, you could make a huge difference in your patient's future. Sure, each patient is responsible for following through with their program and staying healthy. But you have the opportunity to inspire and encourage any progress you see them make, which can go a long way in their overall recovery.
If you focus on helping the patient achieve their goals, you'll become a better PT—not just in your internship, but throughout your schooling and the rest of your career.