If you're thinking about using MedBridge Enterprise for your hospital, clinic, or medical group, you're not alone. More and more organizations are turning to MedBridge to provide education solutions to clinicians and staff.
As a Physical Therapist, I personally started using MedBridge over a year ago and was a part of a company of 500+ employees that adopted MedBridge as well.
They realized the benefits of having a 'done-for-you' solution for:
Intuitive compliance training platform
offering specific employee learning tracks
and providing clinicians with unlimited CEUs.
I have a unique perspective, both as a clinician who previously paid for MedBridge out of pocket and also as an employee of a group who now offers MedBridge to their employees at no cost to the employee.
Let's dive into a few key questions I've heard from managers and clinic owners who are curious about offering MedBridge to employees.
Is MedBridge Worth It?
From a clinical standpoint, the answer is a strong yes. As a PT in the outpatient setting, I used MedBridge daily. From creating custom home exercise programs to watching compliance or continuing ed videos, MedBridge was always on my laptop.
In the home health setting, I use MedBridge for OASIS compliance training, HEP development, and compliance modules for our organization.
Here's why I personally think MedBridge is worth it for employers:
Consistency – Yes, you could hold live compliance training seminars and multiple workshops for your staff. But the problem with this model is the time involved and the consistency of the message. With MedBridge you can create consistent training modules and compliance courses and know with certainty every employee is hearing the same message.
Reliability – I've used multiple compliance / CEU platforms in the past and the biggest complaint has always been poor reliability. Difficulty logging in to systems and inconsistent tracking can leave employees feeling very frustrated.
The MedBridge platform is simple to use, intuitive, and very easy to track progress. You can easily pause and return to training without fear of losing your place. This might sound like a small issue, but as a busy clinician, it's an important feature when you have a busy schedule and have to fit in compliance training between patients.
High Quality – The video production team at MedBridge always produces high-quality recordings with excellent audio and video. Nothing is worse than a 30-minute compliance training with horrible audio! I've never experienced this with MedBridge because their attention to detail sets them apart from everyone else.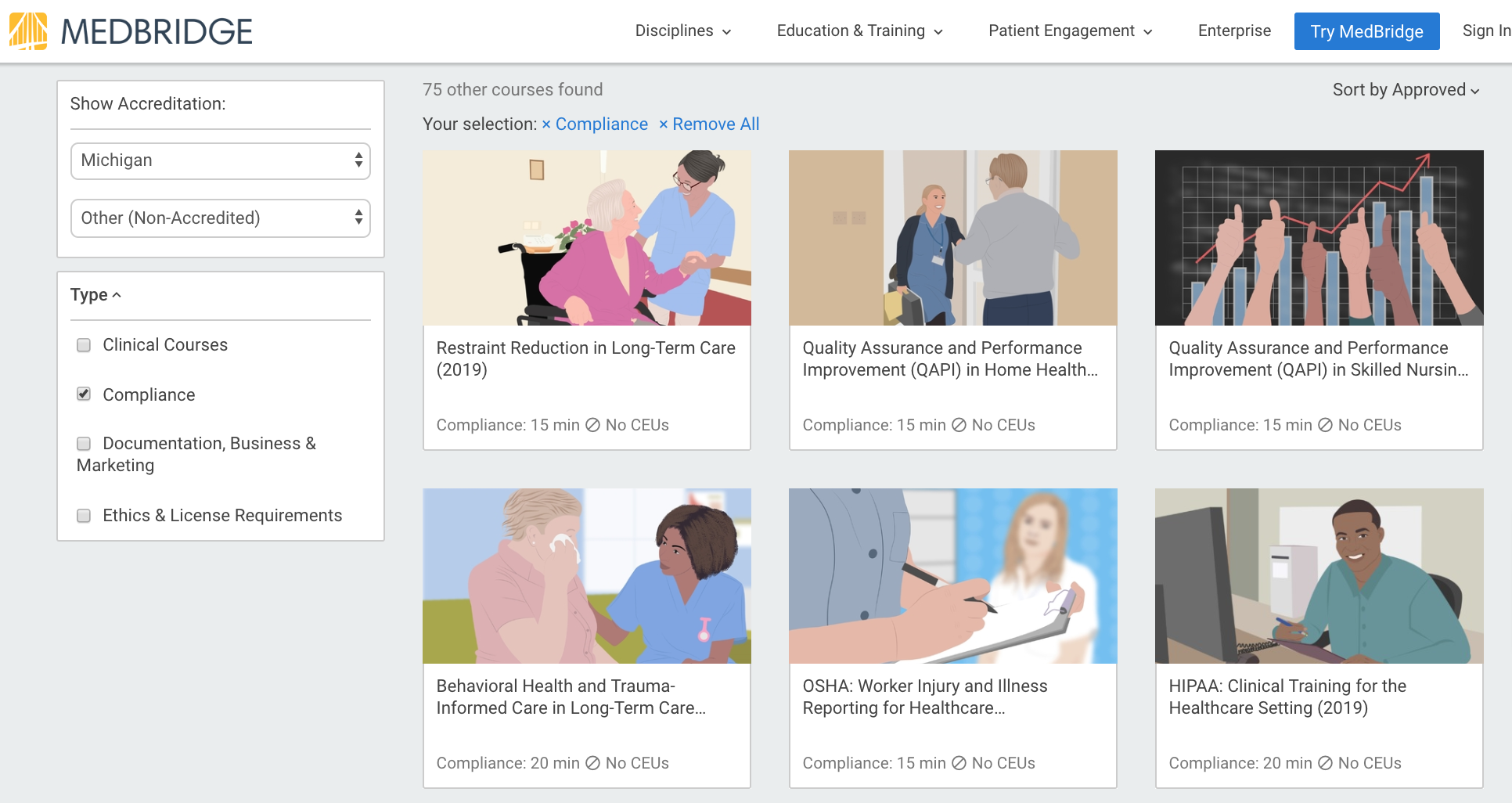 How much does MedBridge cost?
Typically the MedBridge Premium level is $425 and the MedBridge Education level is $350.
However, PTProgress has partnered with MedBridge to provide a significant discount for individuals and organizations.
MedBridge Promo Code: PTProgress
Use this MedBridge promo code for a $150 MedBridge Discount
MedBridge Group Discount
If you are a part of a hospital, home health agency, or a private practice, you can also qualify for a group discount. Simply use the MedBridge contact form and let them know you'd like the PTProgress discount for the enterprise solution.
Is MedBridge Worth It?

MedBridge brings a lot of value to the table. From unlimited CEUs for therapists and nurses to interactive training modules, they are the best in the industry.
But where they really shine for value is with the learning management system for onboarding, training, and improving employee retention.
Yes, retention. MedBridge shares a case study that shows a 75% reduction in staff attrition because of streamlined onboarding, improved employee engagement, and evidence-based clinical education tools.
Why is Onboarding and Compliance Training Important?
It's not uncommon for states to require compliance training to cover topics such as ethics, medical errors, and items such as child and senior adult abuse and reporting. MedBridge offers compliance tracks that satisfy these requirements and streamline the onboarding process with simple to use learning tracks for new employees.
From OSHA training to HIPPA compliance, you can customize the compliance courses required for employees and easily track completion and ongoing progress.
MedBridge Review: Enterprise Solutions
Not only does MedBridge make sense for compliance training, but it's helpful for clinicians who need to complete CEUs for license renewal.
Offering MedBridge as part of the employee benefits package can translate into hundreds of dollars in value for employees who need to complete continuing ed courses for license renewal.
MedBridge is a unique platform that provides value for both the employer and the employee through continuing education, compliance, and patient education resources.
For more information about MedBridge Enterprise, contact the enterprise team and mention PTProgress for a discount on your organization's subscription to MedBridge. You can also check out our full MedBridge review for more information.