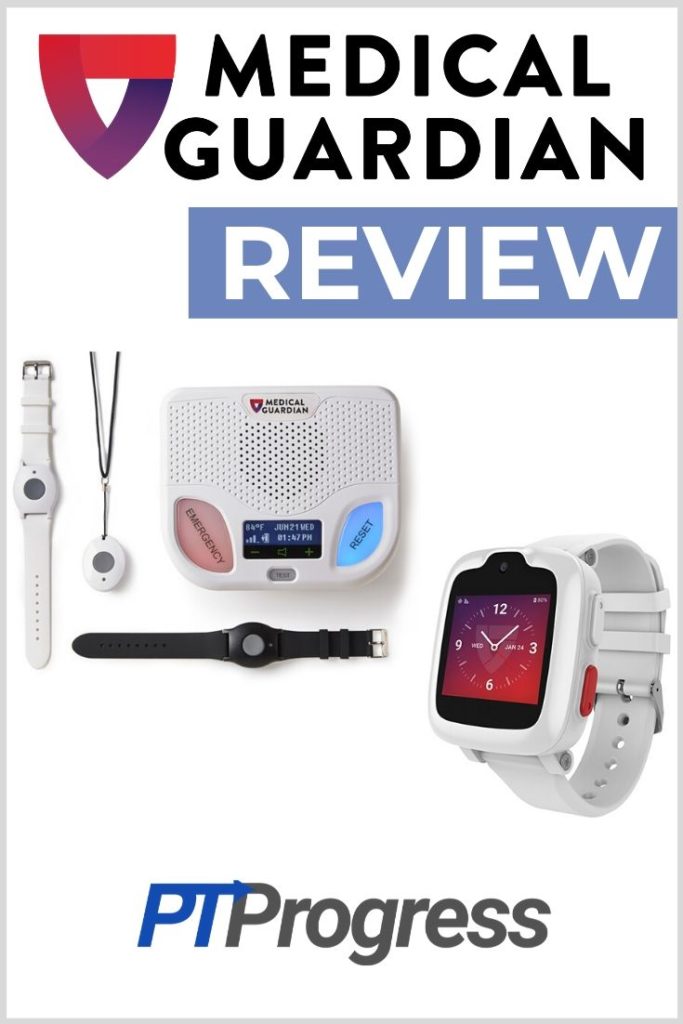 If you're trying to figure out the best medical alert system for a family member or yourself, this Medical Guardian review is worth the read.

As a practicing Physical Therapist, I work with patients in the clinic and in the home setting who are at high risk for falls.

It really scares me sometimes when I see a patient who is at a high risk for falling and no one is around to help them or call for help if they do fall at home.

Family members often ask me questions about improving balance or new technology for seniors to prevent falls.

Often they'll bring up medical alert systems and ask for my opinion. As a balance and movement expert, they trust my opinion and I value the opportunity to share insights to make them or their family members safe.

Medical Guardian Review: A Physical Therapist's Assessment
When I started doing research for the best medical alert systems, I quickly saw a lot of different brands, options, and features among devices.

But I was quickly drawn to a group called Medical Guardian, a company that has over 125,000 active customers who use the connected service.


Medical Guardian Review: 30 Second Version
Since 2005, Medical Guardian has been a leader in the medical alert space. They have 6 emergency medical alert systems that are trusted by over 125,000 users.
In a day where new tech ventures start and fold within a matter of months, it's reassuring to have a solid company with a long track record of providing medical alert monitoring and support.
What Makes Medical Guardian Different?
When I recommend a product to my patients, I need to know the support team at the company will be there to answer questions when I'm not around. Here are a few reasons why I recommend Medical Guardian.
Quality Support: A Must Have Feature
When I finish a conversation in the clinic or at a patient's home and I recommend Medical Guardian, I am confident they'll have the customer support from the initial phone call, to setup, and when they need to use it.

Their 24/7 call center has been recognized as highly reliable and friendly, a reflection of their family friendly company culture. When you call, you'll talk with a highly trained person who truly cares and wants to help you.

U.S. Based Call Center
The support team at Medical Guardian is located in the United States in a state of the art monitoring center. Not only will you have reliable connection, you will clearly understand the operator without worry of language barrier or poor connection on their end.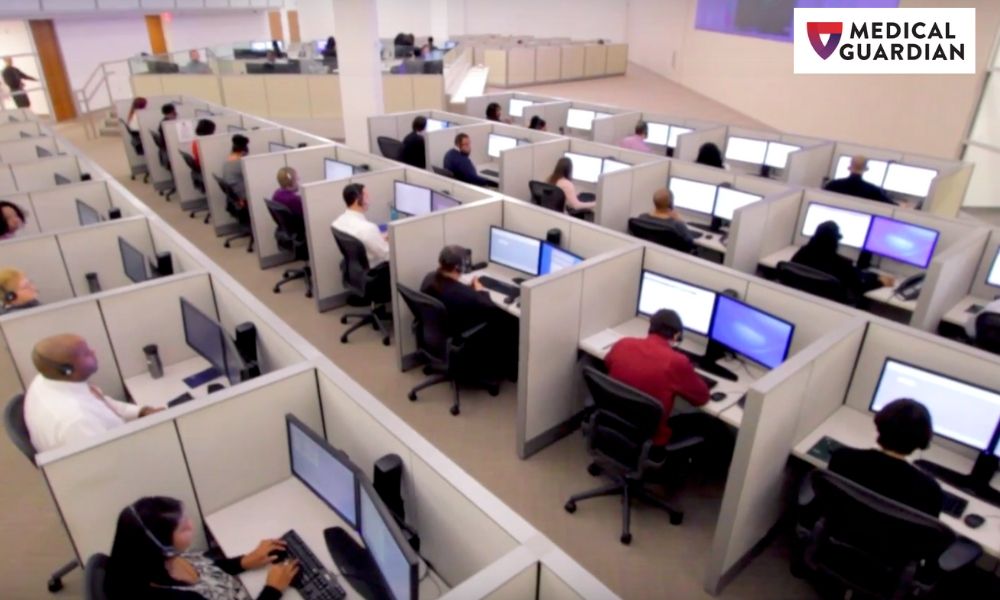 Customized Products: Modern Solutions for Monitoring
Whether you are looking for an in home system or a mobile, on the go system, you can choose from 6 high quality options.

You can see each product below, but if you're still not sure which one is the best option, the support team can help you find the right product.
Medical Guardian Products
When you're looking through the product options from Medical Guardian, you'll find 2 categories: "In-Home" and "On-The-Go"

Each of these categories includes three different product options.


The difference between these products is just as it sounds:

In-Home Products: Offer available land line connections or cellular connection for emergency contact features. Systems come with wearable monitors that can be activated when help is needed within the home.

On-The-Go Products: Offer GPS and or Wi-Fi enabled connectivity to provide fall safety and emergency support inside our outside of the home.

Let's take a look at each of the products, starting with the In-Home options.

Classic Guardian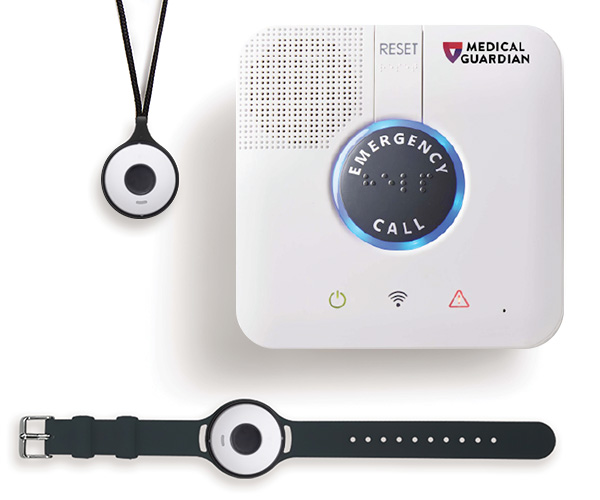 This affordable medical alert system is a popular option among users who prefer to connect to a landline telephone. With a very long range of connectivity, the wearable medical alert can be used 1300 feet from your home. That's nearly 4 football fields away!

You can add fall detection technology to your wearable device for an added cost. The Classic Guardian will cost about $0.97 a day.
Home Guardian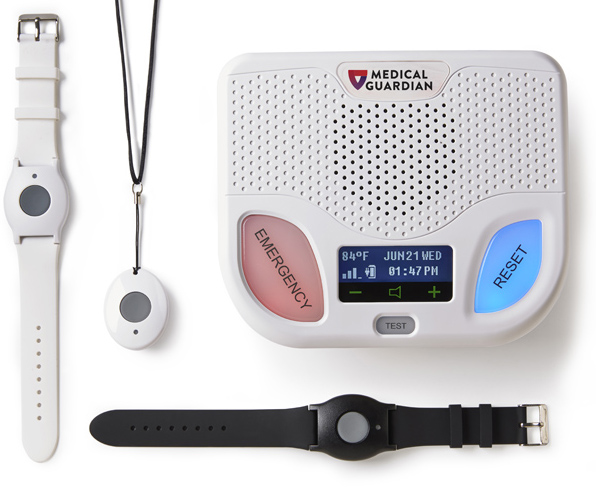 This system is perfect for people who do not have a landline telephone. The Home Guardian monitoring system uses a national cellular network to connect you to the 24/7 monitoring center.

The upgraded base station provides a few additional features and connects to your wearable device that can also detect falls if selected as an option. The range is a little less than that classic option, but connects within 600 feet from the base station. The Home Guardian will cost about $1.13 a day.

Family Guardian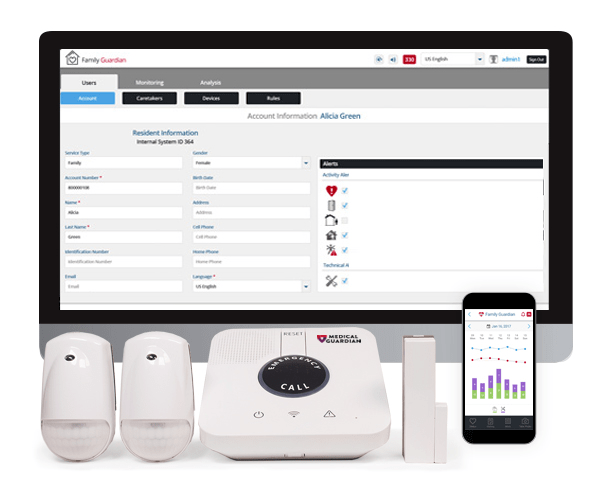 This system is also a cellular based station (no landline) and provides connectivity up to 1,300 feet of the base station. The upgraded features here provide activity monitoring so family and caregivers can see updated stats on your loved one's health and activity levels. It comes with activity sensors which are designed to give you an idea if your loved one is active and moving throughout the home or sedentary throughout the day.

This system is a little more expensive as it provides you with more information; it will cost about $2.58 a day.
Mobile Guardian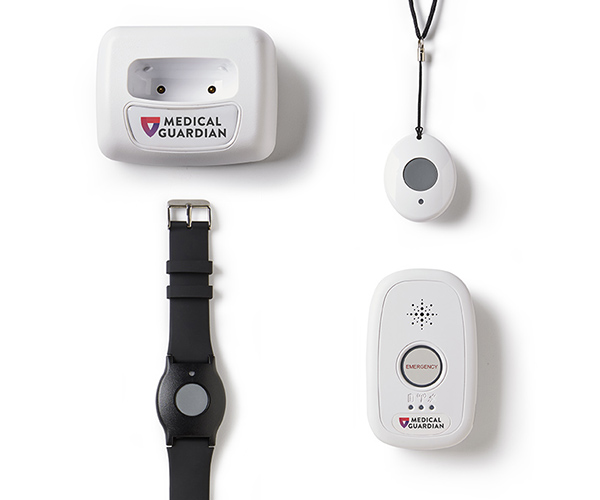 This GPS enabled system is completely portable and useful for active individuals who want peace of mind outside of the home as well. As long as you are within 300 feet of the main device (size of a deck of cards), your alert device will work to contact emergency support.

Since it is GPS ready, emergency services will be able to quickly find your location to provide help. For people who want the freedom to be active but want to have peace of mind for their family, this is a great option.

The Mobile Guardian system will cost about $1.61 a day.

Active Guardian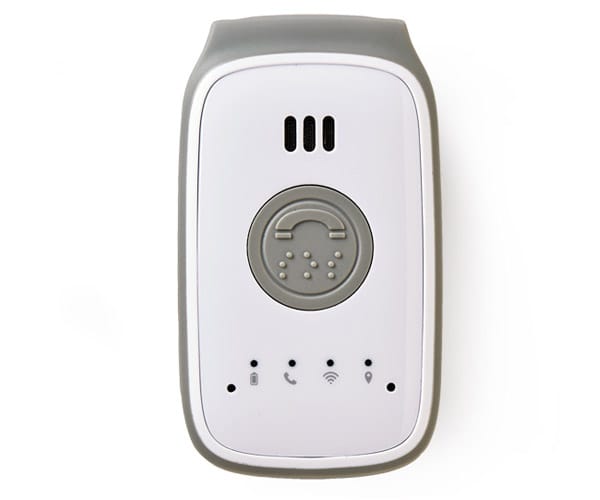 This is a truly portable medical alert device that offers GPS and WiFi within a single wearable device. Unlike the other devices, this wearable device is an all in one fall alert system that can go anywhere you go. It's waterproof, has built in fall detection, and comes with the Medical Guardian protection plan in case it's lost or stolen.

The Active Guardian system will cost about $1.45 a day.

Freedom Guardian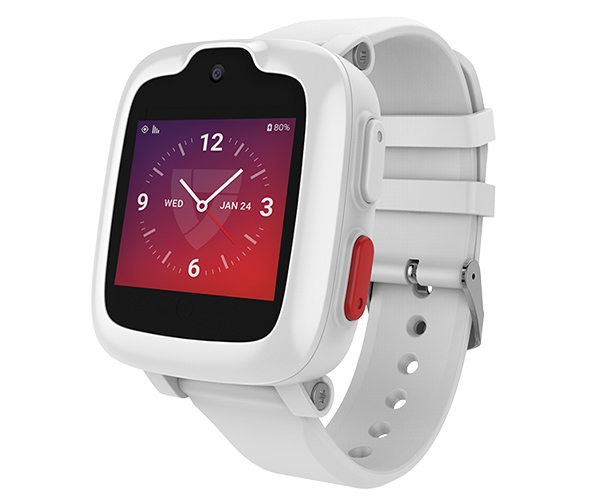 The Freedom Guardian is a medical alert smart watch that is lightweight, discrete, and great for older adults who are active. You can monitory activity through the Freedom Guardian app and even have loved ones connect to the app to send unlimited messages directly to the Freedom Guardian watch.

Medical Guardian designed the Freedom Guardian medical alert smart watch to be simple to use and easy to manage. Some of the features that are really helpful include:

Reminders and Calendar Alerts
GPS / Location Tracking
Text to Speech Technology
Integrated Weather Alerts
48 Hour Charge Capacity
As smartwatches become more popular, the Freedom Guardian has been widely accepted by users because of the simplicity of the device. Starting at $1.35 a day, it is an affordable option for medical alert systems.
Medical Guardian Reviews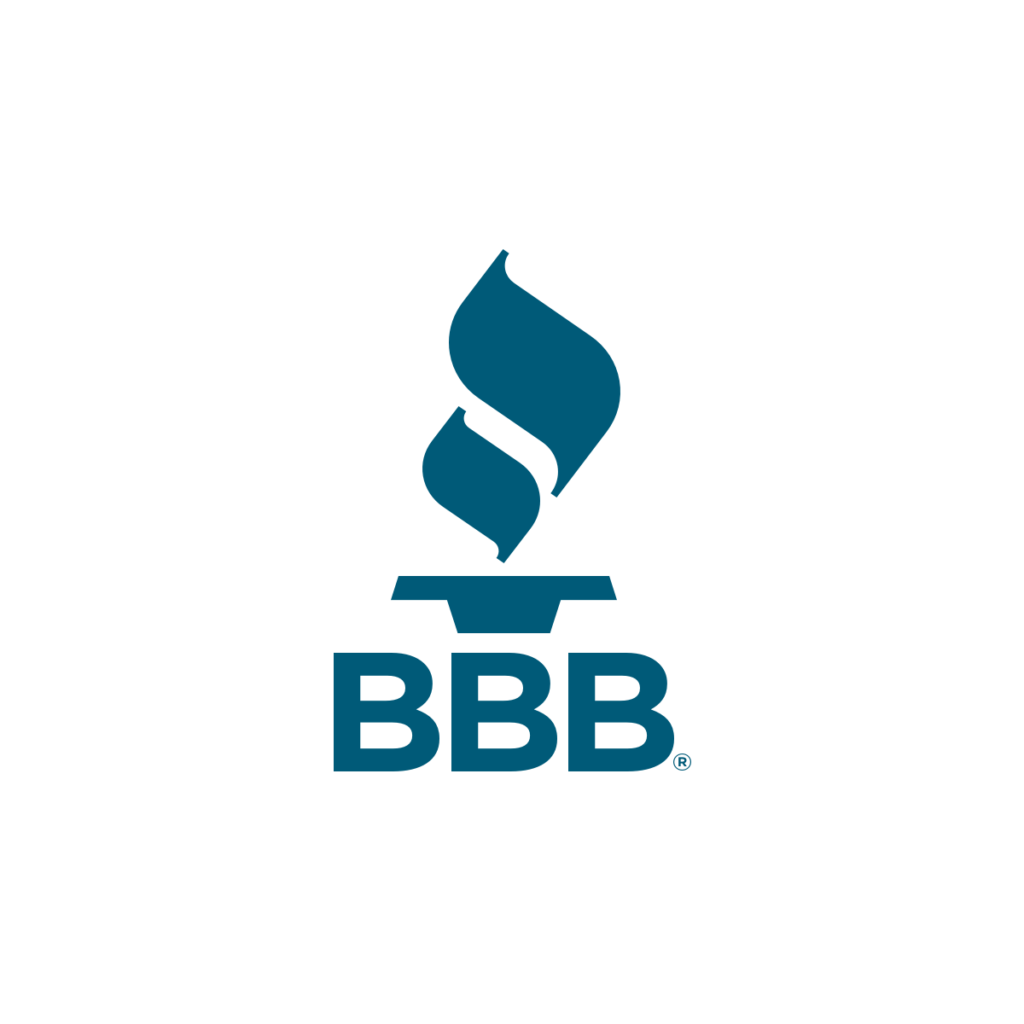 BBB Rating for Medical Guardian: A+
The Better Business Bureau provides rankings for companies based on performance, track record, and integrity. Based on the BBB standards and other factors for their Medical Guardian review, they placed an A+ rating for the company.

This speaks volumes as not every company can secure an A rating let alone an A+ rating. Medical Guardian sets itself apart as a quality company that takes pride in its service and products – this is absolutely reflected in their review by the BBB.

You can find other positive company reviews on trusted sites such as Consumer Reports and GlassDoor.

How Much Does Medical Guardian Cost?
Most of the services listed above will cost just over $1 a day with the Family Guardian system coming in just over $2.00 a month.
If you select the Freedom Guardian watch, there is a $99 up front cost for the device. The other devices do not have an initial device cost.
Choosing a Plan:
Monthly, quarterly, semi-annual, or annual payments are accepted with the Medical Guardian systems. Some of the plans offer a discount on the terms if paid annually.
Medical Guardian also provides options for add on devices and even protection plans to cover damages on the product.
Is Medical Guardian Worth It?
You know those commercials that say "this product is only a dollar a day." There are a lot of things we spend a dollar a day on, that's for sure!
When it comes to our health and peace of mind, spending a dollar a day is absolutely worth it.
As a physical therapist, I encourage people every day to think about the big picture or the long term results.
Here's the big picture: safety and peace of mind.
No one ever expects to fall.
No one ever plans on an injury.
No one really wants to go to physical therapy because they've injured themselves with a fall.
If we can prevent unnecessary falls and expensive hospital stays by investing a dollar a day towards your health and peace of mind, it's absolutely worth it.

To the family members:
I know you want your mom or dad to have their independence but to also be safe. We can't always be there to make sure they are safe within their home. But we can have peace of mind and support their independence by giving them access to help when you're not available.

I've worked with so many seniors who could use a medical alert system but don't want to spend money on it. Heck, most seniors who lived in the depression era don't want to spend money on a lot of things! I get it and I try to be sensitive when I recommend purchasing things.

I would gladly spend a dollar a day to provide immediate support for my mom or dad if they were at risk for falls at home. I know everyone is different, but that's just my $0.02 as someone who knows how serious it is for people to recover after falling at home.
Check Out Medical Guardian for Yourself
If you're curious to learn more about the medical alert systems at Medical Guardian, check them out here.
I hope you found this review helpful!