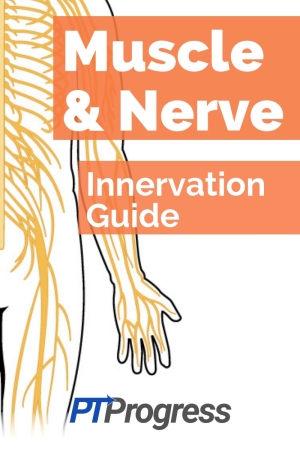 Knowing muscle innervations is an important skill for medical professionals such as Physical Therapists, Physicians, and Occupational Therapists. This is a list of muscle innervations grouped by nerves and includes the spinal nerve roots that contribute to the innervation of each muscle.
Spinal Nerve Chart Memorization
During PT School we were required to memorize every muscle and nerve that innervated each muscle. As part of my studying strategy, I decided to create a spinal nerve chart to group the muscles according to innervation. Part of the muscle innervation chart below includes this list and also includes a list of upper extremity and lower extremity innervations which was developed in collaboration with all the students in the PT program.
Using the Muscle and Nerve Chart
Let's say you're interested in knowing all the muscles innervated by the ulnar nerve. From the chart, you can see the ulnar nerve innervates the Flexor Carpi Ulnaris, Abductor digiti minimi, Opponens digiti minimi, Flexor digiti minimi, Lumbricals (3 and 4), Interossei, and Adductor pollicis muscles. Each listed muscle also includes the spinal nerve root level that contributes to the muscles innervation.
The parenthesis () next to the spinal nerve root means this level contributes to the innervation but is not the primary nerve root. For example: the serratus anterior muscle is innervated by the long thoracic nerve with contributions from spinal nerve root C5, 6, 7 (8). The parenthesis around (8) means the nerve root at C8 may contribute to the innervation of this muscle, but the primary nerve roots are C 5,6,7.
How to Memorize Muscles and Innervations
Associating muscles to a common nerve group is an excellent way to memorize muscle innervations. For example, when you realize that the radial nerve innervates the majority of the hand and wrist extensor muscles, you can form better associations and quickly reference this knowledge when you're tested on it during anatomy lab or an exam.
I personally used a flashcard app to list each muscle and it's corresponding innervation. A flashcard app like Quizlet is a must have for muscle memorization.
Muscle Innervation Chart: Upper Extremity
SPINAL ACCESSORY NERVE (CN XI) & Anterior Primary Rami
Upper trapezius CN XI & C(2),3,4
Middle trapezius CN XI & C(2),3,4
Lower trapezius CN XI & C(2),3,4
SUPRASCAPULAR NERVE
Supraspinatus C(4),5,(6)
Infraspinatus C(4),5,6
DORSAL SCAPULAR NERVE
Levator scapulae C4,5
Rhomboideus minor C(4),5
Rhomboideus major C(4),5
AXILLARY NERVE
Deltoid (all) C5,6
Teres minor C5,6
SUBCLAVIAN NERVE
Subclavius C5,6
MUSCULOCUTANEOUS NERVE
Biceps brachii C5,6
Brachialis (& radial) C5,6
Coracobrachialis C6,7
UPPER SUBSCAPULAR NERVE
Subscapularis C5,6,(7)
LOWER SUBSCAPULAR NERVE
Subscapularis C5,6,(7)
Teres major C(5),6,(7)
LATERAL PECTORAL NERVE
Pectoralis major-clavicular fibers C5,6,7
Pectoralis major-sternal fibers C5,6,7
LONG THORACIC NERVE
Serratus Anterior C5,6,7,(8)
Thoracodorsal (middle subscapular)
Latissimus dorsi C6,7,8
RADIAL NERVE
Brachialis C5,6
Brachioradialis C5,6
Supinator C(5),6,(7)
Extensor carpi radialis brevis C6,7,(8)
Extensor digitorum C6,7,8
Extensor digiti minimi C(6),7,8
Extensor carpi ulnaris C(6),7,8
Extensor indicis C(6),7,8
Abductor pollicis longus C(6),7,8
Extensor pollicis longus C(6),7,8
Extensor pollicis brevis C(6),7,8
Extensor carpi radialis longus C(5),6,7,(8)
Triceps brachii C(6),7,8, T(1)
Anconeus C7,8
MEDIAL PECTORAL NERVE
Pectoralis major-sternal fibers C6*,7*,8, T1
(* innervated via the ansa pectoralis nerve)
Pectoralis minor C(6*),7*,8, T(1)
MEDIAN NERVE
Pronator Teres C6,7
Flexor Carpi Radialis C6,7,(8)
Palmaris Longus C(6),7,8, T(1)
Abductor Pollicis Brevis C6,7,8, T1
Opponens Pollicis C(6),(7),(8), T(1)
Lumbricals 1-2 C(6),(7),8, T1
Flexor Digitorum Superficialis C7,8, T(1)
ULNAR NERVE
Flexor Carpi Ulnaris C(7),8, T(1)
Abductor digiti minimi C(7),8, T1
Opponens digiti minimi C(7),8, T1
Flexor digiti minimi C(7),8, T1
Lumbricals (3 and 4) C(7),8, T1
Interossei C8, T1
Adductor pollicis C8, T1
MIXED MEDIAN-ULNAR
Flexor Pollicis Longus C(6),7,8, T1
Flexor Pollicis Brevis C(6),(7),(8), T(1)
Flexor Digitorum Profundus C(7),8, T1
Pronator Quadratus C(7),8, T1
Muscle Innervation Chart: Lower Extremity
FEMORAL NERVE
Illiopsoas-Iliacus L(1),2,3,(4)
Pectineus (accessory obturator) L2,3,(4)
Sartorius L2,3,(4)
Rectus Femoris L2,3,4
Vastus Medialis L2,3,4
Vastus Lateralis L2,3,4
Vastus Intermedius L2,3,4
LUMBAR SPINAL NERVES 1,2,3 (anterior rami)
Illiopsoas- psoas major L(1),2,3,(4)
OBTURATOR NERVE
Adductor Magnus* L(2),3,4
*tibial division of sciatic L4,(5),S(1)
Adductor Longus L2,3,(4)
Adductor Brevis L2,3,4
Gracilis L2,3,4
Obturator Externus L3,4
SUPERIOR GLUTEAL NERVE
Tensor Fascia Lata L4,5,S1
Gluteus Medius L4,5,S1
Gluteus Minimus L4,5,S1
SUPERFICIAL FIBULAR NERVE
Fibularis Longus L(4),5,S1
Fibularis Brevis L(4),5,S1
FIBULAR NERVE (Deep Peroneal)
Fibularis Tertius L4,5,S1
Extensor Digitorum Longus L4,5,S1
Extensor Digitorum Brevis L(4),5,S1
Extensor Hallucis Longus L(4),5,S1
Extensor Hallucis Brevis L(4),5,S1
Tibialis Anterior L4,5,S(1)
TIBIAL NERVE
Tibialis Posterior L(4),5,S1
Popliteus L(4),5,S1
Semitendinosus L(4)5,S1,2
Semimembranosus L(4),5,S1,2
Plantaris L(4),5,S1,2
Biceps Femoris-long head L(5),S1,2,(3)
Gastrocnemius-medial head S1,2
Gastrocnemius-lateral head S1,2
Soleus L(5),S1,2
Flexor hallicus Longus L5,S1,2
Flexor digitorum Longus L5,S1,2
INFERIOR GLUTEAL NERVE
Gluteus Maximus L5,S1,2
COMMON PERONEAL (Fibular)
Biceps Femoris-short head L5,S1,2
MEDIAL PLANTAR NERVE
Abductor Hallucis L(4),5,S1
Flexor Digitorum Brevis L(4),5,S1
Lumbricals- I L(4),5,S1
Flexor Hallucis Brevis L(4),5,S1
LATERAL PLANTAR NERVE
Lumbricals- II,III,IV L(4),(5),S1,2
Flexor Digiti Minimi Brevis L4,5,S1,2,3
Adductor Hallucis S1,2
Abductor Digiti Minimi S1,2
Interossei S1,2
Quadratus Plantae S1,2
NERVE TO QUADRATUS FEMORIS
Inferior Gemelli L5,S1
Quadratus Femoris L5,S1
NERVE TO OBTURATOR INTERNUS
Superior Gemelli L5,S1
Obturator Internus L5,S1
NERVE TO PIRIFORMIS
Piriformis L(5),S1,2
Muscle Innervation Chart: Head, Neck and Trunk
GREATER OCCIPITAL N. (POST. PRIMARY RAMI)
Splenius Capitis C2
LEAST OCCIPITAL N. (POST. PRIMARY RAMI)
Splenius Cervicis C3
POSTERIOR RAMI
Oblique Capitis Superior C1
Oblique Capitis Inferior C1
Rectus Capitis Posterior Minor C1
Rectus Capitis Posterior Major C1
CERVICAL PLEXUS
Thyrohyoid C1,2
Longus Capitis C1,2,3
CERVICAL PLEXUS (ANTERIOR RAMI)
Longus Colli C2-7
ANSA CERVICALIS
Rectus Capitis Lateralis C1-2
Rectus Capitis Anterior C1-2
Omohyoid C1,2,3
Sternohoid C1,2,3
Sternothyroid C1,2,3
SPINAL ACCESSORY (CN XI) ANTERIOR PRIMARY RAMI
Sternocleidomastoid CN XI, C1,2
1ST CERVICAL SPINAL NERVE VIA HYPOGLOSSAL N
Geniohyoid C1,2
CN V3 (CRANIAL NERVE MANDIBULAR BRANCH)
Masseter (from mandibular branch)
Temporalis
Medial Pterygoid
Lateral Pterygoid
ANTERIOR: MYLOHYOID BRANCH OF INFERIOR ALVEOLAR N POSTERIOR: FACIAL
Digastric V3 Facial CN VII
INFERIOR ALVEOLAR NERVE
Mylohyoid Trigeminal CN V
FACIAL NERVE – CN VII
Stylohoid
F CN VII
Platysma
Orbicularis Oculi
Frontalis
Nasalis
Orbicularis Oris
Zygomaticus Major & Minor
Levator Labii Superioris
Depressor Anguli Oris
Mentalis
Levator Anguli Oris
Depressor Labii Inferioris (with Platysma)
Buccinator
Corrugator Supercilii
POSTERIOR RAMI OF ADJACENT SPINAL NERVES
Spinalis Capitus
Spinalis Cervicis
Spinalis Thoracis
Semispinalis Capitis
Semispinalis Cervicis
Semispinalis Thoracis
Longissimus Capitis
Longissimus Cervicis
Longissimus Thoracis
Iliocostalis Cervicis
Iliocostalis Thoracis
Iliocostalis Lumborum
Multifidus
Interspinales
Intertransversarii
POSTERIOR RAMI OF ADJ. SPINAL N. POST. ROOT
Rotatores
POSTERIOR RAMI OF CORRESPONDING THORACIC SPINAL NERVE
Levatores Costorum T1-12
PHRENIC NERVE
Diaphragm C(3),4,(5)
C3,4,5 keeps the diaphragm alive!
ANTERIOR PRIMARY RAMI
Scalene Anterior C4-6
Scalene Medius C3-8
Scalene Posterior C6-8
External Oblique T(5,6), T7-11, T(12)
Internal Oblique T(7,8) T9-12, L1
Transverse Abdominal T7 (12) (L1)
Rectus Abdominus T(5,6) T7-11 (T12)
INTERCOSTAL NERVE
Serratus Posterior Superior T1-4
ANTERIOR RAMI OF THORACIC SPINAL NERVE
Serratus Posterior Inferior T9-12
ANTERIOR RAMI
Quadratus Lumborum T(12), L1-4
ADJACENT INTERCOSTAL NERVE
Transverse Thoracis T1-8
Subcostals T1-12
External Intercostals T1-12
Internal Intercostals T1-12
Innermost Intercostals T1-12
GENITAL BRANCH OF GENITOFEMORAL NERVE
Cremasteric L1,2
PUDENDAL NERVE
(direct branches from Sacral plexus)
Levator Ani:
Puborectalis S2-3
Pubococcygeus S2-3
Iliococcygeus S2-3
SACRAL SPINAL NERVES
Coccygeus S3-4
SUBCOSTAL NERVE
Pyramidalis ventral primary rami of T12