I remember searching for the best physical therapy schools when I decided to change careers and pursue physical therapy.
It seems like I kept seeing the same exact rankings of the top 10 to 20 physical therapy schools in the nation.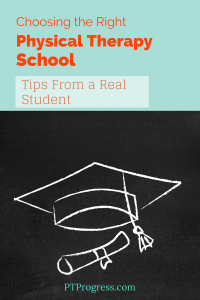 Most sites just used some variation of the US News & World Report, which usually ranks the top ten physical therapy programs in this order:
University of Southern California (USC)
University of Delaware
Washington University in St. Louis
University of Pittsburgh
University of Iowa
U.S. Army-Baylor University
Emory University
MGH Institute in Boston
University of Miami
University of North Carolina – Chapel Hill
I can't tell you how many times I referenced this list and similar ranking sites. Each of them had some sort of special ranking algorithm that decided which program was the 'Best.'
This purpose of this article is to help you decipher the lists and really figure out how to find the best physical therapy program for you.
Before I share my opinion about the top Physical Therapy schools in the country I want you to know this:
1. I was accepted into Washington University Class of 2016
2. I can relate to your hopes, fears, hesitancy, and uncertainty about which physical therapy program is the best.
3. I am writing this based on my own experience and research – I was not paid by any school or any of the multiple websites that rank PT programs each year.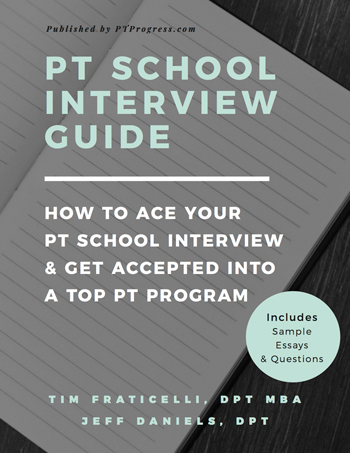 ***Note: This article is about 2,000 words of helpful advice. But we knew something was missing, so we created a guide that shares the exact strategies and ESSAYS we used to land a seat at the #1 PT School in the country. You can read that article here: The Physical Therapy School Interview Guide.
Definitely finish reading this article, but check out the Guide too 🙂 ***
Who Decides Which Physical Therapy Program is Best?
The US News & World Report ranking system is mysterious, which is the point. You can see a simple list and then pay $29.95 to see the 'full profiles' of each program. The information on the 'full profile' is no different than any information you'll find on the APTA website or the actual program's website. My recommendation is to not pay for this information and to simply read up about the program statistics on your own.
Most ranking algorithms take into account these basic statistics:
License Exam Pass Rate (1st Try) – 90% is about the average according to the APTA. If the school you're considering has a significantly lower first time pass rate, ask them why in your interview or in an email to the admissions team.
Average GPA of Incoming Students – Stop freaking out about the GPA. If your GPA is at or near the minimum GPA for the program, find other ways to show them you're going to be a great student and an asset to the program.
Employment Rates – Most school boast a 95% and up employment rate after finishing. Find out how – do they have an alumni network of PT graduates?
Graduation Rates – You obviously want to graduate from the program, but find out how many students on average drop out after the first semester or year and why.
Student-Faculty Ratio – A big part of your education will be hands on training, so having a lower student-faculty ratio is a good thing. Be specific to ask how many lab assistants they use per lab to teach the students. Just because they have 10 faculty per 40 students doesn't mean there will be a 4:1 student faculty ratio in each lab setting.
WHY Are You Choosing That School?
I mentioned earlier that I was accepted into a top-3-school, but to be honest, I did not expect it or lose sleep worrying about getting into a highly respected program.
Here's the short version: don't just choose a school based on rank. Also don't just choose a school solely based on location. Also, don't choose a school solely based on cost.
Do you see what I'm getting at?
All of the top 10 or 20 schools have great features. But here's something else to remember: All of the 200 PT Programs in the country put out physical therapists who are fully capable of being movement experts.
Don't forget that.
After your graduation, it is up to you to continue learning and to find better ways to treat your patients. There are plenty of top-ranked programs with graduates who have fallen into a rut within their practice. There are also lower ranked programs with graduates who are making huge differences in the field of physical therapy.
Back to factors that will influence your decision.
Rank – You'll never fully know why a program is ranked where it is, especially when the difference in ranking is based on unknown scores and metrics. Don't kick yourself because you chose a school ranked #11 instead of #8. It doesn't matter. Review the key statistics listed above and move onto the more important factors below.
Location – Are you willing to move? Does the area have adequate clinical rotation sites or do they offer rotations all over the country? The location will obviously affect your housing and transportation, which can be important for some people. For me, location was a big factor since I needed to match the city with an area where my wife could continue with her med school rotations. For you, the location may affect your spouse's job, children's school, or your lifestyle.
For some students, location doesn't matter; for others, location is really important. Just know that it IS ok to make location a key factor when choosing a school.
Cost – Choose a school based on rank alone and you'll see your cost skyrocket. Don't think that you're automatically going to get a better education because the tuition is higher. Every DPT student will take the same boards and will be applying for the same jobs with the same pay. Be very cautious about taking out $150,000+ in loans just to attend a top ranked school. Entry-level physical therapists make about $60,000 after graduation.
Bottom line: If you graduate with 150k in debt and make 60k, you will be paying off your loans for a very long time. Choosing to attend a smaller, state school could cut your loans to less than $50,000 and make for a much more manageable student loan payment after graduation.
Philosophy – What are you looking to get out of a school? Do you want a research-focused curriculum? How about an integrated clinical experience? Do you want a program that emphasizes the movement system within each course? What about a distance learning program that emphasizes self-learning?
You won't know what's in front of you unless you know what you're looking for. Before you become enamored with a highly ranked site, think about the ways that you learn best and how each school fits within this parameter.
Learning More About Physical Therapy Programs: What to Ask
Program Specific Data (and great interview question material)
Most school websites share all of this information on their DPT program pages. If you've narrowed down your list, you should be able to easily compare your top choices based on these specific categories.
This information will also be great to bring up in the interviews or essay process – if you do it correctly. By that I mean: don't ask them information that is easily accessible on their website. They probably don't have it memorized. Plus, it makes you look like you haven't done all your homework.
Think about a specific question based on rotation sites, technology, program philosophy and interprofessional training opportunities within the school.
Curriculum and Program Length – Most programs are roughly the same length (33-36 months) and present very similar courses. Look through the curriculum to see when each class is offered and if they try to pair the material together. For example: do they teach lower quarter anatomy along with kinesiology of the hip, knee and ankle? It can be very helpful to have classes that correlate with each other based on unit material.
Clinical Rotations – How many rotation weeks are there within the program? Are they all at the end (year 3) or mixed within each year? Personally, I've really found it valuable to have clinical rotations throughout the curriculum. It made studying easier because I could relate the new material with patients I've already seen during the clinical rotation.
Technology Integration – Are the classes recorded and available to watch at any time? Are materials delivered electronically? Does the program use a recorded standardized patient setup to provide clinical feedback?
Unique Features of Program – If you have the chance to ask a faculty member what makes the program unique from others, do it. Do they offer a joint PT/PhD or PT/MBA? Do they emphasize research heavily? Does the program have a fellowship that is unique?
Interprofessional Training – As a physical therapist, you will work with multiple health care professionals on a daily basis. Does the school have a connection with a medical school, nursing school, or OT program and do they actively try to integrate the concept of multidisciplinary health care in the program?
Scholarships / Assistantships – Cost is a big factor in any program and scholarships can really help to offset the amount of debt you'll have after PT school. Pay attention to the state school options and what assistantship opportunities they have. The lower cost of state schools and assistantship opportunities could make for a much more affordable option.
Making the Decision: What PT School Should I Choose?
The application process to PT school can be stressful.
Rejection letters are depressing.
Wait-list letters are frustrating.
Acceptance letters are exciting and nerve-wracking.
When you hear back from a school that you've been accepted, it's going to feel great! They'll send you a packet with the paperwork to put down a non-refundable deposit (usually $300 to $1000) which will be applied to your tuition. This can be stressful because the program letter usually asks you to make a decision within 30 days.
If you're still waiting to hear from other schools, call up the admissions manager and ask them to extend your deadline. Try this script:
Hi Mr./Mrs./Dr. __________
My name is ___________ and I just received the acceptance letter from the program. Thank you very much! This school was at the top of my list and I was really excited to be accepted. I do have a question, regarding the deposit. I have 2 outstanding applications that should be getting back with me in the next couple of weeks. I want to make the best decision possible, so would it be ok to extend my deposit deadline for an additional 30 days? (stop talking, let them think/answer)
(You'll probably get a 'yes'. Multiple students in my program asked for an extension and many programs were just fine to extend if you ask.)
This will save you the headache of shelling out hundreds of dollars to schools just to hold your spot while you wait for others to get back with you.
With your deadlines extended and acceptance letters in hand, you'll need to make your decision. If you've considered the statistics above and the features that are important to you, you should have no problem making the decision. Be happy with the one you make and put everything into the program you choose.
Remember: your personal drive to learn and motivation to help others move better is what will make you a great PT, regardless of whether you attend a #1 school or #150 school.