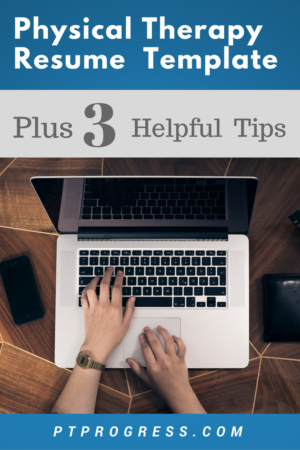 If you're looking for generic Physical Therapy resume tips, feel free to reference any one of the 487,000 generic articles that weren't written by a PT. They're out there. I'm sure you've seen them.
I digress.
This article is different. I want to share a few practical ways that you can build your Physical Therapist resume from a template or even from scratch without boring the interviewer to death.
You'll find 3 sections in this article, so feel free to jump to the section that suits you best.
Sure, You Can Download a Sample Physical Therapist Resume Template Here: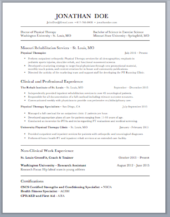 Go ahead and use our Free PT Resume Template: We'll Email It To You.
Physical Therapy Resume Templates: Good, Bad, and Ugly
There are some pretty ugly and boring PT resume templates out there. Some are full of filler words, others are packed with boring phrases that basically repeat the job description back to the employer.
Please don't use those verbatim. I'm begging you.
Let's take a look at a very common, boring phrase I see on a lot of PT resume templates:
"Responsible for the evaluation, treatment, education, and discharge planning of full patient load"
Snore.
When I read this I think: "Ok great, every other PT on earth does this too. How are you different?"
When you ask yourself, how did I do this differently, or what was unique about my experience, you can start to build something interesting from that.
Try this: "Performed evaluation and treatment for up to 60 patients a week, focusing on orthopedic injuries and specific movement analysis techniques.
Interesting. I learned a lot about you already in this one sentence. You have the ability to manage a pretty strong patient load focused in orthopedics. I might want to ask you what type of 'specific movement analysis techniques' but that's a great conversation starter. The phrase doesn't feel embellished and I wasn't lost in a paragraph of information.
Here's how you can develop interesting bullet points for your PT resume.
1. Skip the general. Dive into the details.
You already know how I feel about the canned PT resume statements. Instead of repeating the job description, tell me interesting like the example above. Did you bring a new technique to the clinical site you rotated or worked at? Share it! Did you enjoy performing running analysis or high level athlete rehab? I want to know that kind of information!
2. Leave room for conversation.
Your bullet points can be brief. In fact, it's good to dive into the details, but be careful to leave some talking points for the conversation you'll have in your interview. Examples are great because they give you an opportunity to share a story that can highlight your skills, work ethic, and achievements during the interview.
3. Don't embellish or exaggerate.
It's obvious that you want to come across as a strong applicant for the job. But be honest with your interpretation of the work you did. Numbers a great way to quantify your achievements as opposed to making a blanket statement of your greatness.
Here's an example: "Introduced a new scheduling method, which lowered my cancellation rate by 20%. "
Interesting again! This begs the question: How'd you do that?
You then have the opportunity to share your story during the interview: "Our clinic had not been using predetermined patient slots when scheduling. I saw an opportunity to present a scheduling format that used predetermined appointment time slots, giving patients a more consistent time each week. I used this format for 6 months and saw a cancellation/ no show reduction by 20%.

New Grad Physical Therapy Resume Advice
"I don't have any experience." This is one of the biggest concerns I hear from new PT grads. An employer that is looking at an entry level PT resume understands that you don't have years of PT job experience. They're interested in learning what you did in your clinicals, how you contributed to the department, and what new ideas you brought to the table in the 6-8 weeks you were there.
Was your clinic known for a certain specialty?
This can be a great thing to highlight as many clinics are looking to expand into sub specialty niches such as pelvic floor therapy, outpatient Parkinson's disease treatments, and sports specific rehab such as running analysis. Share your involvement in these areas, especially if you have an interest in doing something similar at the new clinic.
It's OK to list other jobs and experiences.
Do you have a background in customer service or sales? What about creative writing? Did you manage a team during your summer jobs? These jobs highlight your strengths and when I see this on a resume, I think about ways that we could use your talents in our clinic if you're willing. I wouldn't focus more than 10-15% of your resume space on these areas, but they're good things to include.

Experienced Physical Therapist Resume Suggestions
You've been a PT for more than a year and have a little more to share in your resume. Great! Now what do you need to highlight?
Consider highlighting the following under your list of experiences if possible:
What specific skills or area of PT sets you apart from a generalist?
Did you bring any new ideas for improving patient care, volume, or therapist education at your last clinic?
Are you a technology wizard that could problem solve the EMR issues that constantly arose?
How quickly can you take on a new caseload? (if you're a recent grad or have changed jobs recently)
Do you have leadership experience? What areas did you take control over at previous clinics?
As an experienced clinician, you it's expected that you have a baseline of skills and experiences that qualifies you to perform Physical Therapy. The best way to set your resume apart is to demonstrate how you can contribute to the clinic and improve the patient experience – but mostly how you can contribute to the clinic.

PT Manager Resume Tips
If you are applying for a clinic director role or PT manager position, your resume should reflect all of the above and also the following:
What are you actively doing to improve your leadership skills?
How have you demonstrated leadership through tasks, projects, and other initiatives in the clinic?
Can you clearly share your vision for the department? (if you've been a part of the team for a while)
What ideas for growth or PT marketing strategies can you bring to the department?
How have you handled difficult situations – be ready to give 3-4 examples during your interview.
Can you show me the data? How have you improved processes? Can you interpret a budget or share a time that you saved the clinic money?
Crafting a Compelling PT Cover Letter
Whether you're a new grad, existing PT, or a PT manager applicant, your resume will need a strong cover letter to pair with it. Just like your resume, you need to be specific and draw on examples that highlight your abilities and open the door for conversation.
We'll cover the best strategies to build a Physical Therapy Cover Letter in another article. Until then, check out the Higher PT Salary Guide for an additional resume template, 2 cover letter templates, a salary negotiation script, and interview strategies that will help you ace your next Physical Therapy job interview.