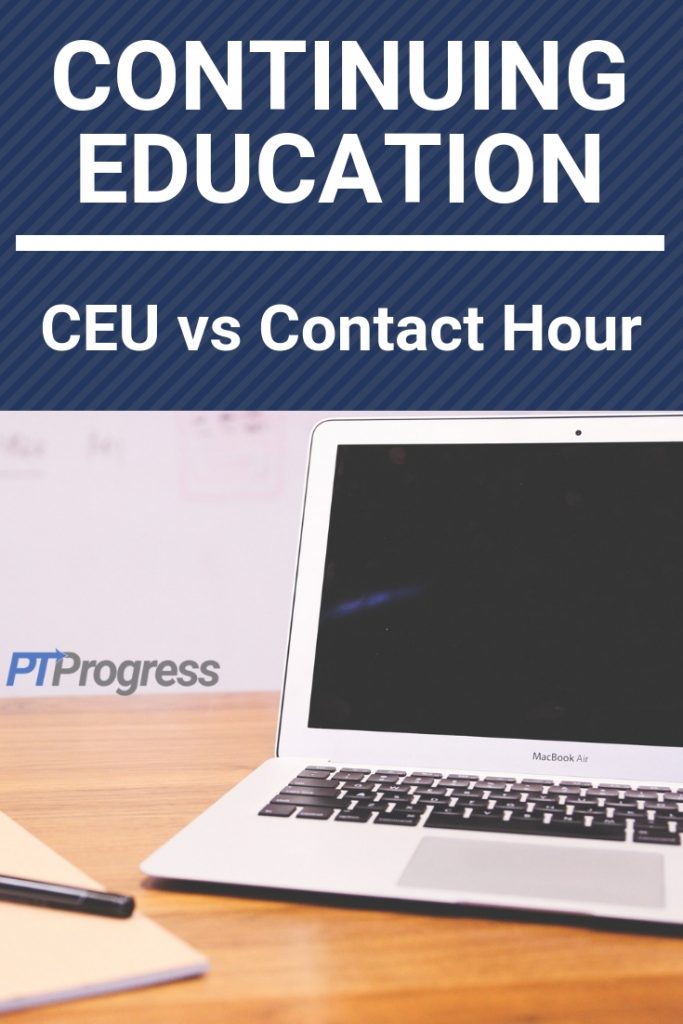 When you renew your Physical Therapy license, you may notice different wording in the continuing education requirements for your state. Some states prefer to use the abbreviation CEU vs contact hours. You just need to understand the difference.
The two most common ways to quantify continuing education are as follows:
CEU (Continuing Education Units)
Contact Hours
So what's the difference between a CEU and contact hour?
Contact Hour vs. CEU in Physical Therapy
A Contact Hour is equal to 50 to 60 minutes of a continuing education class or activity.
A CEU is equal to 10 contact hours.
Unless stated otherwise, 1 CEU is equal to 10 contact hours.
My state requires 10 CEU hours. Does that mean I need 100 hours of continuing education?
No, be careful in how you read the requirements. If your state defines your continuing education requirement in terms of hours, like in this example "10 CEU hours", you can expect to complete 10 classroom hours.
Most states that define their continuing education requirements will spell out the number of hours within a continuing education unit.
For Example: Delaware requires 3 CEUs for Physical Therapists every 2 years, but they make it clear that one CEU will be given for every 10 hours of an approved continuing education course. (1 contact hour = .1 CEU).
What About Contact Hours vs CEU in Occupational Therapy?
The same definition holds true for Occupational Therapy CEU requirements. The definition of a Continuing Education Unit is equal to 10 contact hours.
Contact Hour to CEU Conversion
Since one CEU is equal to 10 contact hours, you can simply divide the number of contact hours by 10 to determine how many CEU (units) you've completed. For example, if a course is 15 contact hours, this is equivalent to 1.5 CEU (units). If your state requires 2 CEU for license renewal, you need to complete an additional 5 contact hours (0.5 CEU units).
How many contact hours are in 1 CEU: the answer is 10 contact hours.
How to Calculate CEUs
The Center for Disease Control (CDC) presents a good summary of how to calculate CEUs, especially if the time you spend in the course falls less than an hour.
Continuing Medical Education(CME)
1 contact hour is based on 60 minutes of instruction. Round to the nearest quarter hour. The minimum number of credits awarded is 0.25. One hour of instruction plus a portion is awarded as follows:
15 minutes = 0.25 hours
30 minutes = 0.5 hours
1 hour plus 1–15 minutes = 1.25 hours
1 hour plus 16–30 minutes = 1.5 hours
1 hour plus 31–45 minutes = 1.75 hours
1 hour plus 46–60 minutes = 2 hours
How I Get CEUs for Less than $8/ contact hour
If you're interested in learning how I maximize my education dollars, check out my latest article on Finding Cheap CEUs.