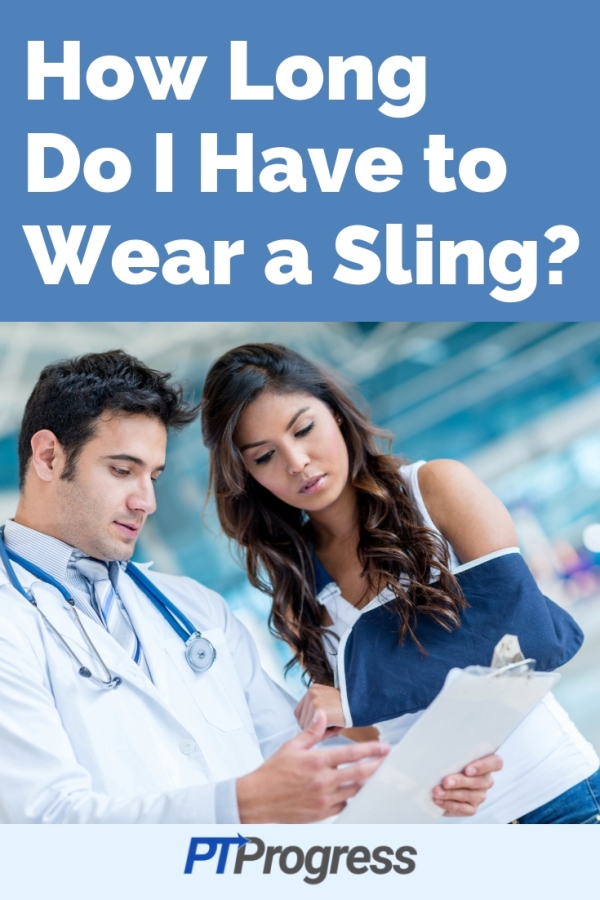 Transitioning out of a sling will depend on the type of injury or surgery you've experienced as well as a few other items. When my patients ask me the question 'how long do I have to wear a sling for my shoulder', I reflect on a few key items;
Was the shoulder surgically repaired?
What tissues or structures were involved?
What are the physician's expectations (health factors i.e. diabetes)
The purpose of wearing a sling is to support the shoulder as the internal structures heal (bones, ligaments, and tendons). The healing time for each of these types of tissues can vary significantly. Typically the healing times for these tissues are as follows:
Bones: 6 to 8 week healing time
Ligaments: 6 to 12+ weeks
Tendons: 4 to 8 weeks+ (depending on severity)
Initial 4 Weeks of Wearing a Sling
The first few weeks of wearing a sling are very important as this is when the tissues are most vulnerable and actively healing. Your physician may instruct you to wear a sling in order to position the shoulder in the best possible arrangement for the structures to heal properly.
Surgical Consideration
If your shoulder required surgery, you may be instructed to use the sling for 4 to 6 weeks. This is especially true if you recently had rotator cuff surgery. Not only does the sling help the shoulder to rest in a comfortable, protected position, it acts as a reminder for you not to lift with the recently repaired shoulder. It is very difficult not to use the shoulder to reach for items, especially if it's your dominant arm!
Do I have to wear a sling at night?
Finding a comfortable position to sleep at night is very challenging after a rotator cuff repair or other shoulder surgery. You are also at greater risk of accidentally injuring yourself by moving your arm quickly or pulling up heavy blankets with the recently repaired shoulder.
It's generally recommended that you sleep with a sling initially for the first two or three weeks. Using a wedge pillow to prop your back up slightly can make sleeping with s sling more comfortable.
When Can I Stop Wearing a Sling?
This is an excellent question to ask during your pre-surgical consult with the doctor. The answer, however, may vary especially if the injured shoulder required more significant repair than expected.
With most shoulder surgeries, it's common to follow up with the physician in 4 weeks. During this initial 4 weeks, your movement may be restricted per the surgeon's orders. After your follow up, you may be given the green light to get rid of the sling. However, it's wise to keep the sling in case you need to travel soon. Wearing a sling is a good 'sign' to others to keep their distance and avoid crowding or bumping your shoulder.
Best Pillows for Shoulder Surgery
This standard wedge pillow is great for propping yourself up into a more comfortable position. Back sleepers will find this position to feel natural, however, side and stomach sleepers may be challenged to find a comfortable position at night. The wedge pillow can make sleeping on your back more bearable, especially in the first few weeks after shoulder surgery.

A wedge pillow with arm cutout can be ideal for side and stomach sleepers, but may not be appropriate initially after surgery. Ask your doctor or physical therapist if this modified wedge pillow is ok to use as it positions the arm into more abduction.
What advice do you have for managing shoulder pain while wearing a sling or sleeping at night?