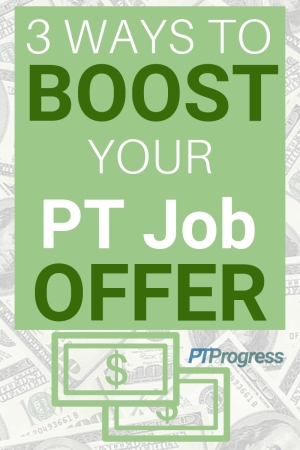 In this article, we'll look at 3 ways to improve your Physical Therapy job offer without specifically asking for a raise. Let's take a look.
Negotiations during a Physical Therapy Job interview can be intimidating. You might be starting your first job without a reference point for a Physical Therapist salary. Or you might be starting a new job but want to make sure your benefits are comparable or better than your old setup.
Aside from your salary or hourly rate, there are a lot of benefits that can really pay off without costing the employer an arm and a leg.
Let's look at 3 ways to maximize your job offer without asking for more pay.
1. Request a Flexible Work Schedule
One of the best aspects of being a PT is the ability to work flexible hours if your employer allows. Many clinics want to offer extended hours to patients to be seen early or later in the day. So if you prefer to work later on Tuesdays and Thursdays so you can drop off kids at school those days, it might be helpful for both you and the clinic.
Now the key is to bring up your request for flexible work hours by framing it around the benefit for the clinic and patients. You might start with this question to frame your request.
"I see the clinic is open from 7AM to 7PM. Would you be open to a flexible four ten hour schedule or 3 early day / 2 late start days setup?"
For someone in the interview process, make sure you iron out the details before you sign on the line. This is a good way to open the conversation, but you'll want to get it in writing before you commit to that job.
If you're managing other responsibilities and need the flexibility in your schedule, it will mean a lot more to you than asking for a bump in hourly pay.
2. Paid Online CEU Membership
A lot of employers will offer some sort of continuing education budget for clinical staff. For some the benefit is a couple hundred dollars, while others may offer $1500 or more annually.
In either situation, you stand to maximize your benefit by asking them to sponsor a membership to access to a resource like MedBridge for your online CEUs and a lot more.
All states will allow PTs to take online CEUs to satisfy some education requirements for license renewal.
And since MedBridge is the leader in online CEUs and gives you unlimited access to online courses for one price, it's a no brainer why I use them and recommend them to my readers.
Even more, we've partnered with them to save you $150 on your membership when you use the MedBridge promo code "PTProgress".
Bringing this up to your employer can be as simple as including this statement in your negotiations (it can also work via email):
"Continuing education is very important to me. I see the clinic offers $300 for continuing education annually. In addition to the $300 allowance, would the clinic be open to covering my MedBridge membership annually? It allows me to have unlimited CEUs, access to a massive HEP library and includes compliance courses required for state license renewal. The annual cost is $275 with the promo code "PTProgress". I would plan to attend an in person course with the previously allocated education budget of $300 and use the MedBridge membership to take online courses on my own time."
A quick statement like this will support your request to expand the education budget, and add to your benefits package in a huge way.
3. APTA membership Dues or License Fees
APTA dues can run upwards of $400 to $500 or more annually for Physical Therapists. Renewing your license with your state can cost you anywhere from $100 to more than $250 every other year.
Asking your employer to sponsor your professional membership or licensing fees can save you money in the long run and boost your overall pay without directly asking for a higher dollar amount.
Here's how you might include this request in a conversation or as part of your email counter offer:
"Membership to the APTA and local chapter is important to me because I am able to stay up to date with the latest research and trends in therapy. This directly affects the quality of care for my patients and will reflect highly on the clinic as a result. Would you be agreeable to covering my APTA dues ($400) and biannual license renewal fees ($250) as part of my benefits package?"
Remember it doesn't hurt to ask, but you won't get anything unless you do!
It's also helpful to understand that your approach can make all the difference. Be sure to frame your request in a way that clearly points to how the clinic will benefit with respect to improved patient care or clinic efficiency.
What benefits have you negotiated in your PT job offer?