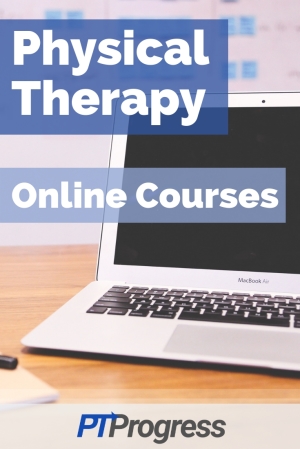 As a Physical Therapist, you're required to complete anywhere from 20 to 30+ CEUs each renewal cycle depending on your state.
Physical Therapy online courses are a convenient ways to satisfy the license requirements for PTs.
Personally, I complete about half of my CEUs online each year and half through in person courses and seminars.
Are Online CEUs for Physical Therapists Allowed in my State?
Every state will accept some form of online CEUs for Physical Therapy license renewal, but some states limit the number of CEUs you can complete online. Take a look at the Physical Therapy CEU requirements by state to see how many you need to complete.
Take Michigan for example. You need 24 hours of continuing ed courses and only 12 may be obtained through online courses.
Physical Therapy CEU Courses Online Approval Process
When it comes to online CEUs, you need to make sure the course is approved in your state. An online CEU course provider must obtain approval from the physical therapy board, associations, or licensing agency in a state. Since these requirements are constantly changing, CEU providers need to stay up to date and meet the standards set by the certifying agency or association.
Some states will accept continuing education courses as long as they're approved by a fellow state's APTA chapter or association. For example, if a CEU course provider obtains approval in Texas, a PT in Michigan can receive credit for the course because the MPTA accepts courses approved from another APTA chapter.
10
Free

Online Physical Therapy CEU Courses

Continuing education courses can be expensive, so it's no wonder I constantly receive requests to share resources about free online Physical Therapy CEU courses.

Included in the list is a free CEU course on pain and substance abuse, a requirement for many states.

Here is a short list of free PT CEUs that can be completed online when you're an APTA member. (APTA online courses are NOT approved in NV or OH)
Top 11 Physical Therapy CEU Online Resources for 2020
Whether you take online Physical Therapy courses or in-person courses, be sure to look for your state on the approved list for those courses.
I've listed the top online CEU providers below and listed MedBridge first because I personally use them and enjoy taking their courses online. As I highlight in my MedBridge review, it's easy to verify courses in my state because I can narrow down my search based on pre-approved courses for Michigan.
With over 1,000 courses for PTs, OTs, ATC's, and nurses, you'll find a course on nearly every topic and specialty available. I've been using MedBridge for the past year and love the interface and ease of taking any course anytime I want. You can save $175 with the MedBridge promo code "PTProgress" and access unlimited CEUs for just $200 a year. You also have access to the specialty training modules for OCS, NCS, SCS, GCS, PCS.
I've heard excellent remarks from PTs who have taken the in-person courses and I expect the same quality from the virtual courses offered by Jeff Moore and his team. PT on I.C.E. is a quality group of instructors that will continue to rise up in the continuing education scene for PTs.
The team at Evidence in Motion produces Physical Therapy specific training online, in-person, and in a blended hybrid format to accommodate to busy PTs. EIM is known for their quality certification prep courses, which applies towards CEUs in many states.
Other Physical Therapy Online Courses and CEU Providers
I personally have not taken any courses from the providers below, but you may have seen them around when looking for online physical therapy courses. My advice is to scroll through the course offerings and decide if they provide online courses that are interesting to you. Some of these providers charge per course where many of them charge a flat rate for access to all courses.
What online PT courses do you recommend? Have you taken any courses from the companies I've listed above? Share your thoughts in the comments.