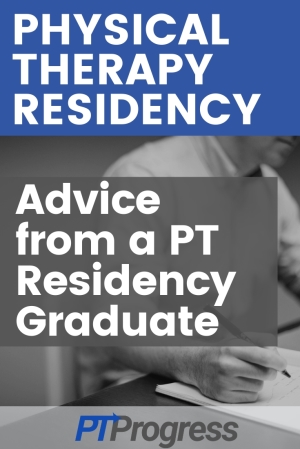 When I started looking into physical therapy residency programs, there weren't a lot of resources to help answer the biggest questions I had.
Questions like:
Is a Physical Therapy residency worth it?"
What is a typical Physical Therapy residency salary?
What is the best Physical Therapy residency program?
Pros and cons of a Physical Therapy Residency?
After graduating from the Physical Therapy program at Washington University in St. Louis, I completed a neurologic residency at Emory University in Atlanta.
I spent a lot of time figuring out the answers to the most common residency questions and want to share my insights with students and fellow PTs who are interested in a Physical Therapy Residency.
Let's start with the pros and cons of doing a Physical Therapy residency.
Pros and Cons of a Physical Therapy Residency
1. A Jump Start To Your PT Career
Everything that I did during the residency catapulted my career forward at least 15 years. All the mentoring, the exhaustive combing through of the literature, lecturing, lab assisting, and interprofessional collaboration gave me the confidence to truly believe that I was the ultimate neuro therapist.
2. Huge Boost in Clinical and Professional Confidence
This new found confidence not only improved my clinical skills with complex patients, but gave me the confidence to land my dream job on faculty of the PT school that I had recently attended as a student.
3. Mentoring and Support
During my residency I was able to work with some of the most well known experts in neuro rehab. Having the direct support of these highly regarded researchers and clinicians increased my skills and knowledge of neuro rehab exponentially.
Cons of PT Residency
1. Increased Stress
The stress factor of a residency is about 2 or 3 times greater than PT school. Within one year, you will be pushed to your limits, but learn so much from the experiences. Here's a brief look at what was involved with my neuro residency at Emory:
Clinical Rotations: Approximately 12 week rotations through different areas of neurologic practice
Teaching and lab assisting in Emory's DPT program for their second-year neurology class. lab assisting 2-4 times a week
Publish research: either paired with a principal investigator PhD or on your own.
Completing the neuroconsortium didactic education program (One night per week of several hours of online lectures, required readings, and discussion.)
2 week long courses at USC (writing up and presenting a case study at the second week long course)
Midterm and final examinations with acceptable passing score over 85%
Mentoring current DPT students
I hope you can appreciate how much work was put in over the course of approximately one year.
2. Financial Cost
It's common to expect about 80 to 95% lower pay as a resident compared to the starting pay of an entry level PT entering the job market.
You might also need to pay tuition at the program, which can range from $0 to $10,000 or more for the year.
Is Physical Therapy Residency Worth It?
I can personally say, yes, my residency was worth it. Becoming a neurologic specialist right after PT school was my ultimate goal and opened the door to many opportunities I wouldn't have seen as a generalist.
Completing a residency provided me with immediate opportunities to joint the faculty at Washington University to teach the vestibular curriculum.
Eventually the skills learned from the residency and my first job at Washington University lead me to start my own outpatient neuro clinic in Chicago. None of this would have been possible without the guided grooming that my residency mentors provided, and the encouragement to push past my usual comfort zone.
Types of Physical Therapy Residencies
Physical Therapy Residencies currently exist for the following specialty areas:
● Acute Care
● Cardiovascular & Pulmonary
● Clinical Electrophysiology
● Geriatrics
● Neurology
● Oncology
● Orthopaedics
● Pediatrics
● Sports
● Women's Health
● Wound Management
3 Common Physical Therapy Residency Questions
During my Physical Therapy Residency interviews, I saw a trend in questions that helped me to prepare for each new residency.
I share a full list of questions I heard at the program interviews in the Physical Therapy Residency Guide.
Here are the top 3 Physical Therapy Residency interview questions:
Tell me about a time that you had an extreme complex/difficult patient case. How did you work to provide the best treatment possible?
Tell me about a time you had a disagreement with a superior. This could be a boss, clinical instructor, professor, etc. How did you resolve the situation?
What are your biggest strengths as a clinician? What are you biggest weaknesses?
How to Get into a Physical Therapy Residency Program
If you are like many young PTs or PT students out there, I'm sure you've noticed the growing number of specialists and specialty programs in our field. There are many new physical therapy residencies popping up in each specialty area each year, expanding from 41 accredited residency programs in 2010, to 246 programs in 2017! As these programs become more popular, they become harder to get an acceptance letter! Creating a body of work, resume, and application worthy of an acceptance letter from one of these ultra competitive residency program is a TON of work.
If your professional goals involve becoming a master clinician, a renowned researcher, a distinguished member of academia, or some combination of all three, then a residency is definitely worth the hard work and pains that come with applying. But deciding to apply is just the tip of the iceberg!
If you're serious about pursuing a Physical Therapy residency, I'd highly encourage you to take a look at the ACCEPTED Physical Therapy Residency Prep Guide. It gives you a behind the scenes look at how I applied to and was accepted into one of the top Neuro PT residencies in the country. It also shares my full application and residency essays to give you a leg up as you apply to physical therapy residencies this year.