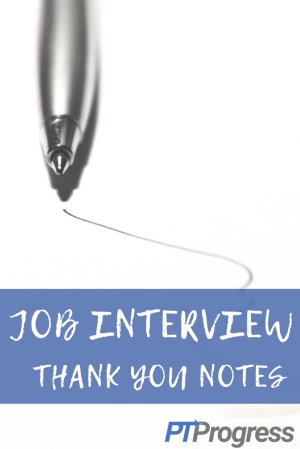 I recently spoke with a former HR executive Dan Shaffer who shared with me a surprising figure. He estimates that of the hundreds of people he's interviewed, less than 2% actually followed up with a thank you note or email after an interview and less than 1% of people sent handwritten thank you notes.
It's surprising to me how many people don't take the time to write a thank you note after a job interview.
A handwritten thank you note after an interview goes a long way, especially if you're one of the top candidates for a position.
Personally, I recommend sending an immediate thank you email as well as a handwritten thank you note that you deliver personally to the front desk at the company. (The last thing you want is for a your thank you note to sit in the post office for a day or two while the department manager makes a decision without hearing from you.)
Some people might consider this redundant, but I think it's worthwhile to compose a quick thank you email and then to write a handwritten thank you note after the interview as well.
If you're able to hand deliver a thank you note within 24 hours, then it's OK to forego the email.
How to Write a Thank You Note After an Interview
A follow up thank you note after a job interview is your extra chance to stand out and to impress the people you met during your face to face interview.
Keep these seven things in mind when you draft your thank you note:
1. Compose One Note For Each Person You Met
It's likely that you'll interact with a couple of people during your interview, including the HR recruiter, direct supervisor, and even department manager. Write a thank you note for each of them, especially if they were present during the interview. If you briefly met the department manager but interviewed with the supervisor or recruiter, you can still send a note to the department manager thanking her for the opportunity to interview for the position.
2. Hand Deliver to Office ASAP (within 24 Hours)
In my career field (healthcare) the hiring decisions generally take more than a day or two after an interview. This affords you more time to deliver a hand written thank you note.
But for applicants who are applying for tech positions or at a company that is known for quick turnaround, an email thank you note is appropriate. It probably wouldn't hurt to send a physical thank you note, but sending an email within 12 hours of your interview is a smart move.
3. Reference Specific Conversation Points
A well crafted thank you note will include specific references made within the interview. If you discussed future initiatives for the company, make a comment on how you were fascinated about the new projects and that you're eager to contribute to these areas of growth.
4. Be Genuine
Don't try to be someone you're not. Make references in your note to things you truly found to be interesting and don't exaggerate.
5. Keep it Short and Sweet
You don't need to type a full page in a letter style format. A simple thank you note will do the job. Try to keep it to one half of the page as well. Depending on how small you write, you'll need to keep it under 80 words.
6. Show Gratitude
This is a thank you card. It's designed to relay gratitude. It may be tempting to use it as a sales tool to sell how awesome you are. That's not the purpose of the card right now. By simply relaying your gratitude, you are showing them how thoughtful, articulate, and people-centered you truly are.
7. Proofread it 3 Times
I always type out my thank you cards first. I think more clearly when I type and the delete button works much better than my pen. Once the note is typed, I proofread it sentence by sentence starting from the bottom. It helps me to read each sentence individually without flowing into the next sentence.
Once the note is free of any errors, I take my time to neatly write it out. If you don't have the best handwriting, do your best. Don't have someone else write it for you.
Sample Thank You Note After Interview
Here are a couple sample thank you notes following an interview.
Handwritten Thank You Note After Interview (70 words)
Dear Linda,
Thank you for meeting with me to discuss the Physical Therapist opening at Apex Rehabilitation. I loved hearing about the new initiatives for hosting community workshops and share the same excitement for growth opportunities in the clinic. Our conversations and interactions with the support staff reinforced my interest in this position – I am even more excited about the opportunity to work with the team.
Best regards,
Your Name
Interview Thank You Note Email Example
Subject: Thank You
Dear Linda,
It was great to meet with you and James about the Physical Therapist position at Apex Rehabilitation. I was impressed with the polite staff and the overall atmosphere of the clinic.
Our conversation about bringing in new patients through seminars and workshops was exciting and I hope to be a part of this new opportunity at the clinic. These types of projects fit perfectly into my strengths and background in marketing and health education.
Thank you for considering me for the position. I look forward to hearing from you soon.
Regards,
Your Name
Your [email protected]
123-444-5555 cell
What tips do you have about writing thank you letters after an interview? Is it outdated or a good way to stand out?