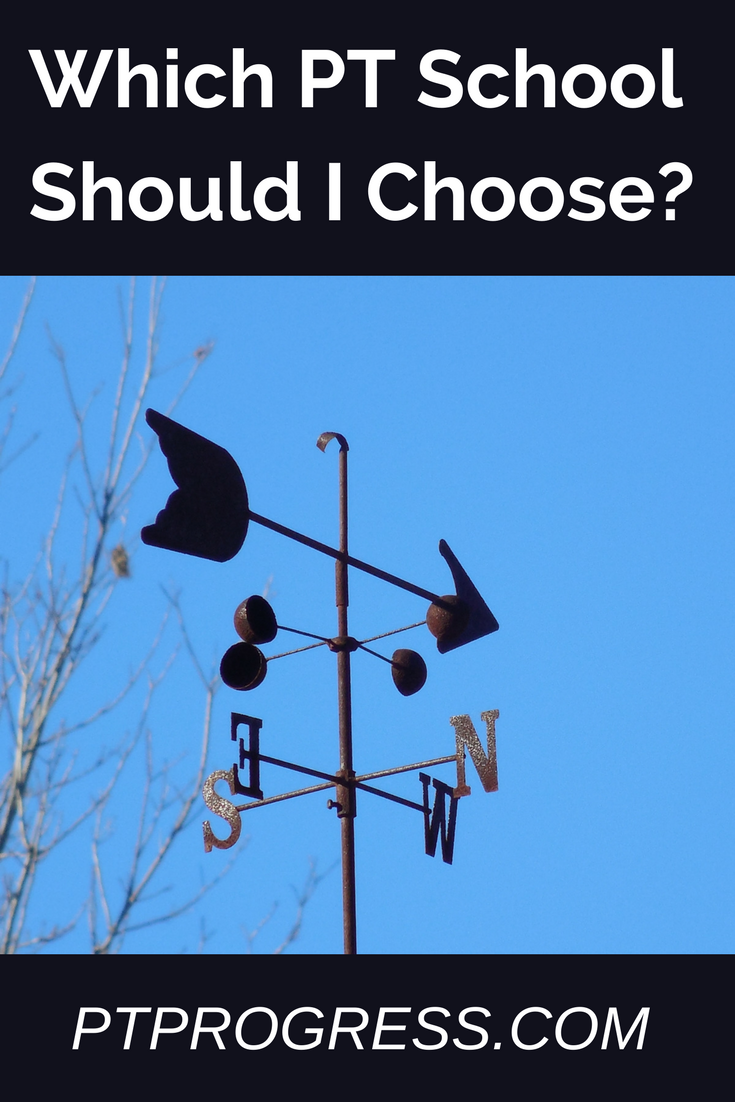 It takes years of diligently chipping away to complete a degree and the last PT school pre-reqs to turn into a polished PT school candidate. This process can include fitting in hundreds of observation hours and working a job or two prior to beginning the toilsome PT school application and interviewing process.
Tour, Apply, and Interview
Going on a program tour or attending open houses of the PT schools of interest in the year prior to applying gives a better idea of what life will be like and the opportunity to meet people you will be interacting with for the next 3 years.
Choosing which Physical Therapy schools to apply to is exciting and at times stressful.
Getting an interview to PT school(s) presents an even more exciting and stressful time.
Luckily PTProgress has a guide created by two PTs to help prepare, feel less stressed, and ace your interview.
The PT School Interview Guide provides pre-PT students with an immediately actionable plan to help make the most out of the opportunity to get into PT school.
What Physical Therapy School Should I Choose?
There are several factors to examine when reviewing Physical Therapy School choices. The amount of information coming in can feel like drinking through a fire hose and can get overwhelming.
It is important to sift through all this content and focus on the things that matter most.
PT school is a business just like every other education system that charges tuition — they market any and everything they can to fill up the seats in their classrooms.
A lot of the information being presented to prospective PT students is beneficial, but prioritizing needs versus wants will go a long way to improve your decision making.
Consider This More: Cost of School Versus Expected Income
Being realistic and rationale with these calculations could save tens of thousands of dollars down the road, which makes loan payments much more pleasant after you graduate and start working.
If a PT school or any other graduate school being considered is going to cost two times the expected first year income, it may be in one's best interest to consider a cheaper PT school or think about a higher earning career.
There is a big difference between coming out of PT school owing $60,000 — $90,000 versus owing $120,000 — $200,000.
The effect that a student loan balance hovering around twice your annual income can have on quality of life should not be ignored.
Asking experienced PTs and new PTs will give you an idea of:
How much they paid for school?
How much they're making out of school?
What stress that puts on them in their lives?
How much "PT" they're actually getting to do versus things like documentation, meetings, talking with insurance companies?
Consider This Less: School "Ranking" by a Magazine or non-PT related website
As previously stated, education is a business and PT schools need to sell themselves on why someone should choose them over another school close by — especially if that school does not cost as much.
Consumer research likes to break down things into lists and rank via whatever objective and subjective scores they choose.
Possibly the most popular list is the one made by U.S. News that is updated annually. They give out average scores on a scale of 1-5 that is "based on a survey of academics at peer institutions".
Now I don't think anyone that attended a top-100 school on that list will argue that their school was not a good school. I attended Washington University in St. Louis, which has been given a #1 ranking (tied) multiple years, and it was a great school – but I did not choose to attend WashU based on a non-PT magazine's ranking list.
I know plenty of great therapists that went to PT schools I had never even heard of and they are doing just fine. A lot of what makes a great PT is the drive of the individual to use their resources and school is just one of those resources available to them.
The point here is that the methods used to score do not do much to distinguish between the schools and should not be a major deciding factor in your choice of school.
Consider This More: Clinical Experiences
Perhaps the most influential aspect of PT school is the clinical experiences. Clinicals could range from 25-45 weeks total time throughout the program working in a clinic.
Many programs will have students learning the science and fundamentals behind Physical Therapy (as they should be) for the first 1-2 years before placing a student in a clinic full time.
The opportunities, or lack thereof, that a school provides for clinicals can be a slingshot into a PT setting after graduation or it could mean being free labor in a low quality clinic for 8-12 weeks.
Some schools place students in a clinic part time in the first year, which allows students to immediately practice apply what is learned in the classroom.
Some schools place students in ALL of their clinicals, which could mean you have to be placed somewhere you do not want to be.
Some schools allow students to contact clinics for recruiting their own clinical rotation site, while other schools do not.
Questions to ask regarding clinicals in school include:
How soon into the program are students placed in a clinic?
How many clinical rotations are there?

How long do they each last?

Is there a requirement for having at least 1 clinical in ___ (inpatient) setting and 1 clinical in ____ (outpatient) setting?
Do students get to choose all of their clinical rotations?
How large is the list of clinical rotations?

Where are the clinics located?

Are students allowed to contact and recruit their own clinical site?
Consider This Less: Jobs in the Area Around School
This section applies mostly for those who plan on moving away from the area after school.
I just said how important clinical rotations are to accelerating your career path after graduating.
So why am I saying jobs in the area around school should not be a major factor to consider?
If the school is away from home or is not in the desired living location post-graduation, then the jobs in the area do not have much influence on school choice.
In fact, many times having multiple PT schools in the area causes the job market to be oversaturated with PTs and drives down the starting salary for new grads.
For those planning on staying in an area that is a highly competitive job market, we recommend checking out the PTProgress Higher Salary Guide to help you stand out among your peers and get the compensation you deserve.
Consider This More: Graduation Rates, NPTE Pass Rates, Employment Rates
Graduation rates and both first time as well as "ultimate" National Physical Therapy Examination (NPTE) pass rates are good indicators of how well a program prepares a student to graduate and get licensed.
Rates greater than 90% are acceptable, although being higher certainly doesn't hurt. Schools know this and that is why they usually try hard to admit select students with a resume that demonstrates they will finish out the program and pass the licensure exam.
Once admitted to a program, schools will probably give several chances for someone that is having a rough time during the curriculum. These second chances help out the student and the school's graduation percent.
In the case that a course is failed, most schools allow students to retake the course – whether that is supplemental material immediately to continue with the current class or waiting to join the next class. This could be a full year or a few months depending on how many classes the school graduates per year.
The NPTE pass rates are tracked by "first time pass" and "ultimate pass" rates or something similarly named.
First time just means what percent of the class passed the NPTE on the first try, while "ultimate" means what percent of the class eventually passed the NPTE with as many tries as needed or allowed.
Again, both numbers should be high (greater than 90%) with the ultimate pass rate hopefully being 100%. It is hard to imagine someone going to PT school and never passing their NPTE to be a licensed PT, but things happen.
The other important rate to consider is employment rate. Like the NPTE "ultimate" rate, one would hope the percent of students getting jobs after graduating and passing the NPTE is 100%.
Consider This Less: Aesthetics of Classrooms and Campus Facilities
The condition of a school can make quite the first impression on a prospective student.
A school with really nice landscaping and brand new computer labs can seem like, without doubt, a more desirable place to go than another "not as pretty" school.
Certainly having access to resources such as internet, computers, printers, library, study materials, and a campus gym can be very helpful and convenient.
That is not what we are talking about here.
This section is talking purely from an aesthetics standpoint and the importance of being able to filter what is necessary for success versus shiny and nice stuff.
Many great schools have classrooms and labs in older buildings and graduate very capable PTs.
If two schools have similar stats, clinicals, but the "nicer" school costs less – then by all means consider that variable in the equation.
Otherwise this topic ultimately comes down to: Don't pay more for shiny and nice when you could have the same outcome (DPT + great clinicals + pass the NPTE) for cheaper.

A Final Word:
The theme here is that if the school is accredited, has graduation rates greater than 90%, NPTE pass and employment rates at 100%, and good clinical rotation opportunities — then they are all probably pretty comparable to a more expensive school with similar stats. Know your budget. Know your numbers. Go get that DPT!
Consider these More:
Cost

Clinicals

Percents for Graduation, Licensing, and Working
Consider these Less:
School Ranking

Jobs in the Area that you will Never live

Appearance of the School and Facilities