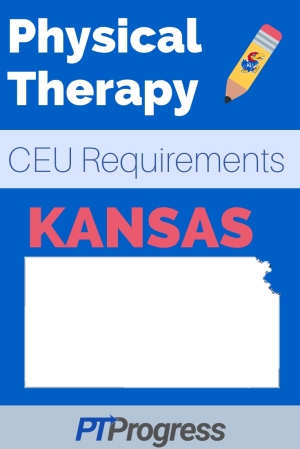 As a Physical Therapist in Kansas, you must complete 40 continuing education hours every two years by December 31st of even years. (2018, 2020, 2022, etc) Physical Therapist Assistants in Kansas are to take 20 continuing education hours every two years. The Kansas Physical Therapy continuing education requirements are listed in detail below.
The Kansas State Board of Healing Arts (KSBHA) describes the renewal as occurring for each odd-numbered year, but really the deadline is the last day of each even year.
The KSBHA and Kansas Physical Therapy Association (KPTA) work together to approve CEU courses for physical therapists and PTAs in the state of Kansas.
What CEU Courses are Allowed in Kansas?
The KPTA provides a list of all approved Continuing Education courses as listed via CEU Locker, an online portal to manage your CEUs. You can still complete a continuing education course that is not on this portal.
What is CEU Locker?
CEU Locker securely stores your CEUs and serves as a tool to track ongoing CEU requirements and completed tasks for renewing your license. It's not free for Kansas members, but you do receive a discount on CEU Locker if you are a KPTA member.
Subscription rates are as follows:

$50 Physical Therapists (full or any portion of term)
$40 Physical Therapist Assistant (full or any portion of term)
Personally, I feel that this list is difficult to navigate and includes courses from all over the country that require you to travel and still pay the course fee, which can range from $120 to $1,000 or more!
Can I Use MedBridge in Kansas?
Yes, you can use an online CEU company like MedBridge to complete required CEUs for your Kansas Physical Therapy license renewal. A quick check on the MedBridge website shows hundreds of approved courses for Kansas PT license holders looking to renew their license.
Use the MedBridge promo code PTProgress to save 40% on unlimited CEUs
How much is a Physical Therapy License in Kansas?
It costs $70 to renew your PT license.
When does my Kansas Physical Therapy license expire?
All Physical Therapy license expire December 31 of even years. The renewal period is open from November 15 and closes January 31.
How long does it take to renew a Kansas Physical Therapy license?
It can take 4-8 weeks to process your request, so be sure to start the process early!
Do I need malpractice insurance as a Physical Therapist in Kansas?
Yes, according to the KSBHA: "Kansas law requires all physical therapist practicing in the State of Kansas to maintain professional liability insurance of not less than $100,000 per claim subject to not less than $300,000 annual aggregate for all claims made during the policy period."
Kansas Physical Therapy CEU Requirements
From the Kansas Physical Therapy Practice Act Website: https://kpta.com/pdfs/CE%20Regulations%20and%20Supervision.pdf
As a condition of renewal for each odd‐numbered year, each licensed physical therapist or certified physical therapist assistant shall submit, in addition to the annual application for renewal of licensure or certification, evidence of satisfactory completion within the preceding two‐year period of at least 40 contact hours of continuing education for a licensed physical therapist and at least 20 contact hours of continuing education for a certified physical therapist assistant. (B) Evidence of satisfactory completion of a program of continuing education shall not be required to be submitted with the application for renewal of licensure or certification in even‐numbered years. (2) A contact hour shall consist of 60 minutes of activity pertaining to the practice of physical therapy. (3) Meals and breaks shall not be included in the contact hour calculation.
Compare CEUs by State
Take a look at all of the requirements for CEUs based on your state in this comprehensive article.