As a Physical Therapist, you have the opportunity to work in a variety of settings. This is one of the best features of working as a Physical Therapist – you can change your entire setting without really changing careers.
An outpatient clinic setting is one of the most common places for physical therapist to work. But other setting can include: hospitals, elementary schools, nursing homes, corporate settings, and even patient homes.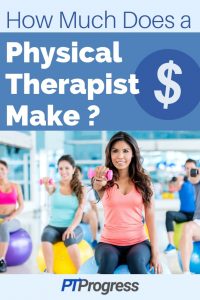 In this article we'll answer the question 'Where can physical therapists work?" by exploring multiple work settings.
Within each setting, a physical therapist may also specialize in certain area of practice. For example, PTs can become specialized in pediatrics and work in an outpatient clinic setting. That same therapist can work in a hospital setting, home health environment, or even in an elementary school setting.
Specialties are not always required for PTs in order to work in different environments. Let's take a look at some of the most common settings for Physical Therapists to work.
Outpatient Physical Therapy Clinic
An outpatient physical therapy clinic is one of the most common settings for PTs to work. These practices may be privately owned or part of a large organization. Some hospitals even operate outpatient clinics within the hospital or offsite.
Within an outpatient clinic, a physical therapist can specialize in almost every subspecialty, including:
Orthopedics

Neurology

Pediatrics

Sports

Pelvic Health

Geriatrics

Hand Therapy
The hours of an outpatient clinic can vary greatly, ranging from 6:00 AM to 9:00 PM, including weekends for some locations. Working an 8 hour shift is common, however, many therapists enjoy a flexible work schedule in these settings. I've personally worked four 10-hour days in an outpatient clinic with a focus on orthopedics and musculoskeletal injuries.
Hospital (inpatient) Physical Therapy
A physical therapist can also work within a hospital, also called an inpatient setting. Inpatient Physical Therapy involves working with patients who have been admitted to the hospital. Often times a Physician will order Physical Therapy within a hospital for patients who have trouble with mobility tasks such as walking, transferring, or performing ADLs after surgery or prolonged immobilization.
It's common for a PT to work with patients after major surgeries such as a total knee replacement or hip replacement. The caseload during the day can vary depending on the patient volume at the hospital. Your daily schedule as a PT will also vary, unlike the strict schedule often seen in an outpatient setting.
Within a hospital setting, an inpatient physical therapist can further specialize the following areas:
Orthopedics

Neurology

Pediatrics

Pelvic Health

Burns / Wound Management

Cardiovascular & Pulmonary

Clinical Electrophysiology
Cardiovascular & Pulmonary Clinics
A Physical Therapist can work in a cardiopulmonary clinic located within in a hospital, private practice, or even the home health setting. These therapists help patients who have heart disease, lung disease, or other ailments that affect the cardiopulmonary system. Within this setting it's common to progress patients through different phases of rehab that focus on improving both aerobic capacity and muscular endurance.
Skilled Nursing Facilities
Nursing facilities and assisted living facilities are growing and often have a strong need for Physical Therapists. PTs in these settings provide therapy to residents who are unable to leave the facility. The therapist may provide treatment for a wide range of conditions within this setting including: balance training, strengthening, and gait training following a joint replacement.
Home Health
In the home health setting, a Physical Therapist performs treatments within a person's home residence. Often times home health therapy is provided for patients after a joint replacement surgery. However, a home health therapist can provide treatment for a wide range of diagnoses. As a home health therapist, you will spend your day driving from house to house and may see 5 to 8 patients each day depending on the need in your area. Some therapists work in the home health setting on the weekends as a way to supplement income.
Travel Therapy
As a travel therapist, you may provide care in a variety of settings. Usually therapists work through an agency that establishes a contract with a facility that needs a therapist for a short amount of time. Many assignments can last for 3 months, so flexibility is required for this setting. A traveling therapist may be assigned to multiple settings (hospitals, outpatient clinics, nursing homes), but you ultimately have the ability to decide what setting you prefer to work in.
Schools
Many school districts will employ physical, occupational, and speech therapists to work with students who need help in performing physical tasks at school. In this setting, the therapist may work with students who have special needs and even work in the classroom setting finding ways to adapt the environment for students based on their learning needs.
Corporate Setting
A physical therapist may find employment opportunities within a factory or manufacturer setting, performing on site evaluations and treatments for employees. In some areas, an outpatient clinic may partner with an organization, providing a PT to work on site multiple days a week.
Sports Organizations
Sports organizations often have a Physical Therapist on staff to lead the rehabilitation team, working closely with athletic trainers and team physicians. Many PTs find opportunities to work with semi pro and professional teams on a part time basis and enjoy the ability to work with high level athletes.
A Final Word on Physical Therapy Work Settings
As you can see, there are quite a few different settings for Physical Therapists to work. While a PT may specialize in a number of different areas, the ability to quickly change setting makes PT an ideal career for someone who likes variety in their work.