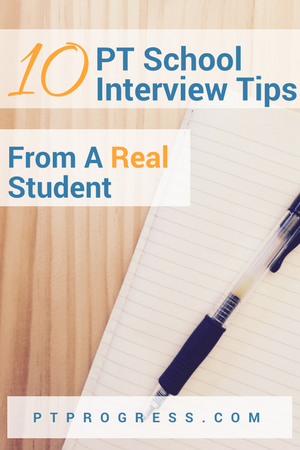 Every year, 18,000+ students interview for 10,000 PT School seats. Nearly ½ of all applicants never make it past the PT School Interview! If you're lucky enough to get a PT School interview invite, you'll need to set yourself apart from the crowd.
Before you arrive for your interview, you should be familiar with these strategies to Ace your PT School interview. These game day tips will help to set you apart from the other 10,000 PT School applicants.
Top 10 PT School Interview Tips
1. Develop the Answer to the Question "Why"
During your PT School interview, you can expect to hear a variation of this question: "Why do you want to be a Physical Therapist?" You are about to invest 3 years of your life and over $100,000 into becoming a Physical Therapist. Take this question seriously and look beyond the typical answer, "because I want to help people."
One tip for developing your "why" is to answer these questions:
What makes you unique?
What is fascinating to you about the field of Physical Therapy?
Maybe you have a knack for teaching or coaching people and you're fascinated with understanding the nuances of human movement.
You might have a background in research and want to explore how to get people better faster without prescription medications.
You are unique! Show the interviewers that you are a good fit by developing the answer to the question "Why do you want to become a Physical Therapist?
2. First Impressions Matter
When you walk into a room, find someone you don't know, and look at them with a smile. Then repeat with another person. It sounds simple, but the next time you're at an interview, I want you to look around at students and look to see how many are smiling and interacting with others and how many are staring blankly in a corner. You don't have to magically become an extrovert. You simply have to smile at one person.
3. Know your Application Completely
The interview committee will have a copy of your personal statement, college transcripts, essays, and resume if you've provided one. Be ready to answer any question related to your application. You'd be surprised how many people gloss over their application and look surprised when an interviewer asks a specific question about your application. So re-read your essay and look through your application before your interview!
4. Arrive Early and Connect with Interviewees.
Hopefully you can arrive the night before and drive to the location beforehand so you're less stressed the morning of your interview. Plan on arriving at least 20-30 minutes before the recommended arrival time and connect with the other students if you have time. Some of these students may have completed interviews at other programs and might have helpful tips. They might also be accepted into the same program as you, so be friendly and meet someone new!
5. Dress Appropriately
Your PT School Interview attire needs to include a suit and tie for gentlemen and a suit and blouse for ladies. The color of your suit, tie, or shirt doesn't really matter as long as it's not obnoxious or distracting. By far, the most standard interview attire you'll see will include a black or blue suit, light colored shirt and matching tie.
6. Practice these Common Interview Questions:
You should be confident with answering the basic PT School interview questions listed below. (See the PT School Interview Guide for an additional 25 questions and sample essays for getting into PT School)
Tell us a little about yourself?
What made you decide to apply to our program?
There are many careers in healthcare. Why do you want to become a PT?
What can you offer to the graduate program and/or the profession?
Can you provide an example of how you have handled a stressful situation in the past?
7. Use Stories to Show your Strengths
Maya Angelou said, "I've learned that people will forget what you said, people will forget what you did, but people will never forget how you made them feel."
Stories relay feeling to the listener and allow you to deliver a message that will resonate with them much more than simply stating a fact. This works especially well when answering behavioral questions like, "Tell me about a time that you…" Stories are also a great way to share your strengths and weaknesses.
8. Listen Carefully and Ask Questions
It's helpful to prepare questions (see #9) but you should also develop questions as you're listening to the interviewers or while participating in small groups. Don't just ask a question to make yourself heard. Ask questions that can't be found on a FAQ page on their website. You should have already read over their website multiple times, so ask questions that cannot be answered with content from their website.
9. Prepare 3 to 5 Questions to Ask
Having a few questions ready for the interviewers will set you apart from the other candidates. It will show the interviewer that you have done your homework and gives them an idea of your ability to think on your feet. Ideas for questions to ask the interviewer may include:
New developments for research in the program of Physical Therapy
Procedural questions: i.e. how does the program determine clinical rotations? Does the school add new rotation sites each year?
Items you heard during the interview. Did something interest you? Ask them to tell you more about the area you found to be interesting.
You can also ask them what they find most interesting about being a part of the PT program, then build off of their response.
10. Write Thank You Cards
You may have the opportunity to interact with multiple faculty and staff at your PT School interview. Jot down their names and send over a thank you note for the time they spent with you that day. These small touchpoints can set you apart from the rest of the interviewees.
PT School Interview Advice
My best advice for students about to go to a PT School interview is to develop your elevator speech and to manufacture the confidence you need to ace your interview. Here's a secret: it's normal to be nervous before an interview. You can actually manufacture confidence through a few techniques that we share in the PT School Interview Guide.
Physical Therapy School Interview Guide
In the Physical Therapy School Interview Guide, We Include:
The ACTUAL essays we used to get accepted into the #1 PT Program in the Country
Our Interview Checklist based on actual experiences at multiple PT Program Interviews
Over 30 Sample Interview Questions + Questions to ask THEM!
How to get the most out of your PT shadowing and how to highlight your experiences
Word-for-word instructions to help craft the perfect follow up notes to each program.
Tactics we used to overcome nervousness and to Ace your PT School Interview
+ over 30 pages of valuable resources only a PT graduate would know.
Here's a link to get the PT School Interview guide. Good luck in your interview!