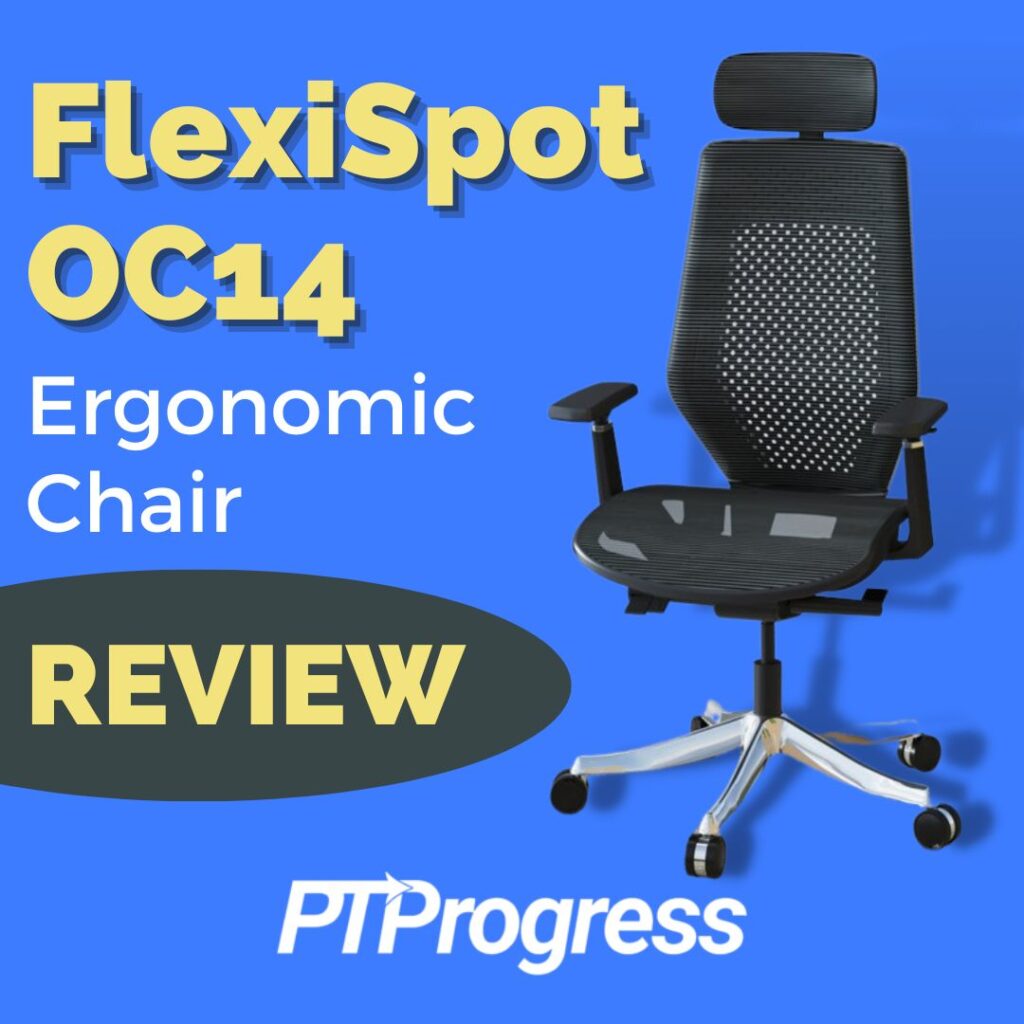 The FlexiSpot OC14 is the latest ergonomic chair to grace the market, and it promises a big bang for your buck. I had the chance to try it out at home, so below is my full, physical-therapist-informed review.
How the FlexiSpot OC14 Supports a Better Work Day
It's become common knowledge that sitting is the new smoking. Spending all day hunched over in a chair is detrimental to your health, but for many of us, it's an unavoidable occupational hazard. A standing desk offers a break from the seated grind, but even standing in place all day isn't ideal.
The best way to enjoy healthy posture, from morning to evening, is to change positions often. Breaking up the day from standing to sitting—stretching your legs in between—is the best way to combat muscle stiffness and avoid painful muscle knots.
Whenever you do take a seat, make sure it's a supportive one. An ergonomic chair can help you sit with better posture and less pain. One option to consider is the FlexiSpot OC14, which I recently received for the purpose of reviewing. (Keep in mind—I was not paid or otherwise incentivized to write positively about it.) What follows is my honest opinion of the FlexiSpot OC14.
In this review, I'll cover all the features I liked about the chair as well as what I would change. First, let's take a look at the brand itself.
FlexiSpot Brand
If you're new to the blog, I'd love to get you acquainted with FlexiSpot. An innovative company that's changed the way the world works from home, FlexiSpot manufactures workstations, tables, and more to promote better postural health. I use their Pro Plus E7 standing desk and have reviewed a few of their other models also. After seeing such high standards, I don't hesitate to recommend any of the FlexiSpot desks.
Not only are their products inventive and effective, each one is well-made, easy to assemble, and backed with a cushy 10-year warranty. Best of all, the FlexiSpot brand is often more affordable than many of its competitors.
Case in point: the price of a high-quality, adjustable ergonomic chair is typically between $1000-2000. That sounds exorbitant, but if you sit all day and have a history of neck or back pain, then a grand isn't an unreasonable investment to make.
By contrast, the FlexiSpot OC14 costs just over $600, and it's remarkably similar to competitors twice its price. Despite its affordability, you won't lose out on quality or design, beginning with the most important feature of an ergonomic chair—it's adjustability.  
Adjustability
When it comes to adjustability, Flexispot really shines. True to form, their OC14 ergonomic chair is designed to accommodate your needs with adjustable chair height, seat pan, armrests, and more. Let's take a closer look, starting from the bottom.
Seat Height and Seat Pan
At the base of the chair you'll find a standard knob for raising the chair up and down. That's nothing new—we've come to expect this feature from every office chair. But right next to it is a small knob that moves the seat pan forwards and backwards. This increases the distance between the back of the seat and the chair back itself.
If you're particularly tall, you'll love the seat-pan adjustability feature. When pushed fully forward, this seat will allow someone with long legs to sit comfortably while using the backrest. And I mean really long legs. I stand 6 feet tall, but I don't need the seat pan all the way forward to be comfortable. With the seat pan right in the middle, my feet can be flat on the ground and I can maintain a slight forward angle from my hips to my knees.
Seat Tilt
On the other side of the base of this chair you'll find another lever to adjust the tilt or reclining feature. With the knob all the way down, the chair can recline to 30º, but you can adjust the knob so it locks at any point before then. Even with the knob fully open, the chair will stay with you, only reclining when you lean back.
What's nice about this tilt adjustability is that you can determine how far back it goes. Maybe you prefer the seat in a forward position that supports your back and keeps your posture tall and upright. Or you may just want something in the middle. Either way, it's easy to adjust this feature as your day progresses and your preferences change.
Something to note: I've noticed in many chairs, even ones more expensive than the OC14, that sometimes the tilt will "catch" when it's in the open position. If it catches, you have to first lean forward slightly to unlock the tilt feature and fully recline. It's not a huge issue, just something to be aware of for this chair and many ergonomic chairs like it.
Armrests
Moving up the chair, you'll find two armrests that are adjustable in three different directions. First, they move up and down in a range of about 3 inches—which is great for tall users. But you can also slide these armrests forward and backward and even tilt them in and out in three different positions.
It might take some tweaking, but with the OC14 you'll have no problem finding the perfect spot to rest your forearms while you're typing or surfing the web.
Headrest
Finally, this chair features a comfy headrest that's adjustable up and down by approximately 2 inches. You can also remove the headrest completely if you prefer the chair without one.
Material
From bottom to top, the FlexiSpot OC14 features high quality material. The base frame is made of a solid aluminum alloy, which feels very sturdy compared to a cheaper chair you may have in your office. Now, the casters on this chair are ok—nothing to write home about. They aren't the nicest casters I've ever seen, but they don't squeak and haven't given me any problems so far. Other reviewers have pointed out that the casters run smoothly and quietly on the floor.
I'm sure FlexiSpot could've put more expensive casters on the chair, but that of course would raise the price of the chair—when it actually doesn't make a big difference.
What does make a difference is the material of the chair itself, both the frame and fabric. The frame is a standard molded plastic that is sleek and smooth to the touch. While the armrests aren't particularly soft, they have a little give to them and are comfortable enough to lean your elbows on. Instead of resting on a stiff piece of plastic, you'll find that your arm indents into the armrest slightly.
Available in four different colors, the fabric is a lightweight material of high-elasticity filament and PU plastic woven together. This kind of material is characteristic of a high-end ergonomic chair, including my Herman Miller Aeron Drafting Stool, which runs about $1,400 new. Supportive, comfortable, and easy to clean, the material is worth its price—and even more so when you're paying half as much from FlexiSpot.
What's Missing
If there's one feature I'd like to see FlexiSpot integrate into the next model of this chair, it would be an adjustable lumbar support. Not for me personally—I actually don't like using lumbar supports to bolster my low back. But in talking with people at the clinic and elsewhere, I know many users would appreciate that kind of feature.
The missing lumbar support isn't a dealbreaker, however. In its place you can simply roll up a towel behind your back to achieve a similar effect. Besides, I found that there is plenty of lumbar support built into this chair, as long as you scoot your bottom back or adjust the seat pan to be closer to the back of the chair. Once the seat fits you properly, you'll definitely feel the integrated lumbar support that's already there, even though it's not a separate feature to adjust.
FlexiSpot OC14 Review: Summary
Overall, I think the OC14 is a great chair from FlexiSpot. It's designed to compete with higher-end chairs without breaking the bank—and I think it succeeds in that.
So next time you plop down in your creaky, stiff computer chair, consider how much nicer it would be to perch in an ergonomic chair like the FlexiSpot OC14. Not only will it have you sitting taller and more comfortably, it can help prevent poor posture and the musculoskeletal ailments that follow. 
And what better complement to the OC14 chair than the FlexiSpot E7 standing desk? Don't forget to check out my review of the E7 and other FlexiSpot desks on the blog. If you need more than a better chair and desk to upgrade your posture, check out this post for improving your posture at home.