In order to become a physical therapist, you need to graduate from a CAPTE-accredited program and pass the NPTE to become a board certified and licensed physical therapist. The average DPT program takes about 3 years to complete.
Of course, before you can be admitted into a DPT program you need to complete an undergraduate degree. In fact, you can have any major in college and as long as you finish the right prereqs for PT school, you can apply through PTCAS. PTCAS is the central application system for physical therapy schools.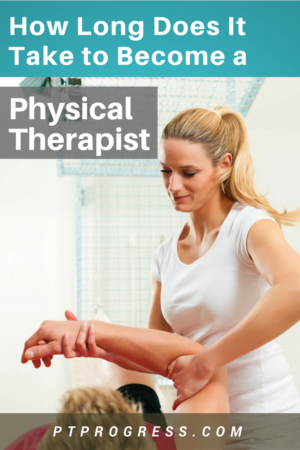 High School Students Thinking About Physical Therapy
There's a unique way to speed up the time it takes to become a physical therapist. Some programs offer what's called a Freshman Entry Doctor of Physical Therapy degree.
If you are in high school (or still need to obtain your bachelor's degree), you might consider a 6-year Freshman Entry DPT program. If you are admitted into this type of program, you will earn a bachelor's degree as well as a DPT degree in a total of about 6 years as long as you maintain a minimum GPA set by the program.
All in all, this can save you about a year, since the typical undergrad is 4 years plus 3 years for the DPT. For students who are serious about physical therapy and know this is the career they want, it's definitely something to consider. If you decide that PT isn't the career for you, you can complete the undergraduate portion of the program without finishing the DPT.
How to Become a Physical Therapist
Read how to become a Physical Therapist or hear from an actual PT on how to become a PT:
How Long Does It Take To Become a Physical Therapist?
Traditional DPT Program
Let's say you decide to complete your undergraduate first and then apply to a DPT program. If you apply to PT programs in your senior year, you can start the DPT program as soon as you graduate. Traditional DPT programs can range from 30-36 months.
So in addition to the 4 years you spend completing an undergraduate degree, you'll also spend about 3 years at a DPT program, totaling 7 years of college education to become a physical therapist.
Yes, the process to become a physical therapist is long, but worth it.
If you are a nontraditional student who is thinking about a career change, but wonder if you're too old to go to physical therapy school, ask yourself this question: How old will you be in 3 years if you decided NOT to go back to school? There's a 100% chance that you'll be the same age if you decided to go back to school.
The point is that if you want to help people move better and enjoy your job as a physical therapist, you have to put the time in. Don't let your age or the time to complete school keep you from pursuing your dream.
How Many Years Does it Take To Become a Physical Therapist?
4 Years of Undergraduate Studies
3 Years of Physical Therapy Graduate School
7 Years total to become a Physical Therapist
Want to Learn HOW to Become a Physical Therapist?
Read the Ultimate Guide on How to Become a PT: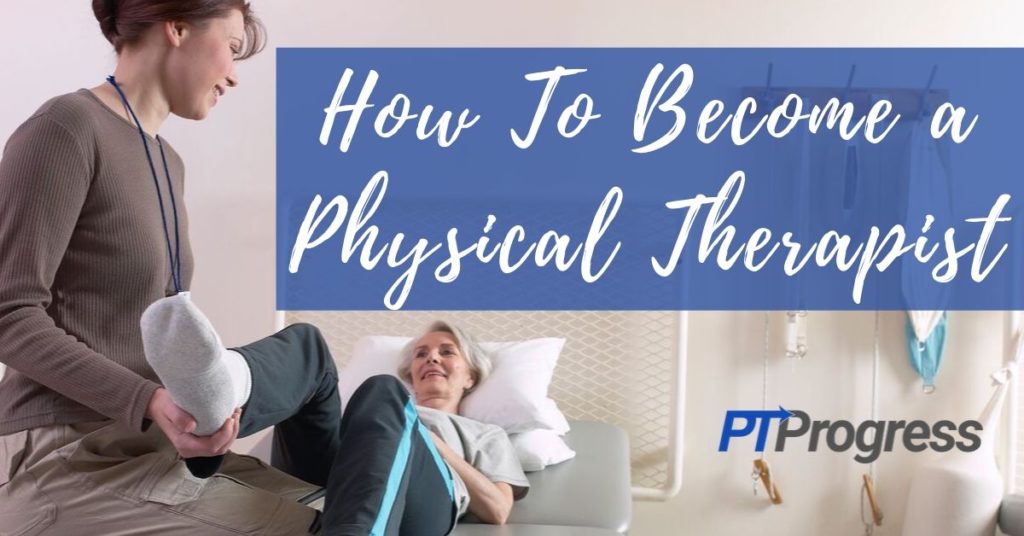 (Pin this info, or click on it to read the full article!)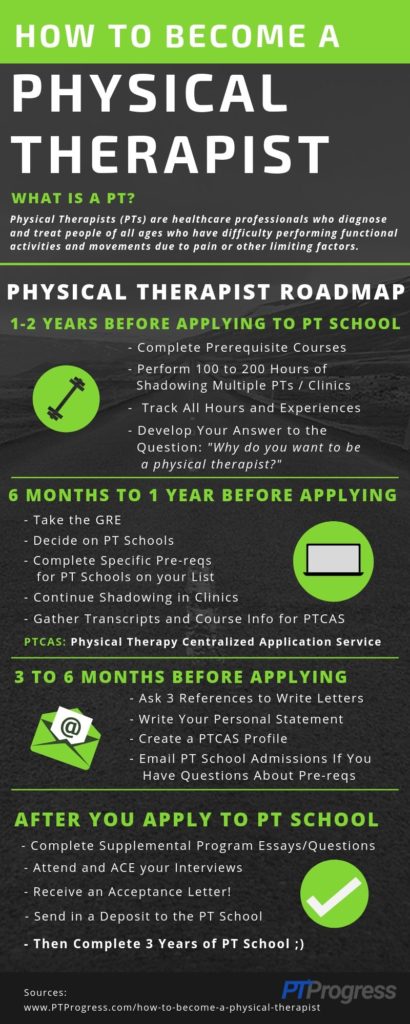 Are You a Physical Therapist?
One of the requirements for maintaining your license as a PT is to participate in continuing education. In every state, your PT license lasts for 1 to 2 years before you are required to renew it. When the renewal period arrives, you'll need to document the continued education courses you've taken over the past 12 to 24 month depending on the state you're in.
One of the ways you can maximize your continuing education budget is by taking CEU courses online. We've partnered with MedBridge, one of the largest providers of online therapy education. You can use the MedBridge promo code "PTProgress" to save over 40% on their entire education library.