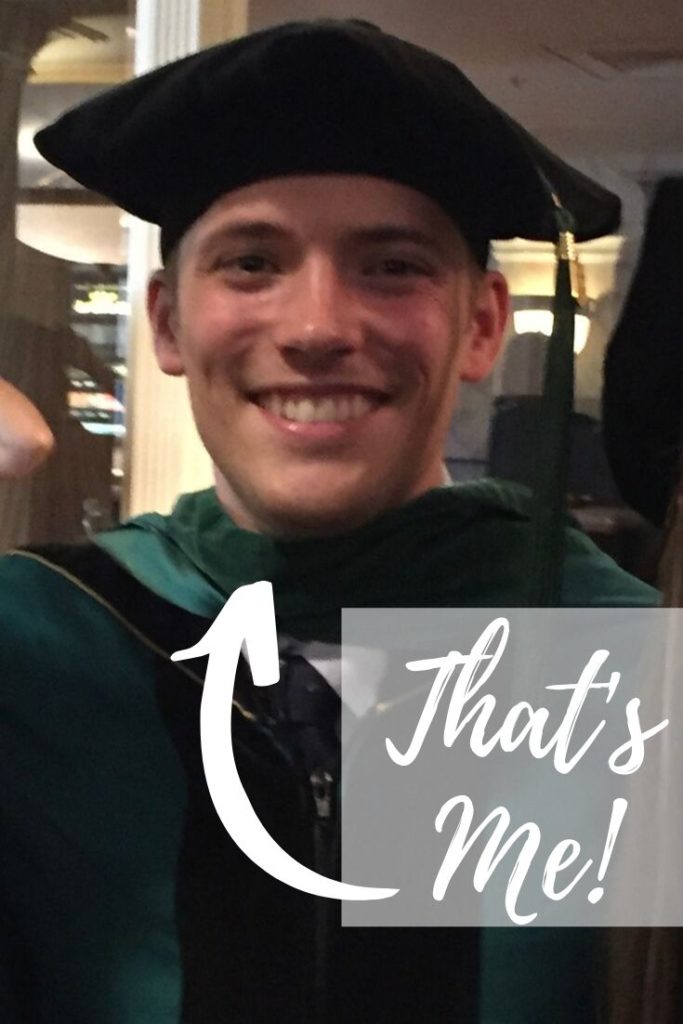 You can read how to become a physical therapist on quite a few websites, but unfortunately those articles aren't written by a physical therapist!
I was in your shoes not too long ago. I became a licensed physical therapist in 2016 so I know what it takes to get into PT school and become a physical therapist!
This guide is for you. If you want to become a physical therapist, bookmark this guide, or better yet, I'll send over a summary ebook if you're serious about becoming a physical therapist.
Nearly 20,000 students apply to PT school each year and only 50% are accepted! Get the insider's scoop on how to become a PT.
In this article:
What is a Physical Therapist?
Physical Therapists (PTs) are healthcare professionals who diagnose and treat people of all ages who have difficulty performing functional activities and movements due to pain or other limiting factors.
PTs are experts in the movement system, a reference to the collection of systems in the human body that contribute to human movement.
Physical Therapists provide comprehensive evaluation and treatment to identify and address key impairments or contributing factors that cause discomfort, movement restriction, or other functional limitations.
A PT may work in a variety of settings, including outpatient clinics, private practices, hospitals, nursing homes, home health groups, fitness and sports facilities, government / military, and occupational or industrial settings.
Physical Therapy Profession
One of the greatest draws to pursue physical therapy is the ability to deliver scientifically backed treatment to restore health and movement to people in a variety of health care settings.
The physical therapy profession aims to promote better health through prevention, rehabilitation, health maintenance, and through wellness and fitness programs.
Physical Therapists in the United States are supported by the APTA or the American Physical Therapy Association.
Globally the WCPT or World Confederation for Physical Therapy acts as a voice for physical therapy, representing more than 450,000 PTs worldwide.
What Does a Physical Therapist Do?
Perform Evaluations – Only a licensed PT may perform a physical therapy evaluation, which is the initial visit to establish a diagnosis, prognosis, and plan of care. Using the data collected in the evaluation, a physical therapist will identify appropriate interventions, treatments, and establish an overall plan of care for the patient. In some states, a PT may provide this care independent of a physician referral.
Provide Treatment – Physical therapy treatment may be provided by a licensed physical therapist (PT) or physical therapist assistant (PTA). The type of physical treatment provided may include the following: therapeutic exercise, manual therapy, neuromuscular re-education, balance and stability training, modalities (heat, ice, e-stim), and education.
Progress Plans of Care – PTs are trained to progressively advance treatments based on the goals and abilities of each person. This may include carrying out appropriate strengthening progressions after surgery or improving gait stability for someone after a stroke. PTs perform progress notes throughout the plan of care (or treatment session) and perform a discharge note upon completion of physical therapy with a patient.
Promote Health Through Education – PTs teach patients and clients in a variety of ways. From how to perform exercises properly, to the correct use of assistive devices like canes and walkers, physical therapists teach people how to take ownership in their recovery.
Physical Therapy Career Outlook
The field of Physical Therapy is expected to grow by 22% over the next 8 to 10 years according to the Bureau of Labor Statistics. There are currently 247,000 physical therapists in the United States with approximately 10,000 new graduates entering the job market every year.
Becoming a physical therapist is a competitive undertaking. Nearly 20,000 students apply each year and only 50% are accepted to PT programs across the country.
Even with the rising costs of PT school and unmatched increase in Physical Therapist salary, new applicants continue to seek a career in Physical Therapy.
The continued demand for this field will make the process of becoming a physical therapist even more competitive as students look for ways to stand out part of the 50% who are accepted to PT school.
(It's one of the reasons we've put together the PT school interview guide, a comprehensive manual for acing your interview and getting into PT school the first time.)
Physical Therapist Salary
The 2018 Bureau of Labor Statistics put the median income of physical therapists at 87,930 per year or about $42 an hour.
The median salary is a better representative of what to expect for pay as a Physical Therapist (as opposed to the average salary). A median salary of $87,930 means that 50% of the workforce earns less than this figure and 50% earns more than this figure.
So it is a true statement to say that half of physical therapists make less than $87,930 a year. And half of course make more than this.

Why is there such a large range in Physical Therapy Salary?
A new grad PT may earn $65,000 in an outpatient orthopedic clinic while a PT working in home health (with 1-3 years of experience) may earn well over $120,000 a year.
The type of setting you choose to work in can result in a significant change in pay. Of course, the work is quite different in a sports clinic compared to a nursing home, so selecting a setting strictly based on salary is not the best approach for your career satisfaction as a Physical Therapist.
Factors Influencing Physical Therapy Salary
Clinic Setting / Type – PTs can provide physical therapy in multiple settings, from hospitals to nursing homes and most commonly in outpatient clinics. The salary in each of these settings will be different due to patient volume, reimbursement, and location. See the list of PT salary based on setting below.
Location – Reimbursement for physical therapy will vary depending on location, which can affect the overall salary for PTs. Higher paying locations include: Nevada, Alaska, California, Texas and New Jersey. Large metropolitan areas may have a higher saturation of PTs which can affect the salary as well.
Specialty – PTs can pursue specialty certifications which can help to set them apart from other applicants when applying for specialty clinic roles. An advanced certification is not always required for practicing in a sub specialty like pediatrics, neurology, or sports. Salary in these specialties will vary depending on patient volume, insurance reimbursement, and location.
Experience – Career growth with an organization may lead to salary raises, accumulation of PTO, and other benefits such as opportunities to assume ownership equity in a private practice setting. When it comes to overall salary, experience can play a role in starting rate of pay, but setting will have a larger impact on the salary potential for the therapist.
Role in clinic (director / manager/ owner) – Advancements or promotions within an organization may lead to increased pay. PTs can pursue leadership opportunities in every type of setting, which may include higher salary or added job benefits.
Income Potential Based on Physical Therapy Setting
Acute Care Hospital: $89,000
Academic Institution: $90,000
Skilled Nursing Facility: $95,000
Home Health: $90,000
Hospital Based Outpatient: $85,000
Private Outpatient Clinic: $80,000
School System: $72,000
Inpatient Rehab: $82,000
Travel Physical Therapy: $100,000+**
* based on 2016 APTA data
** Based on average 16 week contract rates
Physical Therapy Degree Questions:
What Does DPT Stand For?
DPT stands for Doctor of Physical Therapy. In the United States, DPT degrees are the standard for physical therapy programs.
Physical therapy education has evolved from a bachelor's degree to masters degree and now a 3 year clinical doctorate in the United States.
PTs are often called "physical therapist" or "physiotherapist" interchangeably. The same is true for "physiotherapy" and "physical therapy" in reference to the field of practice.
How Long Does it Take to Become a Physical Therapist?
Many people also ask, "how many years does it takes to become a physical therapist?"
In total it takes 7 years to become a Physical Therapist. You must complete a bachelors degree (4 years) and also complete a 3 year doctor of physical therapy degree.
Some programs offer a 3+3 degree which means you can finish an undergrad degree in 3 years and go directly into a 3 year DPT program. These are called freshman-entry programs because you know you are accepted to the PT program when you are accepted as a freshman into the 3+3 DPT program.
How to Become a Physical Therapist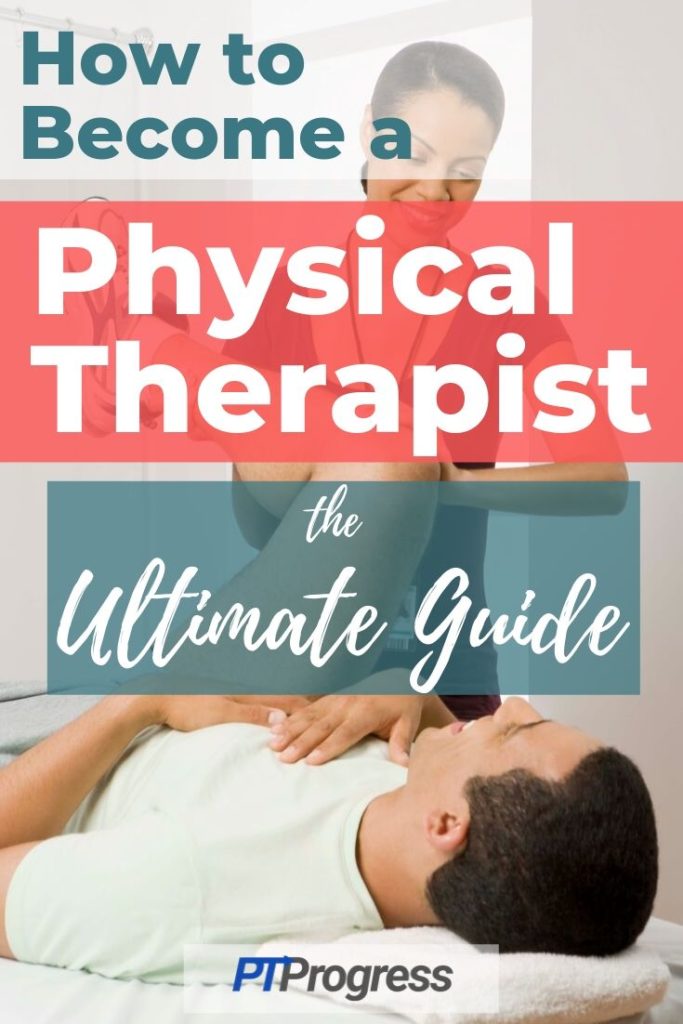 Now that you have a clear understanding of a physical therapist career and how they are a critical healthcare provider, let's dive into the details to learn how to become a physical therapist.
Whether you're in high school, college, or you are considering physical therapy as a second career, (like I did!) this roadmap will be a helpful place to start on your journey in becoming a PT.
You might have stumbled across a few ambiguous pages that list out fancy graphics trying to explain how to become a PT. Unfortunately, that information is not accurate and was clearly written by someone who did not go to PT school.
My goal with this page is to create a resource that is actually helpful and highlights the true steps to becoming a physical therapist.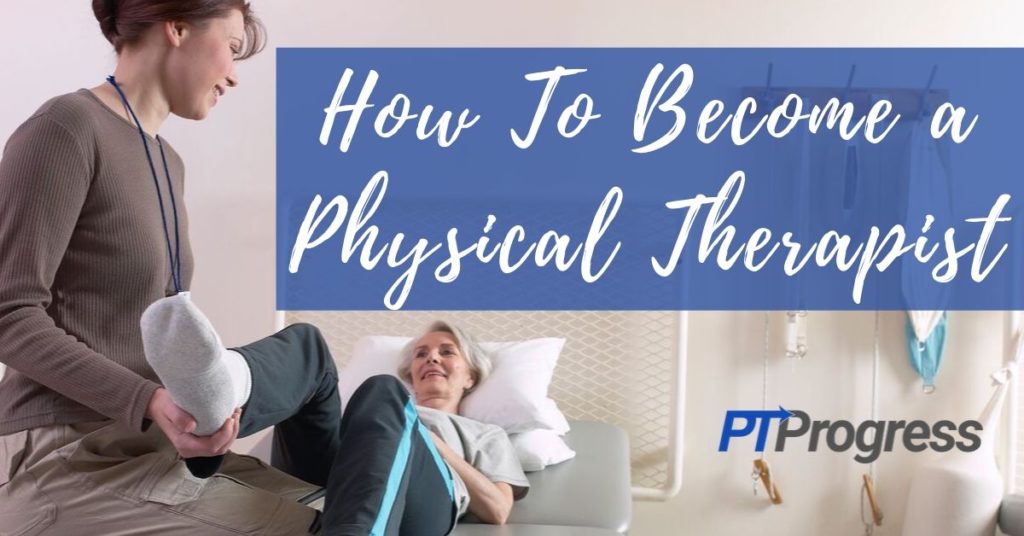 Before You Start Your Physical Therapy School Applications…
So you've decided to become a Physical Therapist? Great!
Before you jump onto the PTCAS or Physical Therapy Centralized Application Service, there are a few things you should do beforehand.
And by beforehand, I mean 1-2 years before you even apply!
1-2 years before applying to PT school
Take required prerequisites for PT schools (see below)
Shadow multiple physical therapists (100-200 hours)
Document your clinic hours
Be able to answer the question: "why do you want to become a physical therapist."
1 year to 6 months before applying to PT School
Take the GRE
Keep shadowing or volunteering in Physical Therapy settings
Decide on the top PT programs you'll apply to
Finish All Pre-Req courses for these PT programs
Gather transcripts and course descriptions for PTCAS
3 to 6 months before applying to PT school
Ask 3 references to write a recommendation letter
Write Your Personal Statement
Create a PTCAS Profile
PTCAS application cycle opens in July and closes in May
After You Apply to PT School
Complete any supplemental applications from PT programs
Attend and Ace the Interview
Get an acceptance letter (and ask for an extension!)
Wait to hear if you get another acceptance letter
Accept a seat at the school that best meets your needs!
Send in your deposit and get ready for PT School!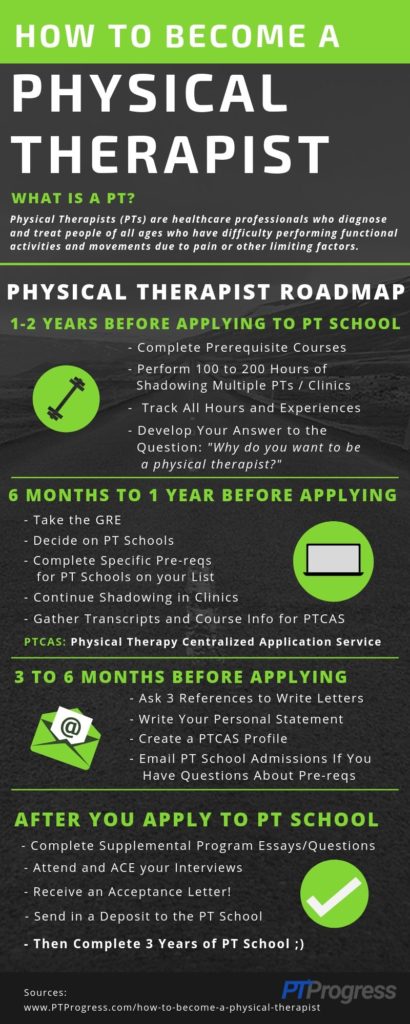 Becoming a Physical Therapist:
Key Steps
Experience: Shadow in Physical Therapy – The absolute most important thing for new students to do right now is to observe in multiple clinic settings. Don't just shadow with one PT at one clinic. Your application will become much stronger if you show a diverse range of experiences from acute hospital PT to outpatient and neuro settings.
My recommendation is that you try to spend at least 2 days each at various settings and at least 10 days in a clinic that is most interesting to you.
For example, I was most interested in practicing in a hospital based outpatient clinic, so I shadowed multiple PTs in a single clinic over a period of 6 months. I accumulated over 200 hours of experience in this setting.
I also spent time in the acute hospital setting, pediatrics clinic, and observed a home health therapist. This was helpful because I could see areas of PT that I was more interested in than other settings.
Physical Therapy Pre-Requisites – Prerequisites are the required courses you must take before you can be accepted to PT school and may vary from program to program. The PTCAS directory includes a helpful guide to compare pre-reqs among programs. When I applied, I used a spreadsheet to track pre-req requirements across programs which made it easy to see how many schools required the same courses.
In general, most PT school prerequisites include:
Anatomy and Physiology with Lab
Biology 1 (lab requirements vary)
Biology 2(lab requirements vary)
General Chemistry 1 with Lab
General Chemistry 2 with Lab
General Physics 1 with Lab
General Physics 2 with Lab
Psychology
Statistics and/or Mathematics

Be sure to read the pre-req details on each program website because they may include nuances that specify how classes must be completed.
If you are unsure, call the program admissions team and ask specific questions. When I was applying to PT school, I took a couple of these pre-req courses online which may o may note be allowed with some programs.
I actually took an online physics course with a lab, which was accepted by every program, but I made sure by asking each program admissions director first.
Take the GRE – Most PT programs require that you take the GRE or Graduate Record Examination prior to applying to the program. Some PT schools list a minimum acceptable score on their website.
When you take the GRE be prepared to enter the school GRE code at the testing center. If you need to send your score to additional programs, you can log into ETS and request scores to be sent to programs manually for an additional fee.
PTCAS provides average and minimum GRE scores for students based on the PT program. They also share the average GPA of applicants and accepted students, so you can get a better idea of how your scores compare.
While schools may list a minimum GPA or GRE score, remember that your scores do not tell your entire story! Be sure to build a strong application through volunteer experiences, extracurricular leadership, and unique experiences such as research or job experience.
Apply to a Program – Once you've shadowed a PT and have completed the required prerequisite courses, you are ready to apply to PT schools. If you are currently in undergrad, you should try to apply when the application season opens in July before you start your senior year.
Instead of applying to individual schools, you can use the Physical Therapy Centralized Application System (PTCAS) to apply to multiple programs at once. Most PT programs use the PTCAS to simplify the application process for students.
The PTCAS application cycle opens in July of each year and closes in May, so be ready to upload your information early, especially if you are interested in an early decision option. (See more about early decision programs in the FAQ below)
Ideally, you should try to have all your prerequisites completed before you start the application process. It's not common, but some programs will deny your application unless you have completed all of the prerequisite courses before applying!
The application process can be expensive, so plan ahead financially! For example, in the 2018-19 application cycle, the cost to apply to 1 PT program was $155. The cost to apply to 10 programs totaled $695 with an additional $60 for each program thereafter.
PTCAS does offer a limited number of fee waivers based on financial need, which covers the cost to apply to one program. A fee of $60 will be required for additional programs you apply for if you are covered by the fee waiver program.
Complete a DPT Degree – Congrats, you've been accepted! Get ready for 3 challenging years of graduate school to prepare you to become a physical therapist. Most PT programs are year round and full time 3 year programs. However, some hybrid programs have developed over the past 5 years which allow students to take certain courses online.
All physical therapy programs will include a mix of classroom learning with clinical rotations. Some programs integrate the clinical rotations between semesters while other programs place all rotations at the end of the program. This is a good question to ask during your interview!
Also, ask about the location of clinical rotations as some programs have connections with clinical sites throughout the country while others have limited clinical relationships in a specific area or region.
Pass NPTE Boards – During the last semester of your Physical Therapy program, you'll begin to prepare for the National Physical Therapy Examination or the "PT Boards Exam." This is a 5 hour, 250 question examination that you must pass in order to apply for a state physical therapy license.
Most students study for at least 12 weeks prior to sitting for the examination, using resources like the NPTE Study Guide as well as online prep material like Picmonic. (You can even use Picmonic to prepare with the medical terminal track before you get into PT school!)
One of best questions to ask during your PT school interview is this: "What is the program's first time pass rate for the NPTE?" This will give you a good idea of how strong the program prepares their graduates with resources to pass the boards the first time around! After all, you're not a physical therapist until you pass your boards, so this should be high on your priority list when it comes to program strengths!
Graduate, Pass Boards, and Get a Job – Phew! You've completed a PT program, passed your boards, and received your state physical therapy license. Now you can finally practice physical therapy, but you'll need a job first!
The good news is that physical therapists are in high demand right now, so finding a job won't be difficult. However, finding the RIGHT job may take some time. Be careful not to sign up with the first company you find! Do your homework and don't be afraid to ask if you can shadow in their clinic before committing to a job with them. After all, you put in the time to shadow with a PT before even applying to PT school. Before you commit to 40 hours a week with a clinic, you need to make sure it's a place that's right for you!
Physical Therapy School
There are over 200 physical therapy schools listed in the PTCAS directory of programs (223 to be exact for 2018/19).
The distribution of private/public school programs are pretty well split at 50%. However, there is a significant difference between schools when it comes to cost.
Average Physical Therapy School Tuition
The tuition for physical therapy school is very high. The total cost to complete a three year program in Physical Therapy is as follows:
Public Program: $65,170
Private Program: $112,714
This does not include cost of living, which varies depending on the region but may run anywhere from $1,500 per month to $3,000 per month.
Higher Cost Does NOT Equal Better Program
The number one problem facing new physical therapists is the high debt associated with PT school. It's far too easy to become drawn to a list or a ranking of PT schools as a way to seek out the best education.
The APTA does not endorse a ranking list for PT Schools. In fact, the list you see on US News and World Report has nothing to do with quality of education or student satisfaction.
You can watch my full video about the 3 Truths which goes into detail about PT School rankings.
Other Physical Therapy Admission Requirements Requirements
While you research Physical Therapy schools, look for information on the following items that may help you in narrowing down your search for the right program:
Minimum GPA (Do they have a cutoff or minimum? Average?
Shadowing – How many hours are recommended or required?
References – Does the program require more references than required in the PTCAS application?
Interviews – Does the program conduct interviews? Can you visit the campus?
State Programs – Is state tuition available to you?
Physical Therapy Scholarships – Are there any PT scholarships or TA positions available?
Criminal Background Checks – Is one required?
Immunization Records – Do you have your records available?
Early Decision Physical Therapy School – Does the program participate in early decision?
If you are set on one physical therapy school, you can apply using early decision application. This is a binding option for students who decide on one particular PT program as a first choice. But the catch is that you can only apply to one program!
Early decision applicants cannot apply to other PT programs unless they are not accepted to their early decision program – then they can apply to any other program.
You must complete your entire application by the August 15 deadline or your application will be switched to regular decision.
If you are not accepted to your early decision '1st choice' PT school, you can add other programs to your application.
Congrats You're Accepted to PT School!
Once you get into PT school, the hard work is about to begin! Every physical therapy program is different but they share common core element within the curriculum
Physical Therapy Curriculum
It's a good idea to look through different PT school curriculum calendars as most include these on their website. You'll notice common courses such as:
Anatomy and Physiology
Kinesiology & Other Sciences
Movement / Treatment Courses
Treatment Lab Courses
and other research or wellness/health promotion courses
You'll also notice clinical rotations listed in the curriculum. Pay attention to where these are within the program. Some programs schedule all rotations at the end of curriculum while others integrate clinicals between semesters. Ask the program director or admissions team why they structure the clinical rotations in this way and how they've found it to be helpful for students.
Online and Hybrid Physical Therapy Programs
You'll start to see more hybrid or online physical therapy schools in the next few years. Often these programs will highlight the benefit of going to school part time so you can continue working. This can be a big help for people financially, especially if you can maintain a good paying job to help keep the costs down for attending the PT program.
However, be careful because the tuition cost of these programs may far outweigh the cost of a state PT program.
Regardless of the format you choose, it's wise to keep costs under control and to do your best to save money on cost of living expenses as best as possible.
Physical Therapy Residency and Fellowships
Once you complete your DPT at a physical therapy program and pass the boards exam, you can begin practicing as a Physical Therapist.
However, you may start to hear about residencies and fellowships. These are not required for physical therapists and less that 10% of PT graduates pursue a residency or fellowship after PT school
What is Physical Therapy Residency?
The American Board of Physical Therapy Residency and Fellowship Education (ABPTRFE) defines a residency program as:
"a postprofessional planned learning experience comprised of a curriculum encompassing the essential knowledge, skills, and responsibilities of an advanced physical therapist within a defined area of practice. When board certification exists through the American Board of Physical Therapist Specialties for that specialty, the residency program prepares the physical therapist with the requisite knowledge and skill set needed to pass the certification examination following graduation"
So essentially, PT residency is a highly specialized training program geared to give you increased experience and help you gain specialist certification.
Should You do a residency or fellowship?
This really is up to you and where you see yourself in 5 or more years after you graduate. You do not need to pursue a residency or fellowship in order to sit for a specialty certification like the NCS (neurological specialist) or OCS (orthopedic specialist) or SCS (sports specialist).
You can explore these questions in more detail when you're in PT school.
Right now, your job is to learn as much as you can about the field of physical therapy!
Next Steps on How to Become a Physical Therapist:
If you're interested in learning more about physical therapy, your next steps should be as follows:
Download the PT School Application Guide Below
Shadow multiple physical therapists
Apply when you're ready and use this page as a reference!
If you're applying now, check out the PT School Interview Guide
Learn How to Get Into PT School The First Time!