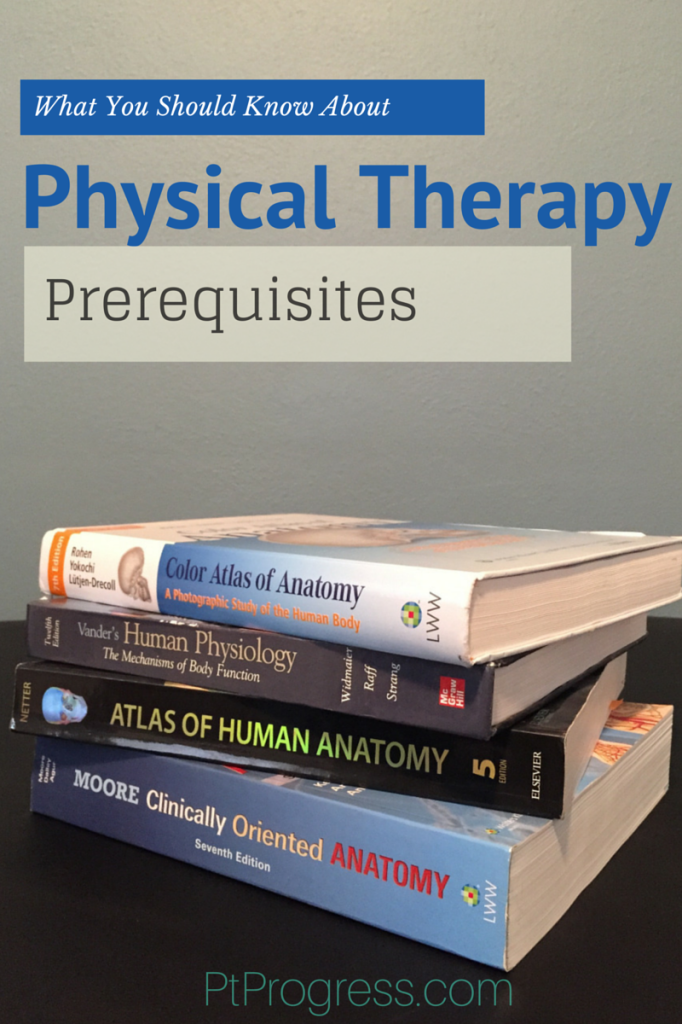 Physical therapy prerequisites vary between schools, but most programs require a very similar group of core classes that you must complete before being accepted into their program.
Now just because you are a biology or exercise science major, don't assume that you'll meet the prerequisites for any physical therapy program out there. Currently, there are 176 PT programs listed on the PTCAS (the central application service for physical therapy programs) that list out the most up to date prereqs for their program.
These prerequisites can change anytime, but it's a good resource to compare the requirements between programs. You can use the PTCAS table as a reference between program prerequisites.
Core Prerequisites for Physical Therapy Programs
There are 5 core prerequisites that are common between most programs:
Biology 1,2
Chemistry 1,2
Physics 1,2
Social / Behavioral Science
Statistics
*Math – About 25% of programs require 1 math class
Exactly how many semesters of each prerequisite depends on the program. Likewise, you may be able to count a non-traditional version of a course towards a prerequisite. For example, if you were an engineering major and have engineering physics or statistics, your program will likely accept those as sufficient – just email the admissions team and show them your transcript and course description.
Here's a common question I hear a lot: Are labs required for physical therapy prerequisites?
• Some programs require labs (especially in anatomy, physics, and chemistry) so check with that program on what's required.
A Look at 3 PT Program Prerequisites:
Anatomy (1 semester)
Physiology (1 Semester)
Biology 1
Biology 2
Chemistry 1
Chemistry 2
Physics 1
Physics 2
Psychology (2 semesters)
Statistics (1 Semester)
Anatomy (1 Semester)
Physiology (1 Semester)
Biology (2 Semesters)
Chemistry 1
Chemistry 2
Physics 1
Physics 2
Statistics (1 semester)
Psychology (1 semester)
Anatomy (1 Semester)
Physiology (1 Semester)
Physics 1
Physics 2
Statistics
Just because one program requires more or less prerequisites doesn't mean that it's any better or worse than another school. The fact is that even though some programs do not require Biology, you need to understand cellular structure and function and all the major processes that a typical biology course would cover. Many of these concepts are covered within a general Physiology course (sometimes paired with Anatomy) but you can definitely expect to cover this material in very great detail in PT school.
Best College Majors for Physical Therapy
The top majors of pre-physical therapy students based on application data include the following:
Exercise Science
Kinesiology
Biology
Health Sciences
Psychology
Athletic Training
Exercise Physiology
General Studies
Science
Allied Health
Nutrition
Physiology
Exercise Kinesiology
You can read my recommended college major for Physical Therapy here.
Recommended College Classes for PT Programs
It may be difficult enough finding the time to complete the required classes, so adding extra classes to the mix may be a little bit of a stretch. But if you want to make your life a bit easier in school, you might consider taking some entry level classes in these areas:
Exercise Physiology
Physical therapists are movement and exercise specialists. It only makes sense that we understand the physiology of exercise and how our cells and tissues adapt to the stresses we put on them as well as the fuel we use for this energy. For a very basic start to exercise physiology, check out the Khan Academy's lesson on Cellular Respiration and Respiratory Physiology
Anatomy & Physiology
You can never get enough Anatomy or Physiology. No program is going to expect you to have memorized all the muscle origins, insertions, and innervations before starting. BUT, if you spend any amount of time to understand the relationships between muscle groups, nervous structures, and vascular arrangement, you're going to be a rockstar during your anatomy lab.
• Netter's Anatomy (Memorize the blue and red origin/insertion pages)
Kinesiology
Not many programs require kinesiology, but most PT programs will teach 1 or 2 semesters of kinesiology within the program. Kinesiology is basically the study of movement and how the interaction of forces can affect the way our bodies move. It's fascinating stuff, so if you're interested in reading it on your own, check out this text:
• Neumann Kinesiology Textbook
My Recommendation on Prerequisites
I had a good idea of which PT schools I was applying to, especially since I wanted to stay in a specific geographical location.
That made the process easy: I simply made a spreadsheet and listed the programs and their class requirements. My strategy was to complete as many prerequisites that were required to satisfy the school that required the most.
Be warned: some programs will accept you on the basis that you will complete your prerequisites. Other programs (not many) will not accept you (or possibly wait-list you) if you have outstanding prerequisites. It is a very good idea to call the admissions team to ask this question: Are acceptance letters granted to students with outstanding prerequisites? If you have more than one or two classes left, get specific with the number outstanding. It's better to know soon rather than wait to find out later that your missing class was the culprit.
Are You Applying to Physical Therapy School?