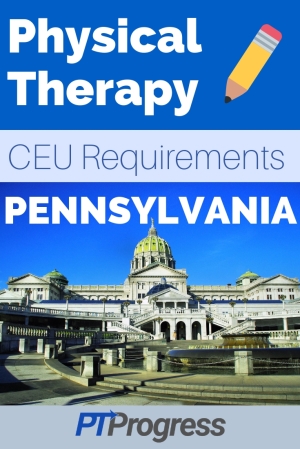 As a Physical Therapist in Pennsylvania, you must complete 30 continuing education hours every two years by December 31st of the year your license expires. Physical Therapist Assistants in Pennsylvania are to take 30 continuing education hours every two years as well. The Pennsylvania Physical Therapy continuing education requirements are listed in detail below.
At least ten of the 30 hours need to be "in appropriate evaluative procedures to treat an individual without a referral. " You will not receive any credit for courses related to office management or building a PT practice.
What CEU Courses are Allowed in Pennsylvania?
The PPTA must approve continuing education courses in order to be eligible for license holders to apply such courses towards the 30 CEU requirement. They've provided a list of approved courses here. If you are in PA, the CEU course should make it clear that it has been approved by the PPTA. However, contacting the PPTA to confirm approval is OK to do if you are unsure of the eligibility. If you are interested in conducting a CEU course in Pennsylvania, you must complete the Physical Therapy Continuing Education Sponsorship Application.
Can I Use MedBridge in Pennsylvania?
Yes, you can use an online CEU company like MedBridge to complete required CEUs for your Pennsylvania Physical Therapy license renewal. A quick check on the MedBridge website shows hundreds of approved courses for Pennsylvania PT license holders looking to renew their license.
Use the MedBridge promo code PTProgress to save 40% on unlimited CEUs
How much is a Physical Therapy License in Pennsylvania?
It costs $90 to renew your PT license.
When does my Pennsylvania Physical Therapy license expire?
All Physical Therapy license expire December 31 every 2 years.
How long does it take to renew a Pennsylvania Physical Therapy license?
It can take 4-8 weeks to process your request, so be sure to start the process early!
Pennsylvania Physical Therapy CEU Requirements
From the Pennsylvania Physical Therapy Practice Act Website:
Continuing Education.–For each license renewal, a licensee shall complete within the immediately preceding two-year period at least 30 hours of continuing physical therapy education as approved by the board. The licensee shall provide the board with evidence of the completion of the continuing education. A – 7 – physical therapist who has met the continuing education requirements for a certificate of authorization set forth in section 9(c)(1) shall be deemed to have met the continuing education requirement for license renewal. No credit shall be given for any course in office management.
Compare CEUs by State
Take a look at all of the requirements for CEUs based onyour state in this comprehensive article.