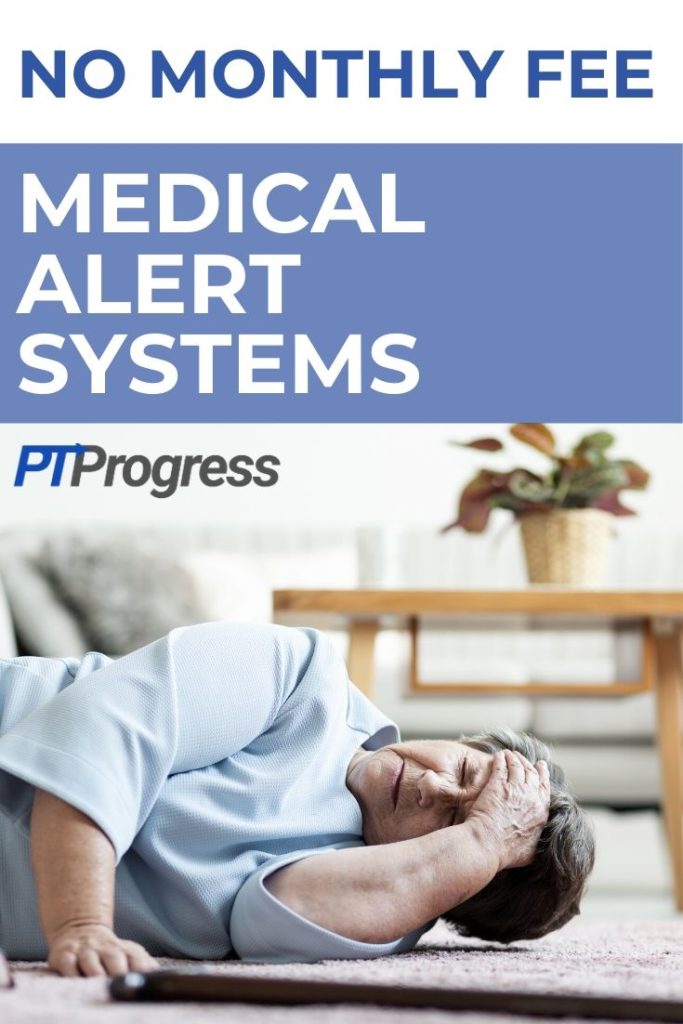 If you're researching medical alert systems with no monthly fees, you're probably trying to be mindful of overall costs. While it is true that no monthly fee medical alert systems exist, there are pros and cons to consider.
Below are some of the highest rated medical alert systems no monthly fee options to consider.  Regardless of the medical alert system you choose, you should know that not all are created equal!  Consider the features that actually matter to you and make a decision based on this, not strictly on price.
No Fee Medical Alert Systems: Pros & Cons
You'll notice that most of these no-fee medical alert systems are all between $125 and $250. This is strictly for the alert system itself and does not include call center monitoring or any support.
An affordable medical alert system with monitoring from a reputable company can cost about $300 a year, which includes the monitoring system and devices.
Pros of No-Fee Systems:
Low initial cost, no monthly charges
Ability to call 911 or contacts depending on device
Wearable device options
Decent range within home (up to 600 feet)
Cons of No-Fee Systems:
No 24/7 monitoring and support
No tech support for device
Mixed reviews on battery life / quality
Best No Monthly Fee Medical Alert Systems
Here are the top 4 no-fee alert systems I've found. You can read the reviews of each one to get an idea of what people think of the features. After reading through the reviews of each one, it seems that most people really love to 2-way devices that allow you to program family member phone numbers into it before 911 is dialed. The majority of negative reviews had to do with battery life, range, and size of the pendant or device.
Touch 'N Talk Medical Alert System
Medical Alert System - No Monthly Charges
No Monthly Fees - Pay Once And You Are Done * 60 Day Return Policy
600 Foot Straight Out Range / 1 Million Square Feet Of Coverage Area
Calls 5 Numbers - 4 Friends/Family + Optionally 911 using home phone line.
The Touch 'N Talk is another hands free 2-way communication device that acts like a cordless phone to contact EMS with the push of a button.
As long as you are within 600 feet of the home base device, it will allow you to call one of 5 numbers (4 friends/family and 911 if you have a home phone line.)
One of the most convincing reviews came from someone who purchased this unit for their mother. They brought up the feature of answering the phone from the pendant anywhere in the home or outside. This was a huge factor for purchasing the device because their parent was known for 'rushing' to answer the phone, which puts them at greater risk of falling.
The ability to program multiple phone numbers before the device calls 911 is a great feature as you can program the device to call you first and you can contact 911 if needed.
Most of the reviews are 4 and 5 star reviews. The lower reviews on this device seem to focus on battery life and the size of the pendant device you wear.
Guardian Alert 911 Phone
Sale
The Guardian Alert 911 phone is a no fee medical alert system that connects you to a 911 operator with a touch of a button.
As long as you are within 600 feet of the home base (up to 2 football fields away!) you can use the device.
It works like a cordless phone, essentially giving you quick access to call EMS if you fall or become injured at home.
The device allows 2-way communication, so you can speak with 911 directly.
You do need to have a land line phone in order for this to work.
Some of the reviews highlighted the inconsistent battery life and lackluster customer service. This is not surprising as you are not paying a monthly fee for customer service, but you would expect the product to stand by the quality of the item.
My Notifi Fall Detection
No products found.
The My Notifi Fall Detection system does not contact emergency medical services like 911. Instead, this device is a fall detection device that will notify emergency contacts you select as soon as a fall is detected.
This is an ideal product for family members who want to have peace of mind if an older loved one is living alone or spends a lot of time without others around.
This product is waterproof, which is a very important feature as most falls occur at home within the bathroom and bedroom.
I also like how the wristband can actually track exercise and movement when you set it up to do so using its smart phone app. You do not need a smartphone to use this fall detection system, but you will need to connect the device to wifi to access the setup and notification features.
Life Guardian Medical Alarm
As the cheapest of the no-fee medical alert systems with 2 way speaker on the main device hub. The wrist band includes an emergency button that is a bit larger than other devices and has been noted as cumbersome and bulky by some.
The best feature is the ability to add 3 phone numbers, including 911 if you connect to a landline. The problem is the 2-way speaker is on the main hub, so you need to be close enough to hear and communicate.
The 100 foot range is lower than most of the other devices. For the price, this unit seems to get the job done, but for a little more you can get an even better device. If money is tight but you need a device, this seems like an option that should work well if you don't need other features.
Medical Alert Systems at Walmart
You can find medical alert systems at Walmart, but will likely need to order it online and have it shipped to you or to the store. They offer the LogicMark guardian device for a similar price as what is listed on Amazon.
It's worth price checking and looking at the various units available on the Walmart website as they do not seem to carry them in stores.
Are these systems worth it?
No monthly fee medical alert systems can be very useful if set up correctly and used properly. As a Physical Therapist, I've worked with many people in their homes, especially the elderly who are at highest risk for falling.
Unfortunately many of these seniors who are at greatest risk for falling may not be able to operate or troubleshoot the alert systems that do not have monthly support services.
If you are setting up this device for a loved one, my best recommendation is to check it often to make sure it is properly charging, connected correctly, and review the use of the device with the user.
Medical alert systems with no monthly fees provide users with peace of mind, but will not include support for the device or monitoring.
If you're on the fence about a device, I think starting with a no-fee option is a good place to start. If you're concerned with false-alarms and prefer customer service support, then check out these affordable medical alert systems.