A common question among new grad physical therapy students is this: Can new PT grads get a job as a traveling PT?
Even if you've been practicing for a while, the second most common question is usually this: how much does a traveling physical therapy make?
Short Answer on Traveling PT Salary and Jobs:
Let's get to the point: yes, new grads can get a job as a traveling physical therapist. As for pay, traveling PT salaries can vary from 50-100% above the average rate for a traditional PT job.
How to Get a Job as a Traveling Physical Therapist
1. Make a Connection Early
Finding a staffing company for traveling PTs is easy – making a connection takes a little work on your part. Take advantage of job fairs or conventions and look for placement companies and the recruiters. Be ready to ask intelligent questions to the staffing agency's recruiter and stay in touch through email about opportunities with the company.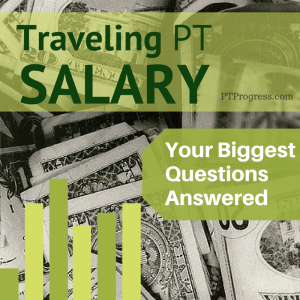 Bonus: Here's a few good questions to ask a recruiter:
How are assignments made? Do the therapists have any control over where they go?
Where are most of the contracts located for your clinic (regional or national)?
Can you talk a little about the compensation breakdown and other benefits that make your staffing agency different from others? Is there room for negotiating any changes?
Is there a therapist staffed in this area? Would you be able to forward his/her information to me? I'd like to speak with someone who is currently working with your agency.
2. Get a Grip on Insurance/Benefits/Taxes
If you're looking to start your career as a traveling PT, you need to understand how your benefits package works inside and out.
Does your company provide liability insurance? How much?
What about a tax-free housing allowance? How much?
Is there a transportation or food allowance?
What are the state's licensure requirements for a temporary therapist? Is this covered?
Am I paired with a mentor at my site? Will I have opportunity to observe another therapist there for at least one day?
The staffing recruiter should be able to answer these questions for you but actually talking with a current PT will give you insight on the missing parts that the company leaves out. Remember, the recruiter wants you to really like the company. They're likely to highlight the things they do, not the things they're missing. It's not that they're trying to deceive you – you just need to make sure you do your due diligence.
3. Apply to a Travel Therapist Company
Ok, you've talked with the company first (important), and spoke with a current or former therapist of that company (also important!). If you've done your homework on what you need in terms of benefits (insurance, pay, location, etc), it's time to apply to a company. We could spend an entire article on the different companies, so we'll keep it to the basic steps of how to apply.
Narrow down your list of opportunities and complete the application paperwork for one of the companies (or multiple companies).
Contact the company recruiter and identify the region or area that you would like to be place. If they find a good fit, you can expect a phone interview and possibly a placement within a few weeks.
Review the terms of the contract carefully, noting the benefits and terms of the assignment. Typically assignments can be anywhere from 8 to 15 weeks and average around 13 weeks at most facilities.
Accept the terms and make arrangements to move and start your assignment!
Traveling Physical Therapist Salary Expectations
A traveling physical therapist's salary can be 50 to 100% higher than the average therapist salary depending on the region and clinical assignment. For example, a starting PT in Missouri averages around $52,000 annually while a traveling PT in Missouri may find a position that pays $40+ an hour or approximately $83,000 annually.
The type of assignment (orthopedic, pediatric, acute, skilled nursing, etc.) as well as geographic location can have a major impact on the compensation package.
Don't Forget Housing, Food, and Transportation
Often a traveling therapist receives benefits such as tax-free housing allowance, food and even transportation allowances. These may not be included in the hourly wage, but can usually add up significantly for a therapist willing to go on the road.
Besides the potential pay increase, you'll be quick to hear other traveling therapists talk about the pure enjoyment of traveling. How often do you get to pick up and move to a new place across the country? If you're up for some interesting traveling and new challenges in learning a different clinic, traveling therapy might be right for you.
Are you a traveling therapist? We'd love to add your suggestions! Leave a comment with your insight for the readers.
Would you consider becoming a traveling PT?