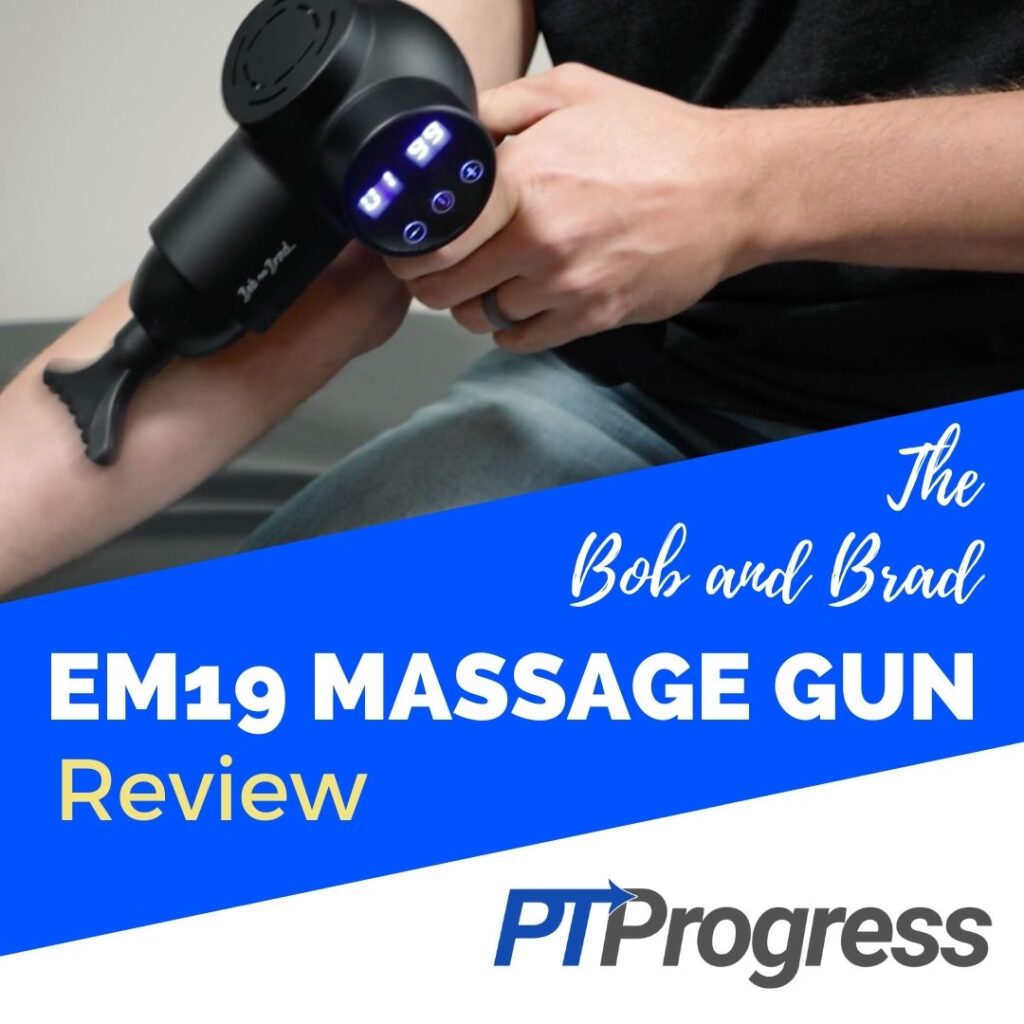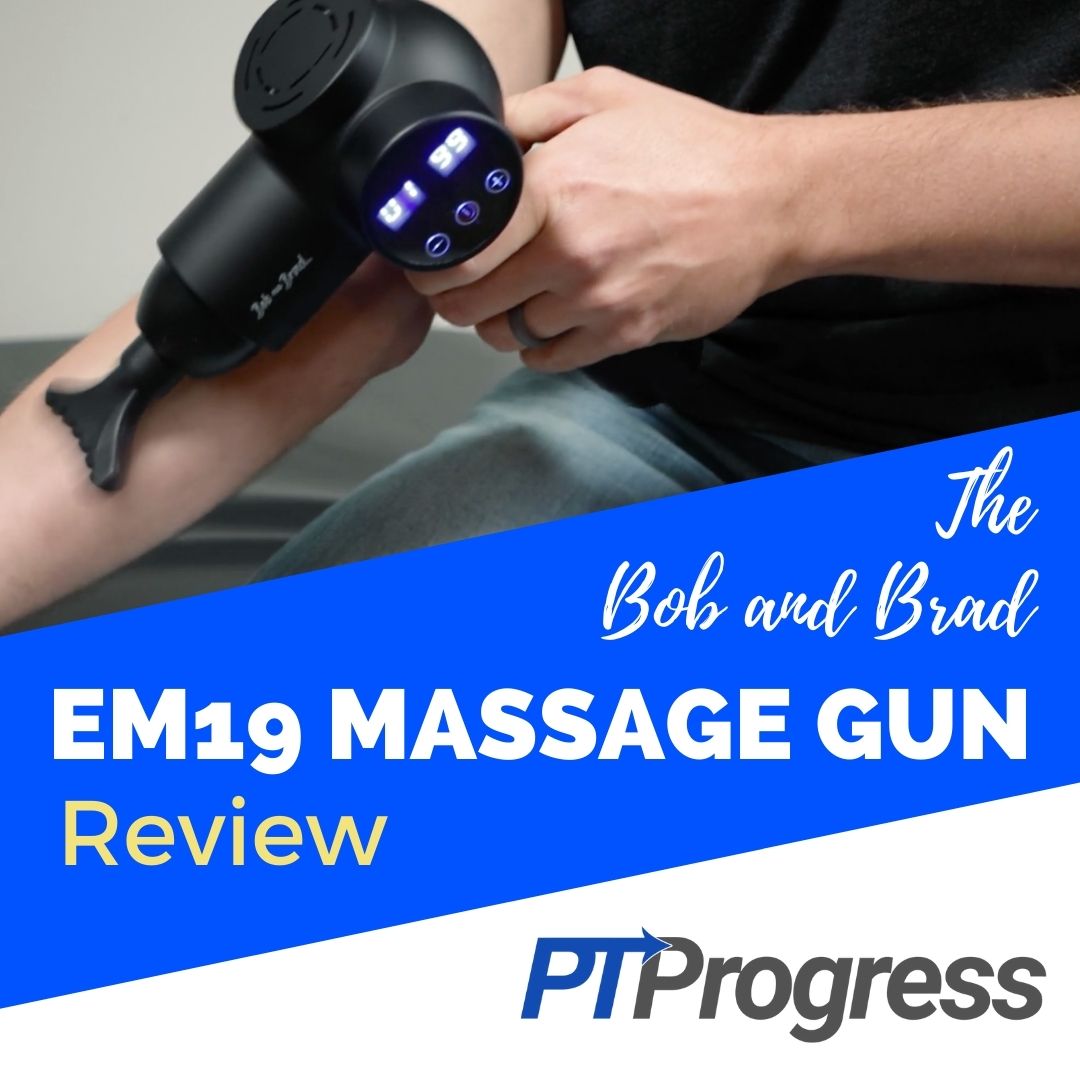 The next time you're at Walmart, keep an eye out for the newest massage gun from Bob and Brad: the EM-19 Deep Tissue Massage Gun. I had the chance to try this latest model recently and thought I'd share with you my PT review.
In short, the EM-19 is a great massage gun at a great price. But it's not your only option from Bob and Brad, let alone the massage gun market at large. So to help inform your decision, in this post I'll review some of the features and product details that I really liked on this Walmart massage gun while comparing it to two other Bob and Brad products.
What I Look for in a Massage Gun
As a physical therapist, I am often asked to review health products like massage guns. When I do, I base my assessment on the following three criteria:
Quality: is it well-made and designed?
Effectiveness: is it functional and user-friendly?
Affordability: is it reasonably priced?
Let's start by considering the high-quality features that set this massage gun apart from others.
Bob and Brad EM-19 Walmart Massage Gun Review
Quality
In case you didn't know, Bob and Brad are also Physical Therapists with a website and YouTube channel. Over the last several years they've been producing physical therapy tools of high quality and smart design. And it's no different for this one from Walmart.
When you pick up their EM-19 Deep Tissue Percussion Massage gun, you'll notice how sturdy the gun feels. The solid, round ergonomic handle and rubberized grip makes it easy to maintain control of the gun, even when you're reaching behind your back or across your body.
You'll notice exceptional quality control in other features of the gun too, such as the on/off switch and charging port at the base of the unit. The manual switch allows you to toggle the gun on and off and thereby preserve battery life when you're done using it.
The EM-19 has one of the longest lasting massage gun charges I've seen. The 1500mAh lithium battery inside the handle uses a 24-volt power supply to recharge the unit, which takes about 2 hours. That may seem like a long time, but you'll get double that time back in a surprising 4 full hours of continuous use, which could last for weeks if you use the massage gun for just 10 minutes a day.
Speaking of using the massage gun, let's now consider its effectiveness, the second criterion for my evaluation.
Effectiveness
Like other Bob and Brad models, this gun is easy to use: all you have to do is flip a switch to turn it on. But what's different about this one is the touchscreen and LED display that appear when it's powered on.
On the face of the unit you'll notice two indicator lights: the right number (ranging from 20-99) shows you the percentage of battery charge remaining on the unit. The number on the left indicates the intensity level (from 1-20) of the percussion massage. You'll use the plus and minus symbols to increase or decrease the intensity, then hit the center power button to begin your massage.
Now, most massage guns only have 3 to 5 intensity settings, but the Bob and Brad EM-19 works through 20 different speeds within a similar range of other guns. That means you'll be able to fine-tune the intensity of your massage, gradually increasing or decreasing the speed as your recovery requires. You can use a lighter massage for a longer period of time or bump up the intensity and work through sore muscles in just a few minutes.
The technical speeds for this massage gun span 1200 to 2600 RPMs (repetitions per minute) with a 10mm amplitude, the depth at which the gun head percusses. An amplitude that deep and intense is typically only found in more expensive massage guns, yet with the EM-19 you can achieve that experience for about $120.
Attachments
What makes this gun even more effective is the attachments it includes—six in total. You'll receive a large and small round attachment, a flat head, bullet head, fork, and a comb attachment which is unique to the EM-19 model.
You can learn more about these heads, and how to use them, in this post. But the comb attachment from the EM-19 is one you won't find elsewhere. With its curved surface, the comb follows the natural contours of muscles like those in your forearm or thigh, and because it's wide and flat, it can cover a lot of muscle tissue at once.
But the comb is just one of six incredibly helpful, effective massage gun attachments included with the EM-19. When you're looking for a more precise massage, you can use the flat head, or perhaps the bullet head for smaller areas like the base of your foot or the back of your shoulders.
I will say, this model of the Bob and Brad massage gun is not as quiet as some of the smaller versions they have, such as the Q2 Mini massage gun. But that's primarily due to the size of the unit, which allows the EM-19 to provide a stronger massage and use a longer-lasting battery.
However, I wouldn't consider it "loud"; this gun is actually pretty quiet compared to others I've seen. I like my massage gun to be quiet enough that I can use it while talking to someone else or watching tv. Happily, I found this gun doesn't drown out conversations or overpower the room, even at its loudest 56 decibels.
Affordability
Finally, price—the third criterion to consider with each health product I review. Costing around $120 at Walmart.com, the Bob and Brad EM-19 Deep Tissue Percussion massage gun is one of the best deals you'll find on a powerful massage gun. Plus, it has some unique features you don't normally see at this price point.
Bob and Brad Massage Guns: A Side-by-Side Comparison
As I said in the beginning, the EM-19 isn't the only gun I recommend. I've reviewed quite a few massage guns but keep coming back to the Bob and Brad models. They all exhibit high quality, work very effectively, and cater to the average budget. So how does the EM-19 compare to the other guns?
Comparison of Full-size Bob and Brad Massage Guns
| | | | |
| --- | --- | --- | --- |
| | C2 | X6 Pro | EM-19 |
| Speeds | 5 | 5 | 20 |
| RPM Power | 2000–3200 | 2000–3200 | 1200–2600 |
| Amplitude | 8mm | 10.5mm | 10mm |
| Charger | USB C cable | Adapter cable and wall plug | Adapter Cable and wall plug |
| # of heads | 5 | 5 | 6 |
| Battery capacity | 2500mAh | 2500mAh | 1500mAh |
| Price | $110 | $170 | $120 |
All of Bob and Brad's massage guns use a quiet, brushless motor, capping out under 60 decibels. All use an auto shutoff to prevent overheating, and you won't find a battery life under 3 hours. The differences lie mainly in speed settings, RPM power, and price.
The C2 is slightly smaller than the other two full-size guns, with less stall force. But you'll still get an effective, affordable massage at powerful speeds. You can check out my full review of the C2 here.
As the priciest gun of the bunch, the X6 Pro offers premium power and a convenient charge option—no USB port needed. This gun also includes a unique metal attachment that you can heat up or cool down for added relief. Read more about the X6 Pro here.
The EM-19 has similar amplitude to the X6 and far more speeds to choose from, but it doesn't reach the upper RPMs that the other guns can. However, a lower range of speeds expands your options and can help you get more use out of your gun.
All in all, the EM-19 is a great gun because of what makes it unique (the range of settings and comb attachment) and what doesn't (the Bob and Brand name). The price is right, the retailer is ubiquitous, and the results are worthwhile.
Want to learn more about massage guns? I compare three of Bob and Brad's most popular massage guns in this post, and you can check out this article to learn some of the benefits of massage gun therapy.