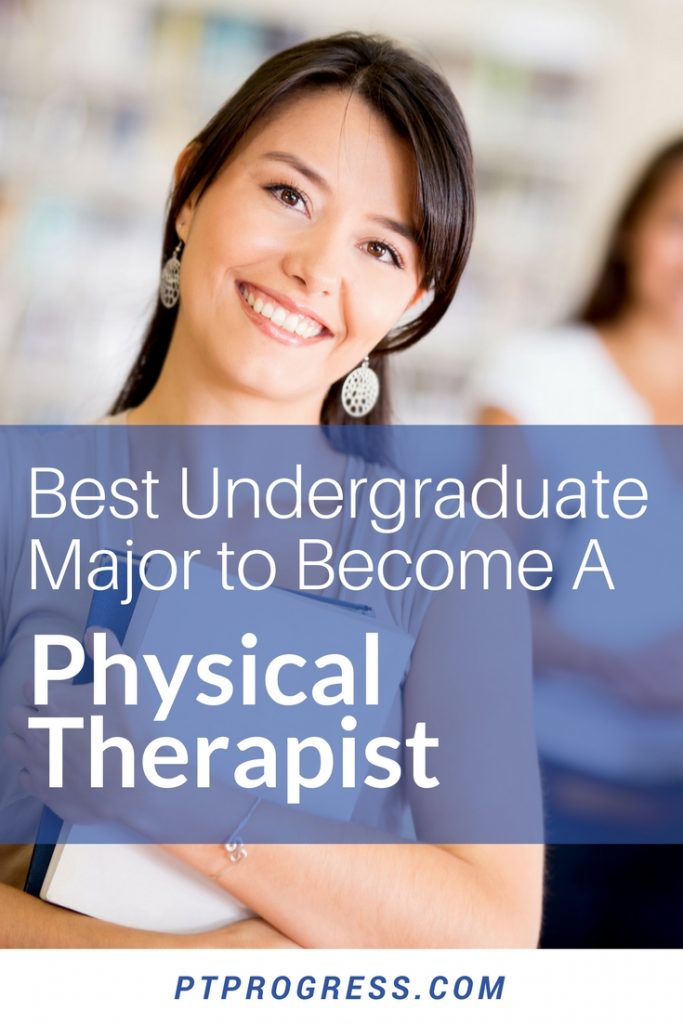 If you know you want to become a PT and you're about to start your undergraduate degree, you may be wondering what is the best physical therapy major. Don't worry – you're not alone in wondering this. In fact, over 19,000 soon-to-be PT School applicants will be choosing a major this year.
The real question is this: does your undergraduate major matter when applying to PT School?
Personally, I had earned a Bachelor's in Business and an MBA before I applied to PT School. I didn't fit the mold at all!
From my experience, when it comes to undergrad degrees in Physical Therapy, your major matters less than you think.
Physical Therapy Majors (pre-PT undergrad)
Be advised that there is no "physical therapy major" in undergraduate studies. While you do need to complete certain prerequisites to become a PT, your undergrad degree or major can be in anything you choose. The actual physical therapy degree, or Doctoral of Physical Therapy (DPT), is earned in a graduate-level program at a PT school.
What's the best major for Physical Therapy?
Most Pre-PT programs encourage students to major in exercise science, human biology, or even kinesiology. It'll be easier to satisfy PT school prerequisites in those programs, but it won't necessarily give you a better chance of success in PT school.
Think about it this way: an average major will make you an average PT school applicant.
Although a conventional Pre-PT degree will give you a glimpse into human movement and the biological processes of the body, it won't set you apart from everyone else. In fact, you will find yourself surrounded by other students, with your same degree in kinesiology or biology, applying for the same PT School seat you want!
What makes a PT school applicant stand out?
If you really want to distinguish yourself from your PT school competition, try going a different route other than Exercise Science.
Imagine if you were on the admissions board for your dream PT school. Consider how someone with a degree in Engineering, Marketing, or Teaching stands out from the crowd. Such an applicant will bring unique experiences and perspectives to the table. Sure, they will have completed the same prerequisites as a Kinesiology major, but they'll have so much more to offer.
For instance, during their PT school interview, an applicant with an Education degree might discuss how their training in teaching can help them educate clinic patients and inform learning strategies.
A degree in a different field could provide invaluable, transferable skills which you as a unique applicant can play to your advantage.
How to Set Yourself Apart When Applying to PT School
If you are applying to PT school having graduated with an "unconventional" undergraduate degree, don't despair. You can promote yourself in many ways.
In my opinion, there are three key benefits to having a non-science degree when applying to become a PT (or any health professional, for that matter).
You bring a unique perspective and skill set to the field.
You demonstrate an ability to pursue things that interest you, instead of completing a biology degree because "that's what everyone else does."
You'll have options to pursue work outside of Physical Therapy if you happen to change your mind.
These three benefits not only strengthen your application, they improve your chance at success in any employment, Physical Therapy notwithstanding.
Still Want to Know the Top 10 Majors for Physical Therapy?
If you think a science-based degree is best for you, you're in good company. The top majors accepted into Physical Therapy school are science degrees, as you can see in the table below.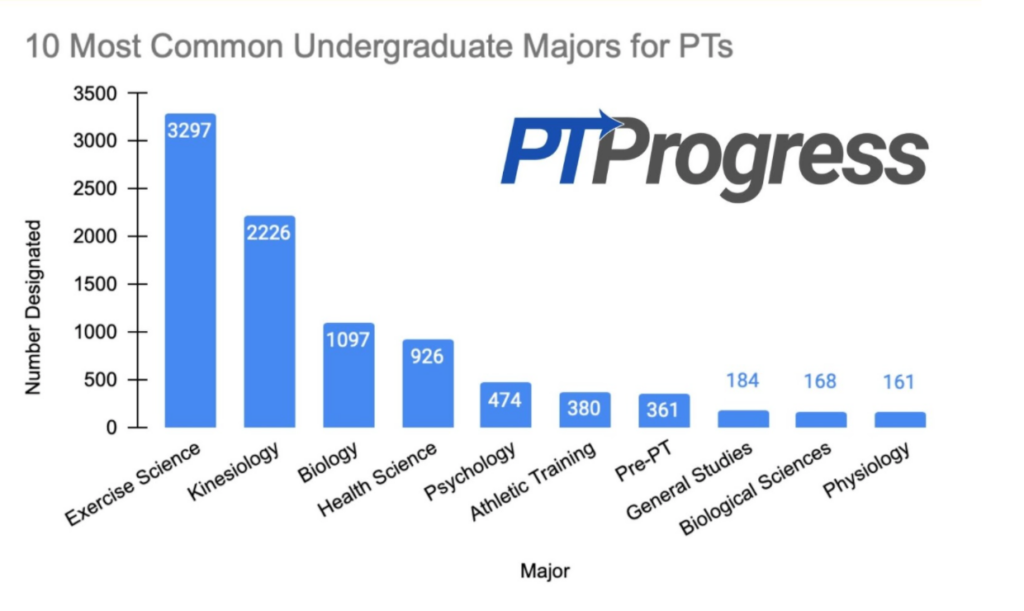 According to this graph, these are the top 10 majors among accepted Physical Therapy school applicants:
Exercise Science
Kinesiology
Biology
Health Science
Psychology
Athletic Training
Pre-PT
General Studies
Biological Sciences
Physiology
However, just because these majors are popular doesn't mean you have to choose them. Many successful PTs have studied other majors in undergrad, including the following: :
Business Management
Marketing
Finance
Education
Engineering
Human Factors & Ergonomics
For their generalized skill sets and broad employability, I'd recommend any of these majors over the "top 10" most popular.
Look for Transferrable Skills in a Physical Therapy Undergrad Major
Ultimately, your undergraduate degree will not get you into PT school. The admissions board will look for someone who demonstrates a strong work ethic, interpersonal flexibility, and a host of transferrable skills.
To be a good Physical Therapist, you'll need to gain skills to educate your patients and engineer solutions to home setups. If you go on to become a clinic manager or owner, you'll need additional skills in creating marketing plans, balancing the budget, and understanding the basics of employment taxes and human resources.
Considering the breadth of expertise required of a PT, earning a degree outside of Biology will certainly work in your favor!
For PT undergrad majors, my preference is business management (but I may be biased). 🙂
Curious to Know How To Become a Physical Therapist?
Keep reading to get an insider's look on how to become a physical therapist.
How Long Does it Take to Become a Physical Therapist?
If your next question is how long it takes to become a PT, check out the video below: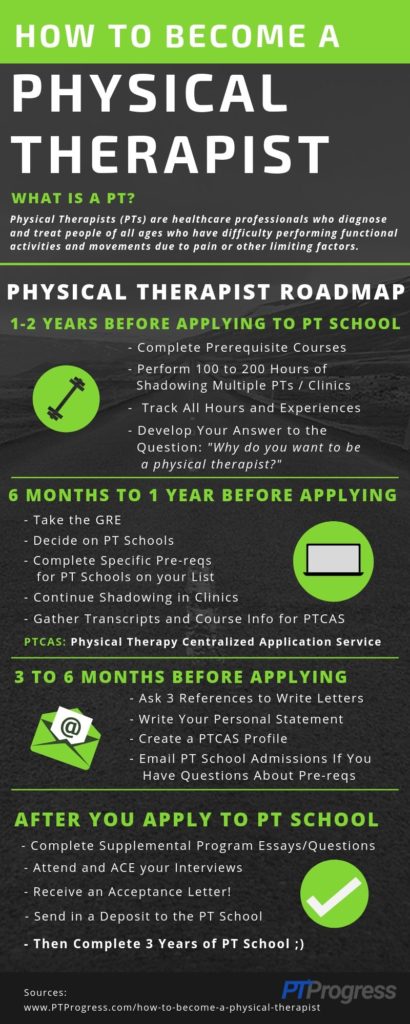 ((Pin the infographic or click through to read the full article)