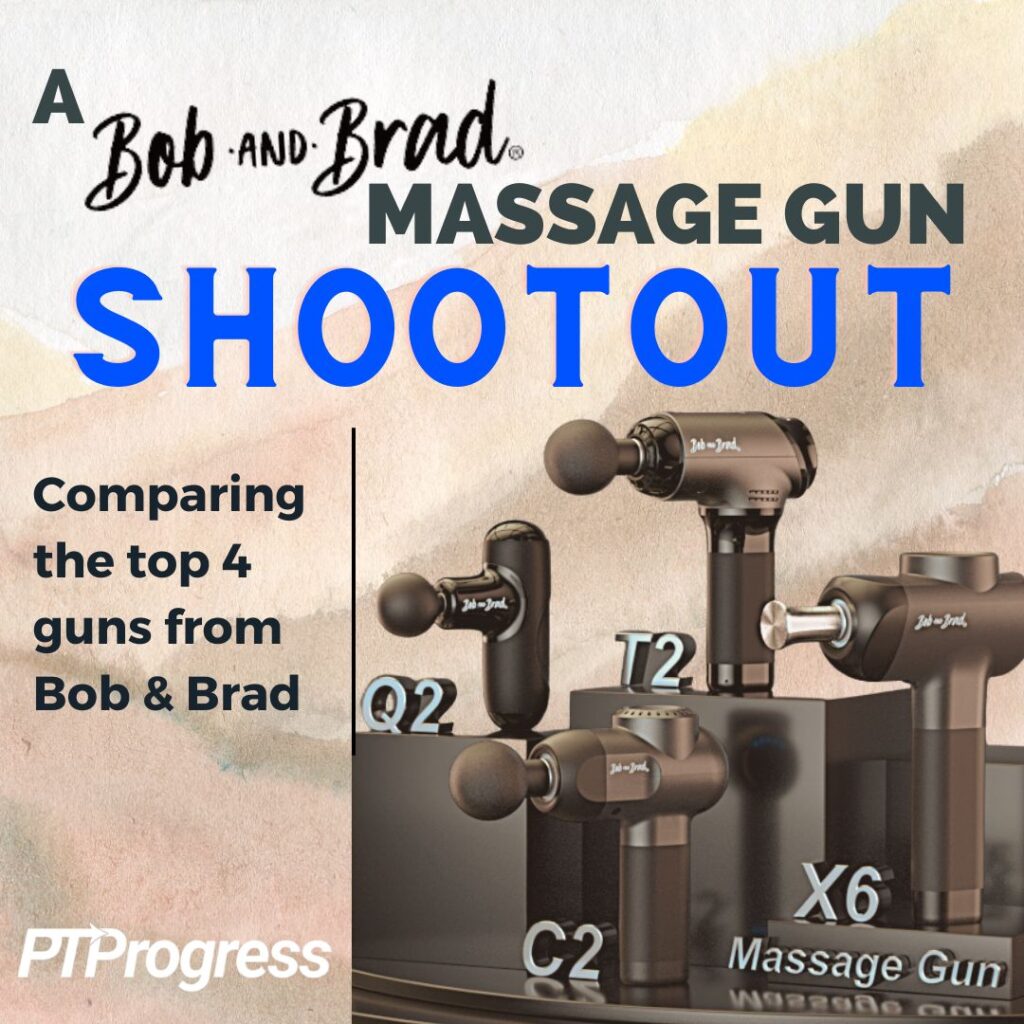 Massage guns are popular these days, but few are as highly-rated as the Bob and Brad massage guns. In this article, I'll compare the 4 top massage guns from Bob and Brad in a close-up, feature-rich, physical-therapist-approved massage gun shootout.
The Bob and Brad Brand
The Youtube duo "Bob and Brad" comprises physical therapists Bob Schrupp and Brad Heineck. Their thousands of helpful videos have earned millions of subscribers and made them the two most famous Physical Therapists on the internet (in their opinion, of course).
Over the years, the PT pair has released a line of products designed to help people move better and stay fit. Their products include massage guns, resistance bands, massagers, and other fitness equipment.
PTs often use massage guns to address a patient's muscle knots and facilitate warm-up or recovery. But Bob and Brad were dissatisfied with the massage guns available on the market, so they decided to design their own. Working directly with a manufacturer, they developed a gun to suit not only their needs in the clinic but also those of their patients.
After trying dozens of massage guns myself, I've found that the Bob and Brad massage guns stand alone among their competitors. You can't beat the ergonomic design, sturdy construction, intuitive handling, and affordable price of a Bob and Brad massage gun.
Bob and Brad Massage Gun Review
Before comparing their different models, I'll take a moment now to share my experience from using several different Bob and Brad massage guns.
High-Quality Feel (and Sound) for a Low Price
It's no secret that massage guns can get pricey. But the Bob and Brad massage guns are all wildly affordable, especially when you compare them to the top name brands in the market.
Despite the low cost, Bob and Brad don't compromise on quality. Each gun has a sleek, compact design featuring a comfortable handle that cushions every vibration. Best of all, the Bob and Brad guns are remarkably quiet when operating, which is a high-end feature you don't always expect from a cheap gun.
Various Settings and Attachments
Each massage gun has 5 speed settings to provide a range of massage intensity. There's only one button on the machine, but you use it to power on the gun as well as to toggle through all 5 speeds, keeping the gun streamlined and efficient.
Besides its speed, you can modify your massage by changing out the attachment—the part of the gun that makes contact with you. These massage gun heads are a snap to pop on and off, and each gun comes with 5 of them.
By varying the size, shape, and consistency of the attachments, Bob and Brad provide the tools you need to make the most of every massage. To help you stay organized, they fit all the parts—including the gun's charger—into one convenient carrying case.
The 4 Guns: Mini, C2, T2, and X6 Pro
The four most popular Bob and Brad guns vary in size and strength, but they all reflect the high quality that Bob and Brad put in each of their products. You really can't go wrong with any of the Bob and Brad massage guns, but a comparison can help you determine which one is best for you.
Let's consider an overview of each of the guns, from smallest to biggest, then compare their features.
This smallest of massage guns fits squarely in your hand and maybe even your pocket. It delivers a wide range of power, from gentle thrumming to potent percussion. I like to use this one at the base of my neck and on other muscles that prefer a lighter touch.
Bob and Brad's original gun ticks all the boxes of a standard massage gun. It's easy to use, handles well, and provides a powerful massage. I readily recommend the C2 to my patients and often give it to friends and family.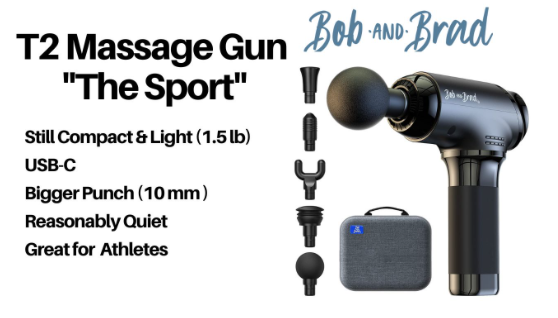 With a greater amplitude than the original model, the T2 massage gun packs a bigger punch than its predecessor, making it perfect for athletes or people needing a stronger, deeper massage.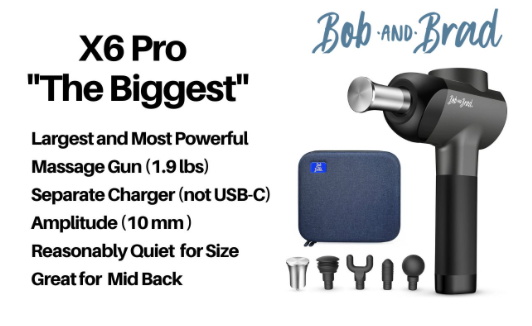 The longest massage gun in the lineup is the X6 pro massage gun, which features a longer handle, greater amplitude, and more power than the other massage guns from Bob and Brad. It's their premium gun, providing a next-level massage experience.
Comparing the Bob and Brad Massage Guns
These guns have more in common than they have in contrast, but there are a few key differences to know before you buy.
– Dimensions and Weight
Compared to most other massage guns on the market, the Bob and Brad models are on the small side. There are no bazookas here; just well-designed, ergonomic devices you can wield with one hand.
Among the four, the Q2 Mini is by far the smallest, measuring under 6 inches tall. The X6 Pro is nearly twice its height and double its length, whereas the C2 and T2 fit squarely in the middle. At just under 2 pounds the X6 Pro is the heaviest gun, followed by the C2 and T2 at about 1.5lb and the Q2 at less than a pound.
The X6 gun sports the longest handle—a good two inches longer than that of the C2 or T2. This extra length can help you access hard-to-reach areas such as between your shoulder blades or the mid back.
In sum, all the Bob and Brad guns are compact, but if you want something extra small, the Mini is your best option. On the flip side, if you need to use the gun for your mid-back, you may prefer the X6 for its longer handle.
– Amplitude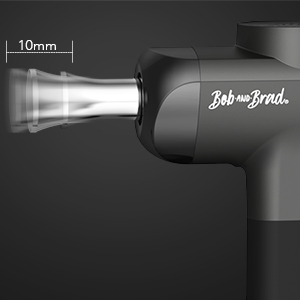 One of the most important factors to consider when shopping for a massage gun is the amplitude, or depth, that the gun achieves. Amplitude is measured by how far the head protrudes with each pulsation. The further the amplitude, the deeper the massage.
Bob and Brad's standard C2 gun has an amplitude of 8mm, while the Mini travels slightly less at 7mm. The Sport and Pro models both offer a significant increase in amplitude, hitting you with 10mm of force with every pulse.
When massaging tough, large muscles such as your quads and glutes, you'll appreciate the extra depth Bob and Brad's higher-caliber guns provide. However, the average person might not need so much punch and instead find the C2 or Q2 to be sufficient, especially when massaging small muscles and sensitive areas.
– Power
A massage gun's power reflects not only its amplitude but also its speed and stall force. Each of the 4 Bob and Brad guns features a wide range of speeds in 5 increments. The C2, T2, and X6 all reach 3200 ppms, or percussions per minute, whereas the Mini maxes out at 3000 ppms.
Personally, I rarely use any massage gun on its highest setting, so for me, even the range of the Mini is powerful enough to deliver a therapeutic massage. But if you're looking to get the tar beat out of you by a massage gun, the upper limit of the bigger guns will surely get the job done.
Another item to note on your massage gun of choice is its stall force, which refers to the amount of outside weight it can withstand before stalling. For example, pressing the gun into your thigh as you use it may cause it to stall, especially if you really lean into it.
Unsurprisingly, the Mini has the lowest threshold for stall force at 32 lbs, whereas the T2 and X6 promise to keep running with up to 44lbs of force.
– Accessories
All Bob and Brad's massage guns come with 5 attachments to modify and customize each massage. The C2 and T2 have identical, interchangeable heads, including a bullet, ball, fork, padded round, and flat head.

You'll find almost the same lineup of attachments with the Mini, except that they're slightly smaller to fit the diminutive device.
Of the 4 guns, the X6 is unique in including a metal attachment. In place of hard plastic, the flat head is made of solid metal and screws onto the gun instead of "popping" on like the others. The advantage of a metal head is that you can heat it up or freeze it for a thermo-therapeutic massage.
Besides these attachments, each gun comes with its own charging cable, manual and carrying case.  
– Charging Method
Finally, the last major difference between the four Bob and Brad massage guns lies in how they are powered. Although all use a rechargeable battery, the X6 Pro is the only one that requires its own AC adapter to charge. By contrast, the Q2, C2, and T2 use a USB-C charging port.
Which is better, AC or USB? That really depends on your preference. Many people like the USB-C because it allows them to plug the massage gun into a power bank for a faster refuel. You could charge the gun in the car on your way to the gym, for example, or in your computer at your desk without having to give up an outlet.
However, the advantage to the X6 charger is that it comes complete with a wall plug, so you don't need to find an adapter to get started. You can just unbox the massage gun, plug the charger into the wall, and power up your gun in no time.
How to Choose the Right Massage Gun
The best massage gun is the one you'll use the most. Whether you need something small to massage your neck or something strong to hammer your quads, there's a Bob and Brad massage gun out there for you.
Below is a table comparing the specs and features of each gun.
| | | | | |
| --- | --- | --- | --- | --- |
| | Q2 Mini | C2 Original | T2 Sport | X6 Pro |
| Dimensions | 5.7" x 3.3" | 6.8" x 5.1" | 7.6" x 5.4" | 9.6" x 7.8" |
| Weight | .95lb | 1.5 lbs | 1.45lbs | 1.9lbs |
| Amplitude | 7mm | 8mm | 10mm | 10mm |
| Stall Force | 32lbs | 35lbs | 44lbs | 44lbs |
| Speeds | 5 | 5 | 5 | 5 |
| PPM | 1800–3000 | 2000–3200 | 2000–3200 | 2000–3200 |
| Charge Port | USB-C | USB-C | USB-C | AC adapter |
| Battery Life | 4 hours continuous use | 3.5 hours continuous use | 3.5 hours continuous use | 4 hours continuous use |
| Accessories | 5 plastic heads | 5 plastic heads | 5 plastic heads | 4 plastic and 1 metal head |
| List Price | $90 | $110 | $140 | $170 |
These prices are list prices, but the guns often sell for significantly less on Amazon.
My Choice? It Might Surprise You
If I had to choose just one, it'd be the Mini. Sure, it has less punch and power than the other guns, but why pay for what you don't need?
In fact, I think the lower power is an advantage with this gun, because it allows me to mechanically massage my neck and upper trapezius muscles without worrying I'll bludgeon them to death. When I need a strong massage, I can easily bump up the Mini to its higher settings and achieve the percussion my legs crave. But I can't so easily shrink down or modify the force behind a bigger gun.
I find the wider variety of intensity makes the Mini a more versatile gun, adding to its arsenal of benefits that include a smaller footprint and lower price.
Bob and Brad Massage Gun Review: Summary and Discount
A massage gun is a great tool for expediting at-home recovery, whether you're stiff from resting an injury or sore from a hard day's work. No matter which device you choose, the Bob and Brad brand guarantees an unbeatable value and a quality you can depend on when the rubber meets the road (or, your skin in this case).
For a more in-depth review of the X6 Pro, C2 Standard, or Q2 Mini, or to learn more about massage gun attachments and how to use a massage gun, check out the rest of the blog!