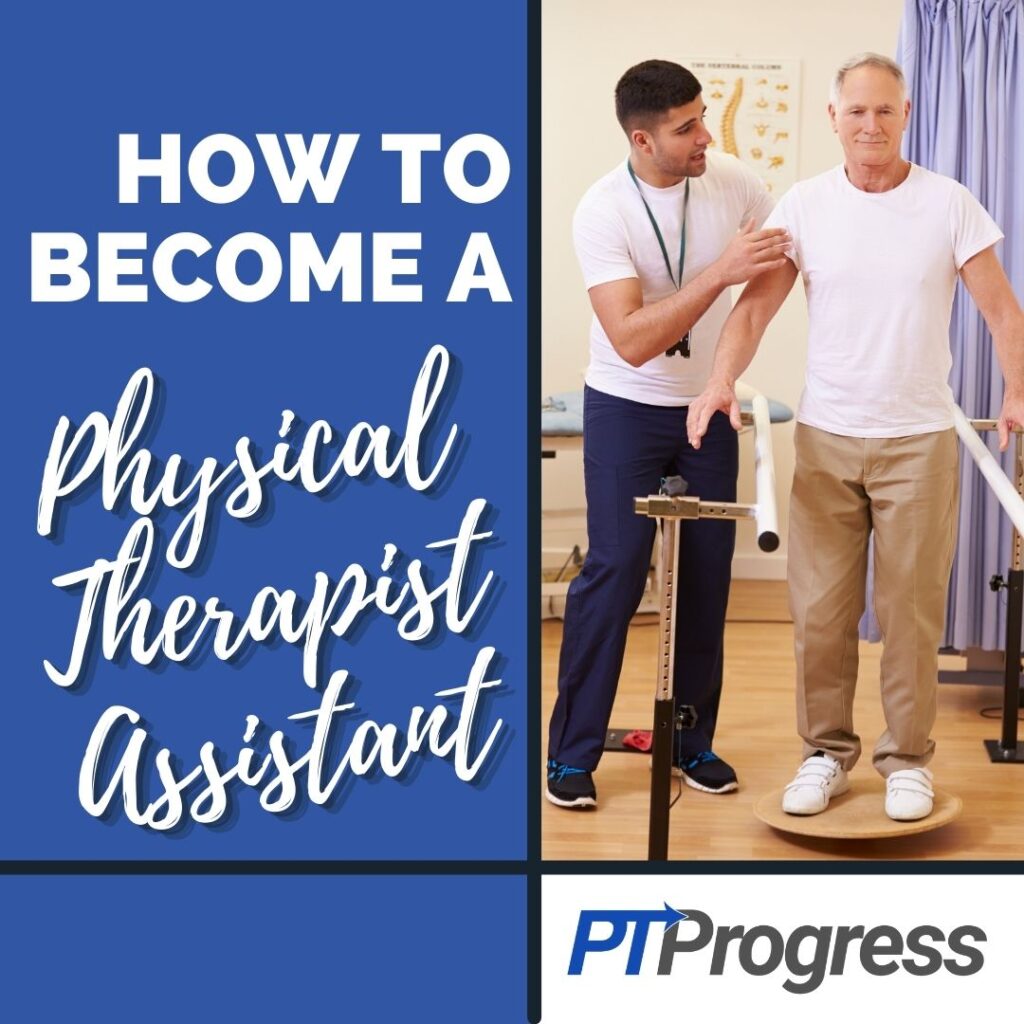 A Physical Therapist Assistant works directly with PTs to guide patients through rehabilitative treatment. As a Physical Therapist myself, I know firsthand the invaluable role a PTA plays in a patient's progress. If you're interested in physical therapy as a career, don't overlook the opportunity to become a PTA. I'll give you all the steps below!
Overview: How to Become a PTA
Although the path to becoming a Physical Therapist Assistant isn't as long as a PT's, you'll still need to undergo rigorous training to earn state-regulated certification.
Here are the 4 basic steps to becoming a PTA:
Enroll at a PTA program at a CAPTE-accredited school
Earn your two-year Associate's degree through coursework and clinical instruction
Pass the boards exam (and any other state-specific requirements)
Obtain your PTA license and begin applying for jobs!
I'll explore each of these steps in more detail later in this article. But first, let's take a closer look at the career of a physical therapist assistant, so that you can determine if this is the right path for you.
What does a PTA do?
A PTA assists not just a Physical Therapist, but the patients and clinic as well. Among their main job duties are the following: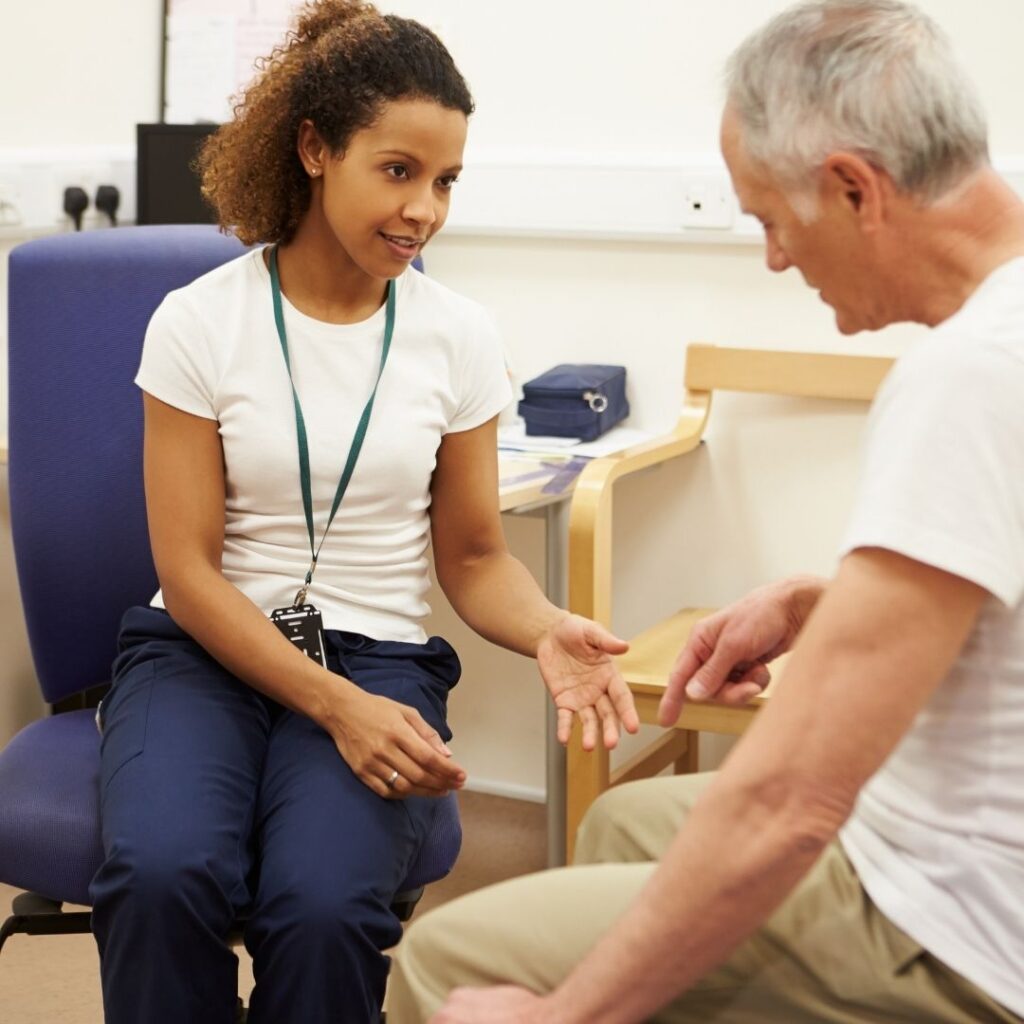 Administer and guide PT treatment
Once a PT has determined a patient's plan of care, the PTA steps in and helps administer the treatments. Although PTAs don't conduct evaluations or discharge patients, they actively instruct and guide patients through their plan of care.
Consult with the PT
During the course of a patient's treatment, the PTA works under supervision of the PT, although the PT may not be present for every session. Rather, the PT is available for consultation, either in the clinic or by phone, whenever the PTA needs.
Document treatments
As a PTA leads and progresses the PT's plan of care, he or she takes notes on the patient's progress so that the PT can be kept up to speed.
Collect patient data
To measure a patient's progress, the PTA may need to test for strength, range of motion, or run other special tests.
Provide administrative support to the clinic
From managing billing codes and medical records to training clinic staff, a PTA is an indispensable member of the physical therapy team.
Compared to Physical Therapists, PTAs may actually spend more time in contact with their patients. Although they don't assign or design the plan of care, PTAs have the authority to modify a treatment to reflect the patient's needs.
PTA Settings and Workplaces
Like PTs, most PTAs work in an outpatient clinic, but there are plenty of other settings where a PTA's duties are in demand.
Besides a clinic, PTAs work in hospitals, such as an acute care or sub-acute rehab facility which helps hospital patients recover and discharge. A nursing home or skilled nursing facility may also have its own physical therapy clinic, open to residents or other patients without a place to go.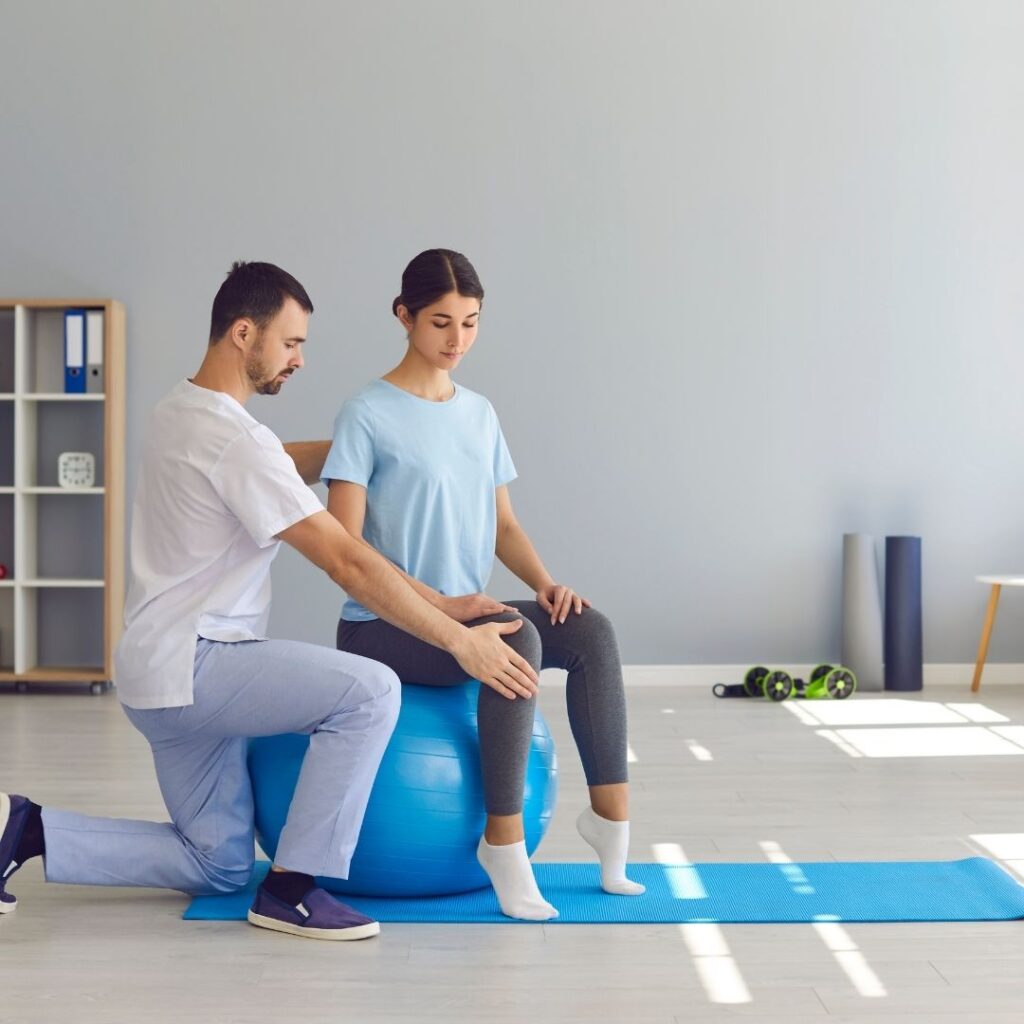 A Physical Therapist Assistant may work in other settings besides a healthcare facility. For instance, a home health PTA provides rehabilitative care in each patient's home, just as they would in the clinic. Some schools and fitness centers keep PTAs on deck to assist mobility impairments and promote well-being. As a PTA, you could even work in a state or government agency such as the military, or be called in to help a corporate office achieve a more ergonomic work environment.
All in all, administering physical therapy is a highly applicable skill, and PTAs are sought after not only across the country, but across industries.
Salary and Career Outlook
As the population ages and the baby-boom generation slows down, physical therapy is only going to be in more and more demand. The Bureau of Labor Statistics predicts that the employment of physical therapist assistants will grow 33% in the ten years between 2019 and 2029.
The career outlook is positive for PTs and PTAs alike, but the respective salaries differ significantly. On average, a PTA makes just over $28 per hour or $59k each year, a full 30 grand less than the average PT salary. A PT's bump in wages does come with its own cost in schooling and – in most cases – a potentially enormous burden of student debt. So just because you'd be making less money as a PTA doesn't mean it's a poor choice.
PTA Traits and Soft Skills
What does an employer look for in a PTA? Well, besides their education and qualifications, which we'll discuss later, an employer is interested in a PTA's soft skills. All the training in the world won't make you love a job if it doesn't suit your strengths.
The traits of a successful PTA include the following:
Active listening
Critical thinking
Complex problem solving
Communication
Organization and autonomy
Physical fitness
Sociability and positivity
Patience and care
Not only will these qualities help you determine whether PTA school is a worthwhile investment, they can also show potential employers that you have what it takes to thrive in this career.
Training to become a PTA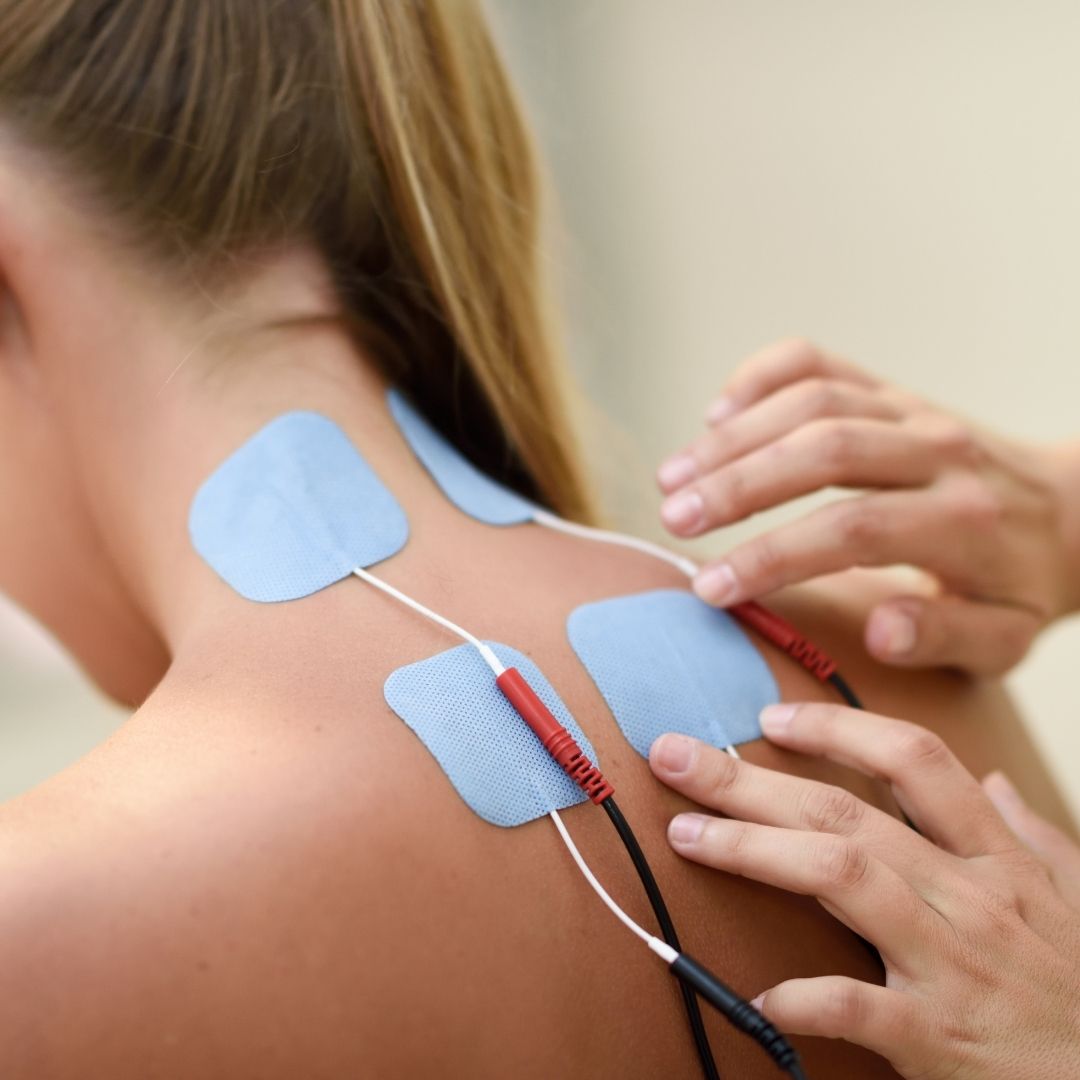 In order to practice as a PTA you'll need a valid, up-to-date, state-issued PTA license. But obtaining that license requires more than filling out an application form. In fact, becoming a PTA requires years of training, both in and out of the classroom.
PTAs need to be well-versed in physical therapy treatments and feel confident administering modalities such as ultrasound and electrical stimulation. A good PTA is also a good communicator, able to effectively educate patients on their plan of care and the use of special equipment.
So before you can apply for a PTA job or a PTA license, you'll need to go to school!
PTA School
After graduating high school or completing a GED, you'll need to apply to an accredited Physical Therapist Assistant program and complete a 2-year Associate's Degree.
To qualify, the program must be accredited by CAPTE, the Commission on Accreditation in Physical Therapy Education. CAPTE is the only agency recognized by the US Department of Education for accrediting entry-level physical therapy programs.
The best way to find a PTA program is through CAPTE's website. With over 350 accredited programs across the country, you're bound to find schools that suit your needs.
PTA Education: AS or AAS Degree
Usually, an accredited PTA program culminates in an Associate's of Science degree or an Associate's of Applied Science degree.
No matter the actual title of your degree, if it's an accredited PTA program then it will likely consist of 5 full-time semesters of coursework and clinical experience. Some PTA programs permit part-time status or online coursework, so flexibility is a possibility. Otherwise, set aside two years to complete your degree.
To complete your PTA program, you'll likely accrue between 65 and 75 credits, ¾ of which are earned through didactic coursework, such as the following subjects:
Algebra or Statistics
Anatomy and Physiology
Biomechanics
Clinical Pathology
Clinical Practice and Discussion
Critical Thinking
Ethics
Exercise Physiology
Interpersonal Communication
Kinesiology
Medical Terminology
Neuroscience
Physics
Psychology
Therapeutic and Rehabilitation Procedures
If you're interested, you might also take specialty courses such as Pediatrics, Orthopedics, or Wound Management.
In addition to coursework, your education will include at least 16 hours of clinical experience – hands-on learning under the supervision of a PT or PTA in a clinic setting. Clinical training typically occurs during the last 3 semesters and takes place in a variety of settings, including hospitals, schools, and outpatient rehab facilities.
Getting a PTA License
Once you've completed your PTA program and earned your Associate's Degree, you'll be eligible to sit for your boards exam, the National Physical Therapy Examination or NPTE.
NPTE Info
Both PTs and PTAs must pass the NPTE in order to become certified or licensed. If you're hoping to become a PTA, you'll take a version that is 4 sections long and consists of 200 questions. The NPTE is a timed test and should last no more than 4 hours, with at least one scheduled break halfway through.
Unlike other standardized tests, the NPTE has no essay questions – just multiple choice, and there are no penalties for wrong answers. But don't let that mislead you into thinking the NPTE is a piece of cake. The test is scored from 200-800 points, and you'll need at least a 600 to pass. You're allowed a maximum of three consecutive attempts to pass the NPTE, or six attempts total over your lifetime.
Obviously, when you're ready to sit for the NPTE, make sure you give yourself enough time to study. I took the NPTE myself a few years ago, and feel confident that these NPTE study tips will be just as helpful to future PTAs as they were for me.
Other Licensure Prerequisites
All states require a passing score on the NPTE as a condition of PT or PTA licensure. However, many states require other things as well. For instance, half require prospective licensees to pass a jurisprudence exam, while others conduct a background check or mandate professional liability insurance. So before you register for your exam, check your state requirements in case you need to complete a different step first.
The FSBPT (Federation of State Boards of Physical Therapy) put together this flowchart for prospective PTAs to determine their state's license requirements. Simply input the name of your school and the state in which you'd like to be licensed, and the flowchart will spell out the rest of the process. The FSBPT is the agency that issues the NPTE, so you can trust that this information will be up to date.
Once you've completed all the licensure requirements, you can apply for your PTA license! Some states will issue the license automatically after receiving a notice of your passing score from the NPTE. However, in order for the license to process, you'll need to have all the other steps done ahead of time, including paying any application fees.
Maintaining Licensure: Continuing Education
A licensed PTA never stops learning, and not just in the figurative sense. Nearly all states require their licensed PTAs to demonstrate "continuing education" or "continuing competency" as a condition of licensure. Put another way, unless you periodically take more PTA courses or participate in eligible learning activities, you won't be able to renew your license and continue your practice.
Just as the license requirements vary per state, so do continuing education requirements. Expect to clock anywhere from 10-40 hours of continuing education units, called CEUs, annually or biennially. Depending on your state, you might have only a selection of courses and providers to choose from, or you may not have to complete any at all. Your state may cut you a break on your first renewal period and not require as many CEUs, but it's best to verify that ahead of time, at least a couple months before your license expires.
PTA Career Advancement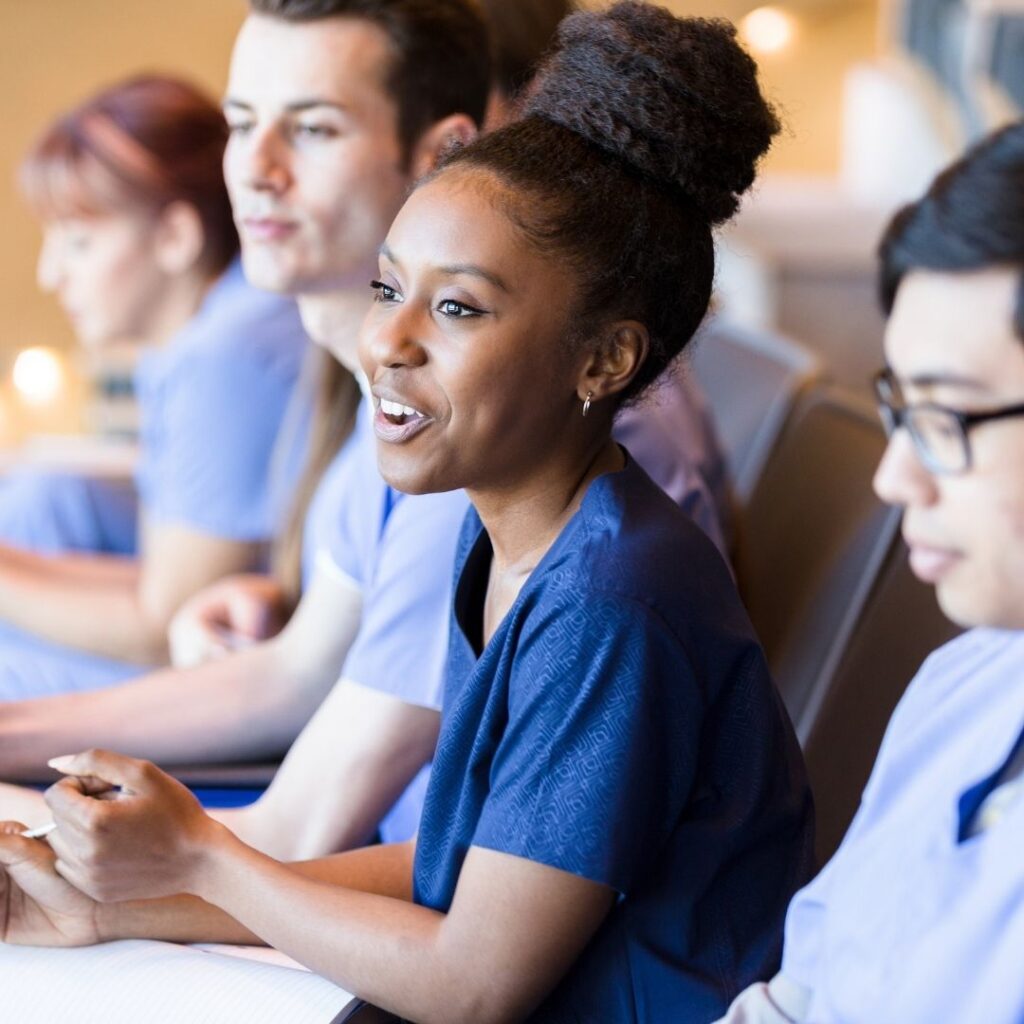 After working alongside Physical Therapists at the clinic or hospital, you may decide you'd like to be a PT instead of a PTA. Besides a higher wage, you'll gain more leadership opportunities and autonomy in decision-making. Personally, I love being a PT, and there are plenty of perks that we don't fully share with PTAs.
About 1 in every 10 PTAs becomes a PT, so it's not a particularly common transition. Becoming a PT takes 7 years of training (a 4-year undergraduate degree and a 3-year doctoral degree), whereas PTAs spend just two years earning their Associate's degree. A PT-to-PTA program can help you bridge the gap in your training and set you on the path to earning a DPT.
Currently, these "bridge" programs are available at only two schools: the University of Findlay in Ohio and University of Texas Medical Branch in Galveston, Texas. To enroll in either of these programs, you'll need a Bachelor's degree, prior working experience as a PTA, and at least 44 hours of prerequisites.
Becoming a PT isn't the only way to advance your PTA career, however. APTA's Advanced Proficiency program enables PTAs to deepen their specialty knowledge and skill through coursework, clinical mentorship, and dozens of contact hours. The only prerequisites to enrolling in an Advanced Proficiency program are APTA membership and paying a couple fees.
So far we've covered a lot of information, from what a PTA does and earns, to what it takes to obtain and maintain a PTA license, and even what to do after you've established your career. If you still think you'll love working as a PTA, keep reading for your next steps!
First Steps to Become a PTA
Whether you're graduating high school or switching careers entirely, there are a few preliminary steps to take before setting out on a PTA path.
1. Ask yourself, "Why do I want to become a PTA?" You'll be asked some form of this question your whole career, from your PTA school application to your final job interview. It's never too early to begin putting into words what has drawn you into this field and whether that interest is sustainable. And if you're unsure how to answer, don't fret! Step two might help you come up with your answer.
2. Shadow a PT or PTA. By observing the real-life administration of physical therapy in a real-world setting, you'll get a better idea of whether a career in physical therapy is right for you. Before even applying to PTA school, shoot for 50 hours of shadowing under a variety of therapists and settings. There aren't many other careers that welcome this kind of up-close shadowing. It's not only encouraged, it's crucial to your PTA application.
3. Take prerequisite courses. These will vary based on the PTA programs to which you'll apply, but in general your transcripts should include the following courses:
Algebra or Statistics
Anatomy and Physiology I and II
Biology I
Communications
English I
Intro to Psychology
Medical Terminology
Depending on the schools you choose, you may need to also take assessments, report standardized testing scores, and submit transcripts and references with your application. Conducting thorough PTA program research is key to a smooth application process!
How to Find a Good PTA Program
A career in physical therapy costs time and money, so searching for a PTA program that will help you be successful is well worth the effort.
The lazy way to do this is to consult one of those lists of school rankings and choose the "Best PTA program." However, just because the lazy way is easy doesn't mean it's effective, or even accurate. A high-ranking program might cost more money and appear to be higher-quality, but if it leaves you with more debt than you can pay and no advantage over job competitors, you lose out.
Instead of a made-up ranking, prioritize the qualities below.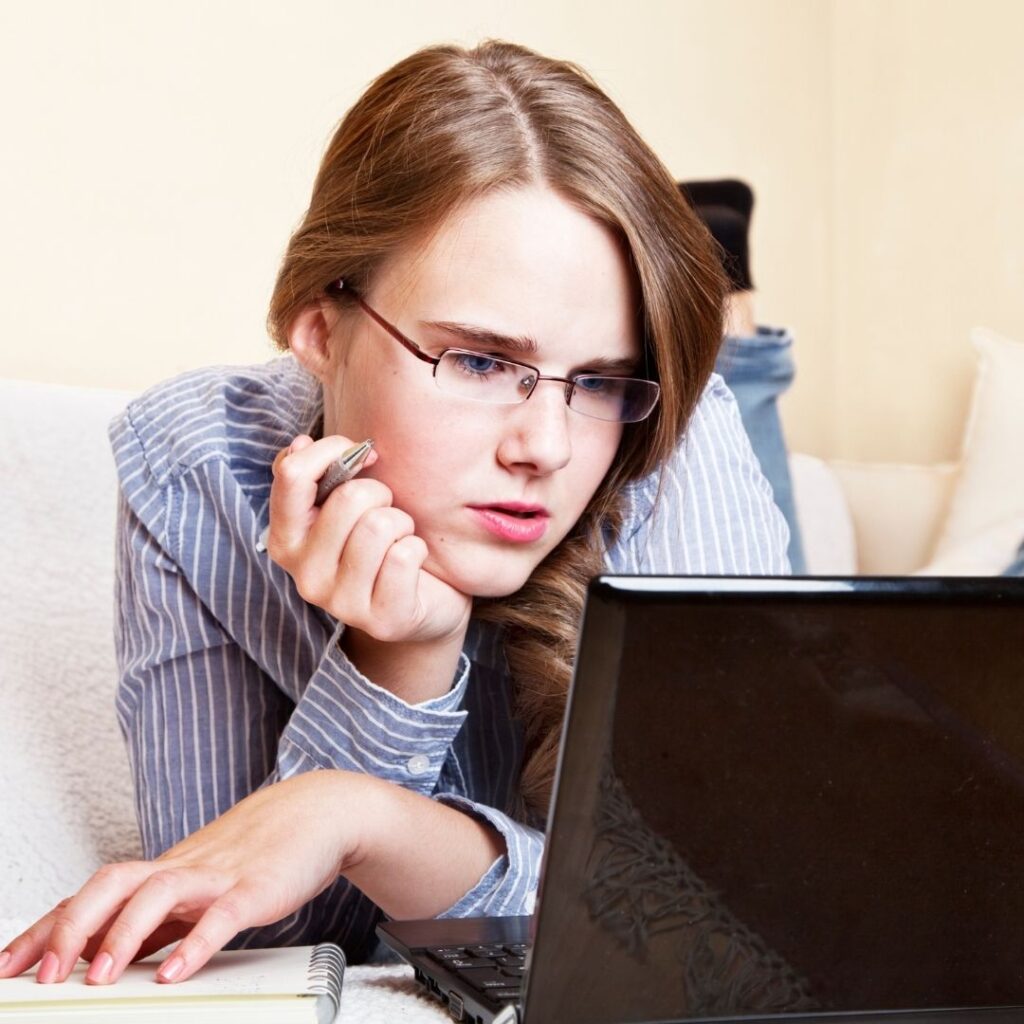 What to look for in a PTA program
CAPTE accreditation – This is the first thing you should check when researching a PTA program. If the program isn't CAPTE-accredited, you won't be able to sit for the NPTE or obtain a PTA license. As far as your career is concerned, a non-accredited PTA program is a useless PTA program.
Affordability – What's an "affordable" PTA program? It's all relative to how much money you'll make as a PTA. One rule of thumb is to keep a debt-to-income ratio of 1:1, meaning the money you borrow is equal to or less than a PTA salary. Although many PTAs earn close to $60k, the average starting salary is considerably lower, around $35k. Many community colleges award CAPTE-accredited AAS degrees, making a school budget of $35k totally possible.
Small student-to-instructor ratio – Becoming a PTA isn't all bookwork. A significant portion of your degree will involve hands-on learning in clinical settings. You'll get the most out of these experiences if your class size is smaller, at least in proportion to the number of instructors.
Clinical opportunities – When it comes time to perform your clinical rotations, your school might offer a wide range of settings and experiences for prospective PTAs – or not. Check whether the PTA program you're considering has connections with clinic sites across the country or whether you'd be confined to a specific region.
NPTE pass rate – This number reflects the percentage of PTA graduates who pass the NPTE after finishing the program. A high percentage – over 90% – is a good sign that you'll be well-equipped for your boards exam and eventual licensure.
Other PTA program search criteria:
Once you've narrowed down your list, leave no stone unturned as you compile the following information:
What are all the admission prerequisites? (courses, shadowing hours, assessments, scores, letters of reference, minimum GPA, criminal background check, fees, etc.)
Does the school conduct interviews or host campus visits?
Are there scholarships or other forms of financial aid available?
Can you earn the degree part-time, over weekends, or partially online?
Your answers will help you find the right school and begin your journey to becoming a PTA.
For more advice on launching a career in physical therapy, subscribe to the PTProgress YouTube channel or check out the rest of the blog!