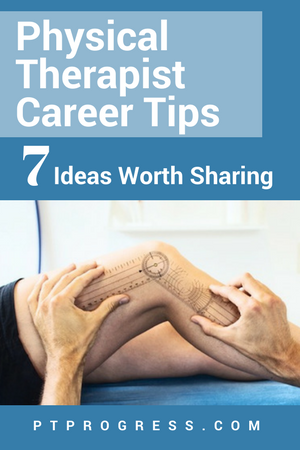 I've asked dozens of clinicians for their best Physical Therapist career tips. The most popular answers are listed below. A career as a Physical Therapist can be fulfilling and challenging at the same time. These career tips are meant to inspire you to continue to seek your full potential and to grow as you look for new opportunities.
7 Physical Therapist Career Tips:
1. Innovate, Even if it Goes Unnoticed
One of the best things you can do avoid burnout in the field of Physical Therapy is to stay creative and to look for opportunities to innovate. As a Physical Therapist, it's part of our daily work to be creative and think outside of the box for patient treatments. I want to encourage you to be creative outside of your treatments. Think about job processes, PT marketing strategies, teaching opportunities, and technology in your clinic. Challenging yourself to become an expert in these areas may lead to new career opportunities and help set you and your PT resume apart during your next job interview.
2. Seek Growth Opportunities, But Don't Let Them Stifle Your Potential
Sometimes growth opportunities or job advancements fall in your lap as a PT. You may find yourself in line to be the clinic manager or supervisor for your clinic. These can be great opportunities to grow and develop, especially if you are interested in this side of PT.
But for those of you who are entrepreneurial or business minded, be careful not to let the allure of a management or director role keep you from your true potential. If you are interested in opening your own clinic, partnering with a gym for a cash-based side gig, or getting more involved in teaching continuing ed classes or doing consulting work, don't look to a management role as a stepping stone.
Yes, you will learn valuable skills as a clinic manager, but you have to ask yourself this question: Does it align with my goal to ______? If a manager role is absolutely the next step you want in your career, go for it. If it's not your true passion or goal, be careful because it may suck the life out of your entrepreneurial dreams.
3. Invest in Yourself
Most people will suggest that you need to invest in continuing education to better your skills as a Physical Therapist. I agree, but that's not what I mean by "invest in yourself." I literally mean to invest your money and get serious about saving for retirement. Too many new PT grads are drowning in student loans and are putting their retirement savings on the back burner.
Unfortunately they are missing one crucial element of building wealth: they aren't building a habit of saving. Become a disciplined saver early in your career, even if that means you just start by saving 5% of your pay into retirement. Begin the saving habit early and take advantage of time to compound the early dollars you've saved.
4. Don't Expect Someone Else To Be Your Advocate
I hope that you have a supervisor or therapy director that steps up to support, defend, or promote you for new opportunities. Unfortunately, that's not always the case. If you are a hardworking, productive therapist you need to be your own best advocate by tracking your successes and presenting them to your leaders at the right time. It's possible to share the value you're bringing to the clinic without bragging or sounding conceited.
The next time you meet with your supervisor, bring up these wins by framing it with a goal you've set. I.e. "Last month I set a goal for myself to lower my cancellation rates. I started to systematically remind every patient of their appointments at the end of their sessions and it seems to have worked in reducing my cancellation rate from 12% to 9%, a 25% improvement." Your manager might be able to see the drop in your cancel rate, but unless you presented your side of the story, they may have never known that you took initiative to improve it.
5. Interviews Are a Two Way Street – Don't Settle for Any Job
Whether you're a new grad Physical Therapist interviewing for a new job or a seasoned PT looking for a change, it's easy to put on the rose colored glasses during the job interview. Before you sign on the dotted line, do your research and present these questions to ask during a job interview. By asking the right questions during a job interview, you decrease the chances of missing a red flag that may be a warning to run from that company!
6. Quit Early if it Smells Fishy
Speaking of running from a company. If you sign on to a company that doesn't feel right or clearly has unethical practices like double booking patients on Medicare, using techs to provide patient treatment, or having you sign off on treatments you don't agree with or never performed – get out now. If it smells fishy, it probably is. Get out now and don't feel bad.
7. Don't Settle For Status Quo, Even as a New Grad
In any job it's easy to get in a rut and put things on autopilot. If you're serious about advancing your career, surround yourself with goals and people who challenge you to be better.
What PT Career tips do you have for new or current Physical Therapists?